Spicy White Bean and Chicken Soup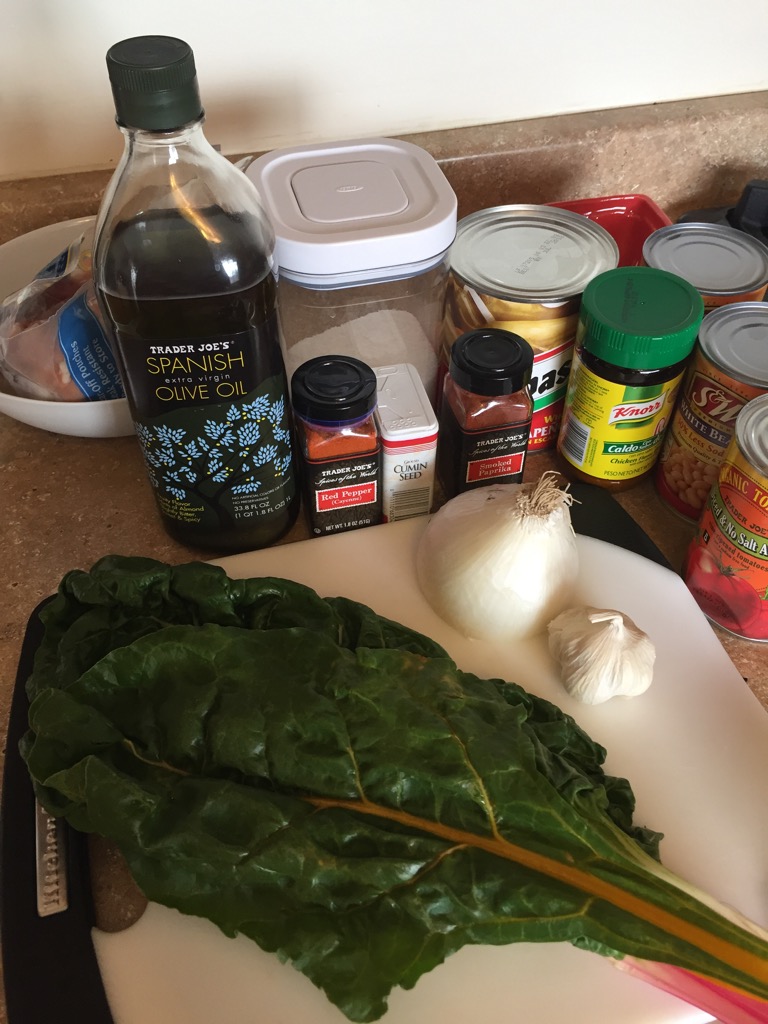 Author:
Christina at Invented Charm
3 cups cooked chicken, shredded or cubed
1 tabelspoon olive oil
½ large onion, diced
4 cloves garlic, minced
3 cups chopped rainbow chard or other leafy green (about 3 large leaves plus stems)
1 can diced tomatoes plus juice
1 pickled jalapeño, diced OR fresh or pickled jalapeño to taste
2 cans Great Northern beans (white beans), drained
6 cups chicken broth or water/bullion (follow proportions on package)
1½ teaspoons ground cumin
salt and pepper to taste
Boil or pan cook chicken. Remove from bones. Shred or chop into bite sized pieces. Set aside.
In a large pot over medium-high heat, sauté onions and garlic in olive oil for 1 minute. Add chopped rainbow chard and mix to combine. Cook until chard is wilted, about 1 minute. Add the tomatoes plus juice, diced jalapeño, beans, chicken and chicken broth or water and bullion. Season with cumin. Place lid on pot and bring to a slow boil.
Reduce heat to low. Taste soup and adjust seasoning. Add salt and pepper or add more jalapeño and cumin. If a less salty broth is desired, add more water.
Serve in bowls. Warm corn tortillas or crusty bread on the side are a nice addition.
Recipe by
Invented Charm
at https://inventedcharm.com/2016/05/10/spicy-white-bean-and-chicken-soup/