Hi! Welcome to Invented Charm.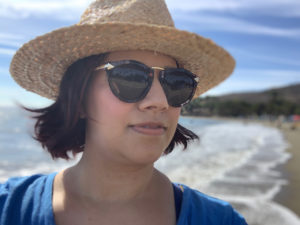 I'm Christina, a California native, and a full-time mom of a seven and an almost three year old. After living in Santa Barbara for fifteen years, my husband and I moved to my hometown of Modesto. I love listening to podcasts, I'm a yoga dabbler, and I'm happiest when I have holds to pick up at the library. My ideal summer day includes a swim in our pool, tending to our garden, and eating homegrown tomatoes. I love to make to-do lists, but I can never finish at least two of the items.
I write personal essays, useful tips, and practical ideas about family life. Formerly, I worked in higher education and I still advise wayward students here and there. I've got a hard drive full of half-finished novels and I've got a plan to actually finish one. This blog is a space for me to work on my writing and share my craft.
I'd love to connect with you on Twitter, Instagram, Pinterest!
Thank you for being a friend. Your heart is true, you're a pal and a confidant. Yes, sometimes I quote movies and TV shows.