I've been hooked on The Great British Bake Off ever since I found it on Netflix. It's got me dreaming of cakes, pies, puddings, and breads. I decided to make banana bread after a whole bunch turned brown. I put them in the fridge for a few days until I had a free evening for baking.
When I Googled for a good banana bread recipe, one of the top hits was from one of my favorite food blogs, Simply Recipes. I've made Elise's version of banana bread before, but I wanted something a little more exciting. I vaguely remembered pinning Deb's Jacked-up Banana Bread from Smitten Kitchen, another favorite food blog. This recipe was exactly my speed–it calls for booze.
After reading through the recipe, I sent my husband to chase after our kid. It's nearly impossible for me to work in the kitchen when he's still awake. While pulling out ingredients, I decided to make a few modifications. I was running low on brown sugar, so I supplemented with white sugar. I also love walnuts.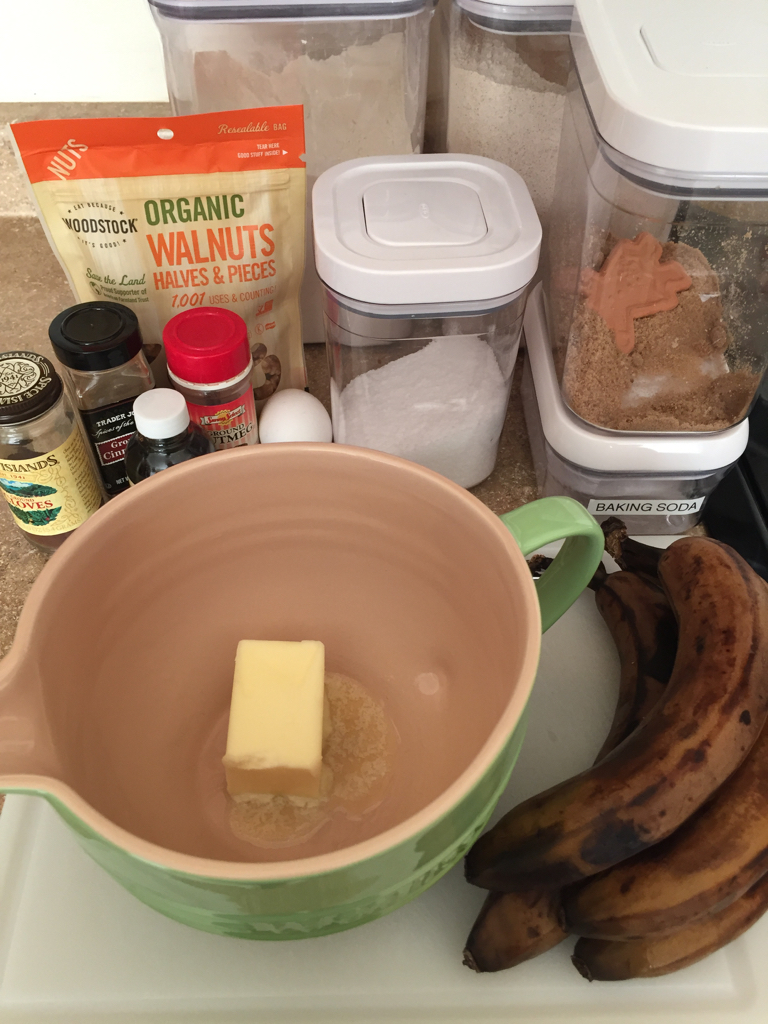 I realized we were out of bourbon, but we had whiskey on hand. In true me fashion, I forgot to beat the egg before adding it in. Oops! I made sure to incorporate it thoroughly once I realized my mistake. I couldn't tell if there was any difference.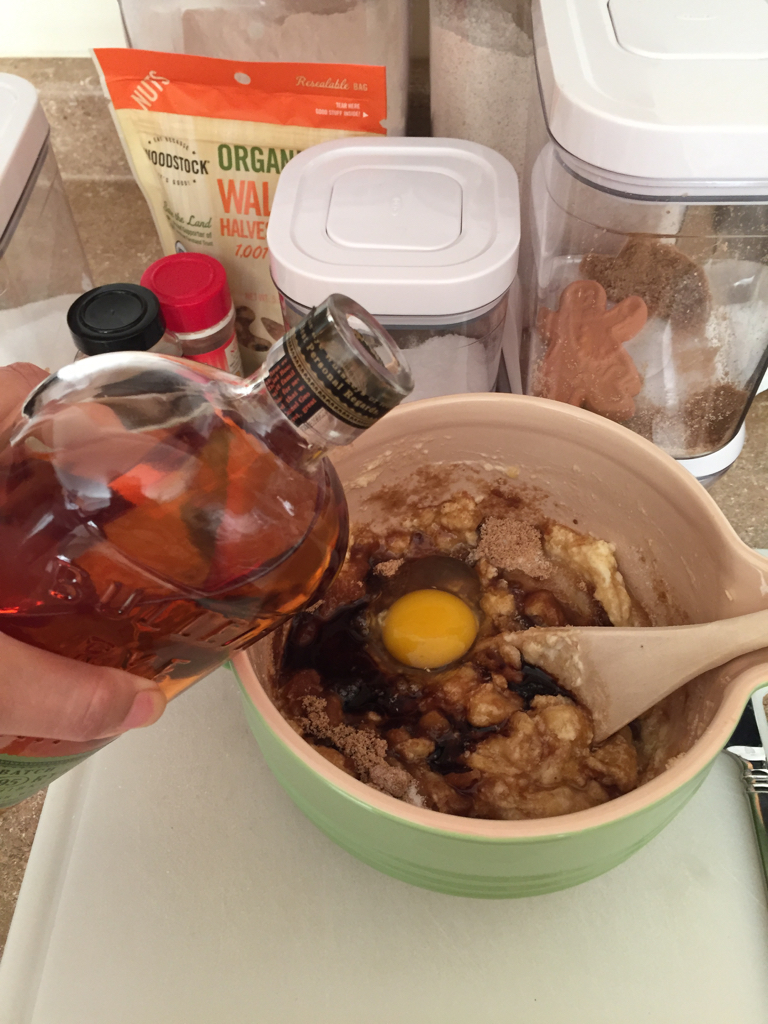 I previously made Simply Recipes' Chocolate Bourbon Cake, and for me it was a bit too much alcohol, but the tablespoon called for in Smitten Kitchen's recipe didn't seem to be enough either. I could hardly taste the whiskey, so if you want a boozier cake, I'd increase it to a quarter cup.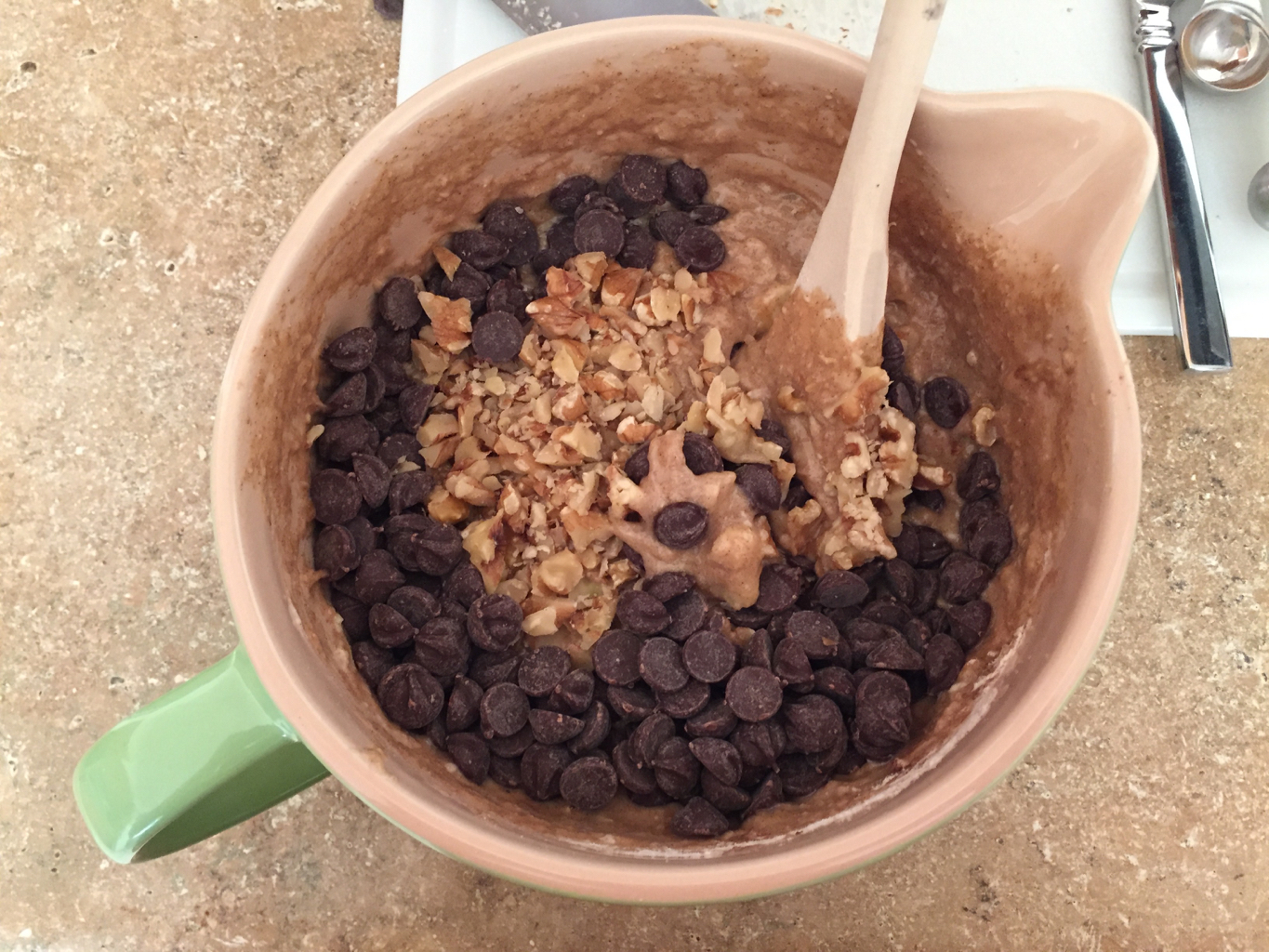 At the last second I decided to add in chocolate chips, because why not! The consistency was nice and thick but still manageable with a wooden spoon. I buttered a loaf pan and plopped the mixture right in. I took my loaf out of the oven right at 50 minutes because my testers were coming out clean, but next time I'll leave it in a little longer. Toward the bottom middle it was a bit softer than I would have liked.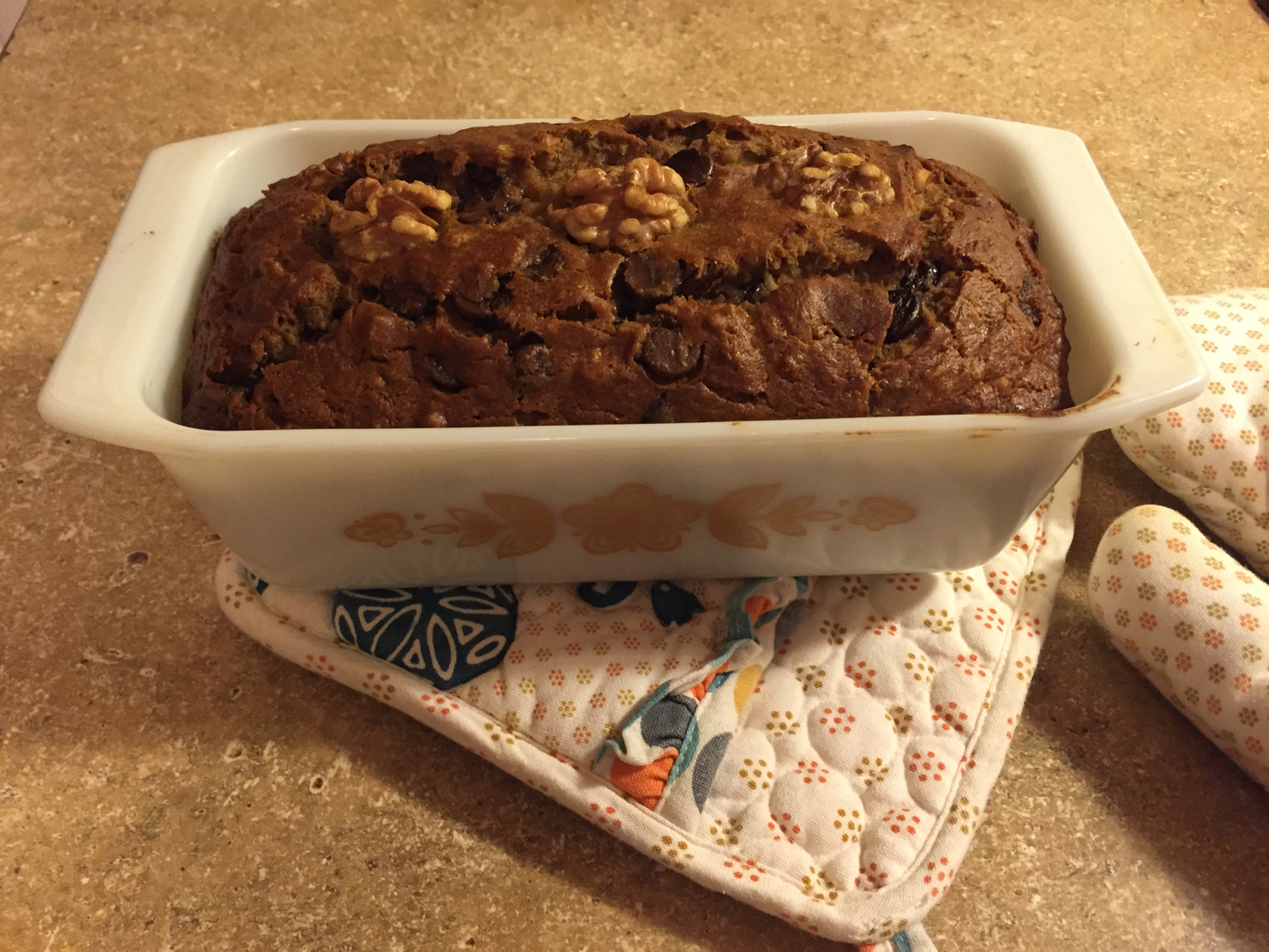 I could wait so I served two slices directly from the loaf pan before it was properly cooled and it was delicious! I loved the moist and chunky texture of this bread. The chocolate chips truly makes it more of a dessert or snack cake than a breakfast food. You can cover the loaf in plastic and it will keep for a few days on the counter (if you can manage not to eat it in a day), or in the fridge if you prefer.

After Dark Banana Bread
Banana bread for grown ups
Author:
Christina at Invented Charm
Ingredients
3 to 4 ripe bananas, smashed
⅓ cup melted salted butter
½ cup light brown sugar
¼ cup white sugar
1 egg, beaten
1 teaspoon vanilla
1 tablespoon+ whiskey
1 teaspoon baking soda
pinch of salt
1 teaspoon cinnamon
scant ½ teaspoon nutmeg
pinch of ground cloves
1 cup all purpose flour
½ cup whole wheat flour
½ cup chopped walnuts
1 cup semi-sweet chocolate chips
Instructions
Preheat the oven to 350°F.
With a wooden spoon, mix butter into the mashed bananas in a large mixing bowl.
Mix in the sugar, egg, vanilla and whiskey, then the spices.
Sprinkle the baking soda and salt over the mixture and mix in.
Add the flours last, mix.
Pour mixture into a buttered 4×8 inch loaf pan. Bake for 50 minutes to one hour, or until a tester comes out clean.
Cool on a rack. Remove from pan (optional) and slice to serve.