I'm in love with orzo. It's so versatile–I've made up a lot of orzo dishes by just throwing stuff in a bowl, and I've followed recipes I found online, and so far I've loved everything. Last week I came up with BTOPS Orzo, that's Bacon Tomato Onion Parmesan Spinach Orzo.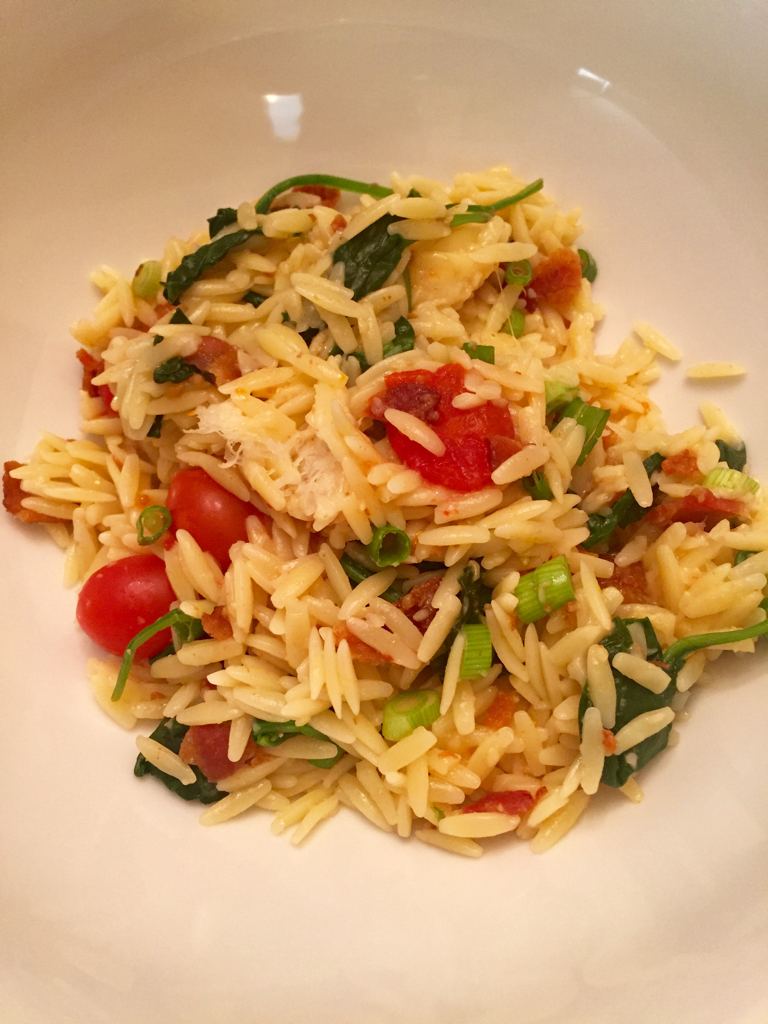 I had a carton of ripe cherry tomatoes on my countertop and a package of fresh spinach ready to go. I checked out my nearly empty fridge and pulled out some bacon, green onions, and Parmesan, and knew I was going to have a winner on my hands. I especially love that while the bacon is cooking and water is coming to a boil I can prep all the other ingredients. It's my favorite way to cook on busy evenings–I absolutely hate waiting around in the kitchen!

Bacon Tomato Spinach and Parmesan Orzo
Quick and easy orzo dish
Author:
Christina at Invented Charm
Ingredients
2 cups uncooked orzo
6 pieces of bacon
1 container cherry tomatoes (or similar)
1 container or bag baby spinach
1 teaspoon olive oil
3 stalks of green onion, chopped
1 cup grated Parmesan cheese
½ teaspoon garlic powder
½ teaspoon onion powder
salt & pepper to taste
red pepper flakes (optional)
Instructions
Preheat the oven to 375 degrees. Line a baking sheet with foil and lay out six strips (or more) of bacon. Bake for 20 minutes (more or less depending on thickness of bacon).
While bacon is cooking, bring water to a boil in a large sauce pan and chop green onions, wash tomatoes and spinach, and shred Parmesan cheese.
Remove bacon from oven, let cool for 5 minutes on a plate lined with a paper towel, then chop into bite sized pieces.
Add orzo and a pinch of salt to the boiling water. Cook for 9 minutes. Strain and set aside cooked orzo in a serving bowl.
Using the same sauce pan as the orzo, sauté tomatoes and spinach in olive oil until spinach is wilted and tomatoes have softened.
Season orzo with garlic powder, onion powder, salt & pepper.
Mix in bacon, tomatoes, spinach, and green onions. Sprinkle in the cheese and mix again. Taste and adjust seasoning if needed.
Serve in bowls and garnish with red pepper flakes and more Parmesan cheese if desired.
Notes: I like to bake my bacon in the oven. It gets really crispy after you let it sit for a few minutes. You can microwave or pan cook your bacon if you prefer.