It's already February, but I didn't want to let that stop me from posting about my winter capsule wardrobe. Back in December I started working on my capsule by filling out Unfancy's worksheets, and decided that this should last me through the month of March. I moved in late January to a colder and rainier region and had to revamp my capsule a bit, and this is the result.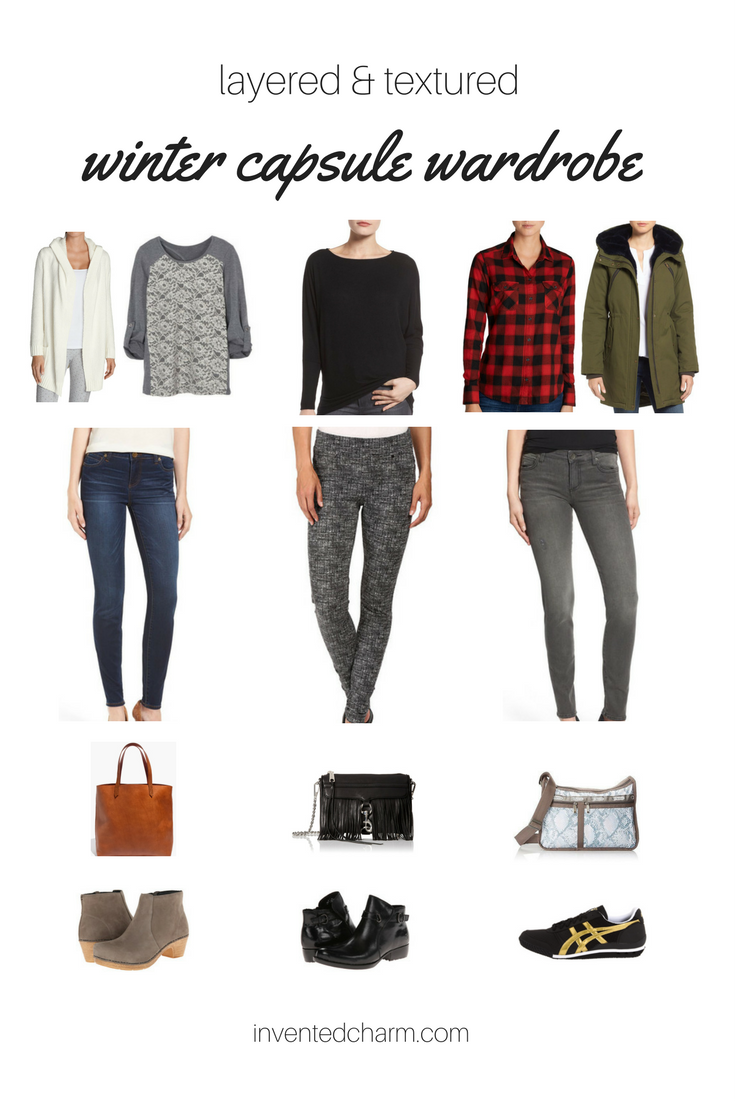 Some of the following include Amazon affiliate links and Stitch Fix referral links. All thoughts and opinions are my own. For a full disclosure statement see my About page.
I knew going into the season that I was going to sign up for Stitch Fix in the new year. (I'LL DO A WHOLE POST ON THAT SEPARATELY, but if you're curious you can click on the referral link.) I also knew that I'd be getting some new clothes for Christmas from my mom. I selected a handful of of layering basics from Land's End and Eddie Bauer, two brands that my family loves. (I used to work for Eddie Bauer in college!)
One of the things that struck me again this time around on the worksheets is that 37 pieces is a lot of clothes. I have some sweaters in my capsule that are fine, but not amazing. I have some shoes in this capsule that are entirely impractical most of the time. During my most recent edits, I removed two of my coats from my capsule because when given the choice, I never go for my structured outerwear anymore. I've really discovered a new sense of style that fits with my stay at home mom aesthetic, and she wears field jackets and puffer jackets when its cold.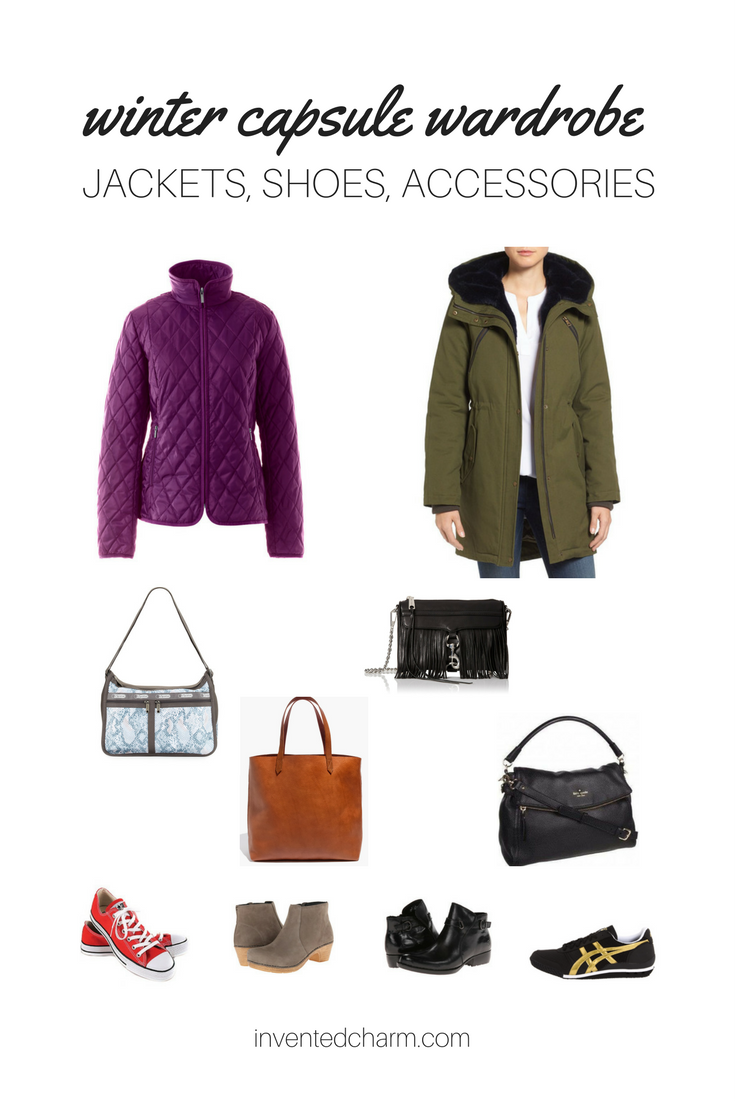 Notes & Image Credits // Travel Primaloft Jacket: Land's End / Cotton Canvas Anorak by Vince Camuto: Nordstrom / Aqua Snake Lesportsac Deluxe: Amazon / English Saddle Leather Transport Tote: Madewell / Black Leather Cobble Hill Little Minka Crossbody: Kate Spade (old) / Rebecca Minkoff Mini Crossbody: Amazon (similar) / Red Converse: Amazon / Jem black leather booties by Born: Amazon / Onitsuka Tiger by Asics: Zappos (similar)
I love my purple puffer jacket by Land's End. I wear it around the house when I get chilly, I wear it on walks in the morning, I throw it on when I'm doing errands. It's really light weight but keeps me warm. It's on sale now for $54.99. The olive green anorak jacket featured above is similar but not exact to the one I own. Mine is a Stitch Fix exclusive by Marc New York. The Vince Camuto jacket is on sale for $149.99 at Nordstrom and is very similar minus the hood lining.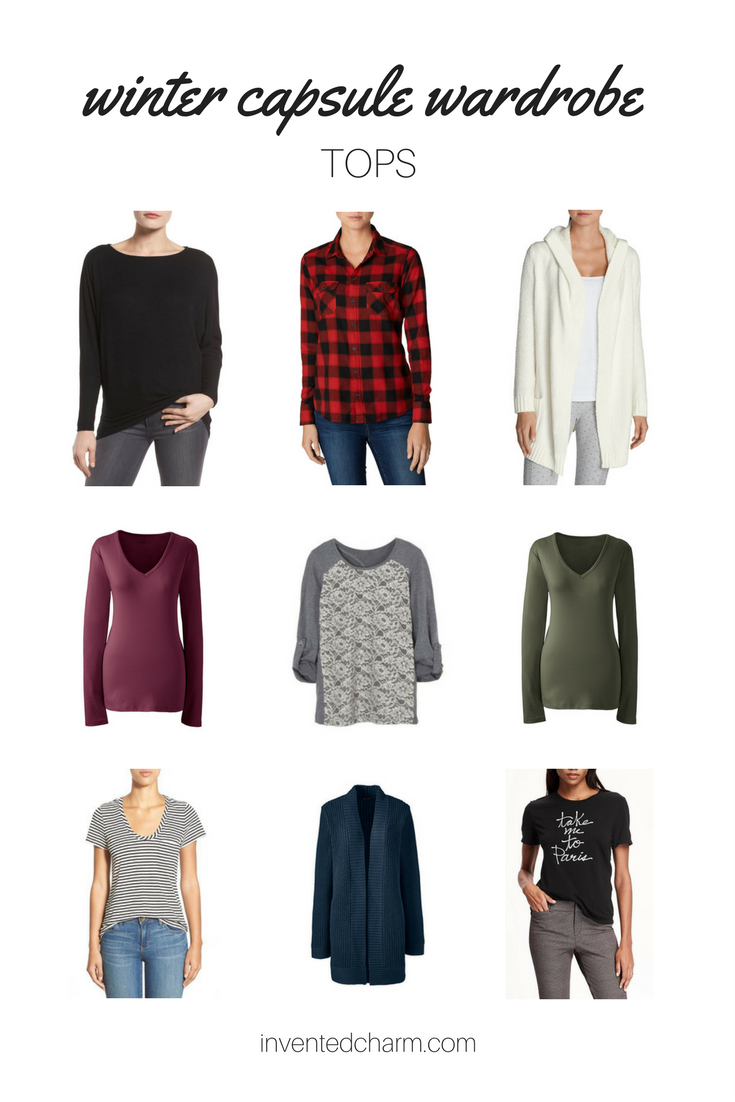 Notes & Image Credits // Batwing Top: Nordstrom / Plaid Flannel Button Down: Eddie Bauer / Sleep Sweater Cardigan: Eddie Bauer / Shaped Cotton V-Neck: Land's End / Grey and Cream Lace Dolman: Stitch Fix / Shaped Cotton V-Neck: Land's End / Striped U-Neck: Nordstrom (old) / Long Cardigan: Land's End  / Paris Graphic Tee: Old Navy
This is just a sampling of my tops and sweaters in my mid-winter capsule. All of the long sleeve V-necks are new, but I'm still using quite a few short sleeve tees for layering under my denim and flannel button downs. I have an older version of the scarlet flannel from Eddie Bauer, as well as a blue and black one. I added three tops from Stitch Fix (a black jersey batwing top, a grey and cream lace dolman sleeve top, and a blue green open front cardigan), so I included versions available more widely. My blue cardigan has a bit more green to it than the one pictured, and the back has a really cool braid detail, but the shape and weight of the Land's End one looks very similar. What else isn't pictured in your capsule, you may be asking? Well, occasionally I do wear my silly fox sweater from Old Navy that I got several seasons ago. Sometimes my peacock sweater from Nordstrom's sale rack makes an appearance, too. I even sport a striped Bonjour! sweater from Ann Taylor Loft (outlet) when I want to make a kitschy statement.
You guys, I have some really exciting news that I haven't yet shared. I OWN JEANS THAT FIT! My pants game is seriously upped. I'm stoked.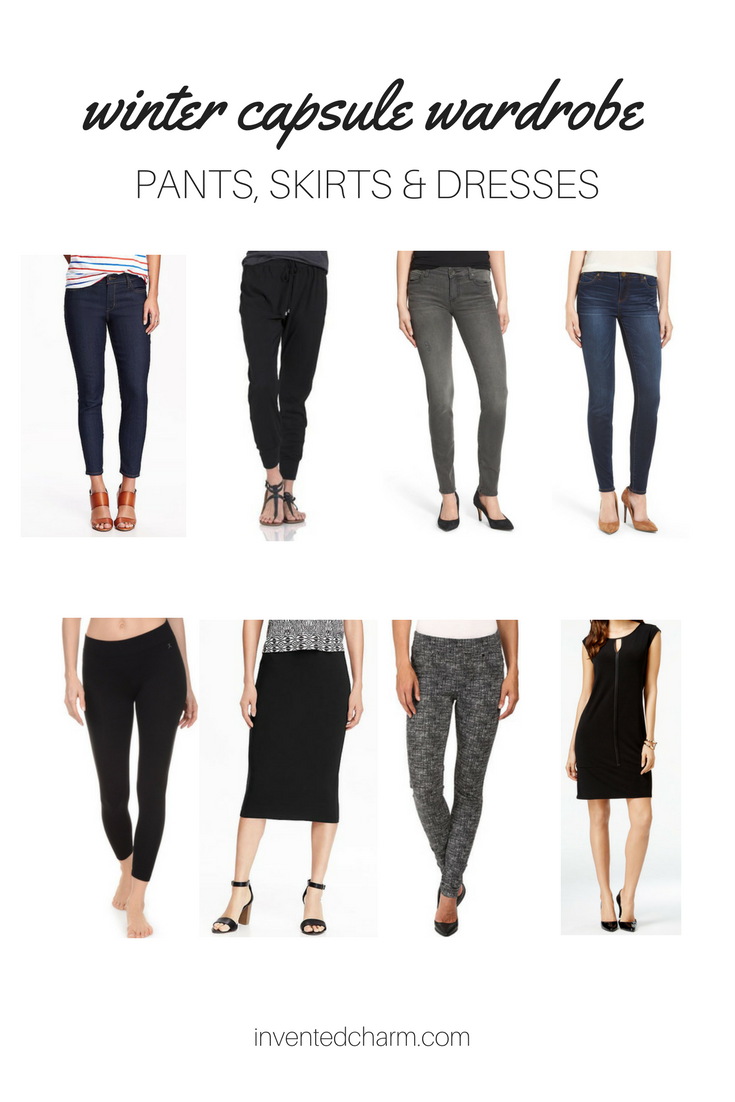 Notes & Image Credits // Mid-Rise Super Skinny Ankle Jeans: Old Navy / Jogger: Laila Jayde / Diana Stretch Skinny Jeans by Kut from the Kloth: Nordstrom / Mia Stretch Skinny Jeans by Kut from the Kloth: Amazon / Danskin Leggings: Amazon / Jersey Pencil Midi Skirt: Old Navy / Liverpool Leggings in Hatched Tweed: Zappos  / Black Satin Trim Cap Sleeve Dress: Macy's
I have two pairs of jeans from Kut from the Kloth, a grey skinny jean that wears closer to straight leg on me, and a blue "toothpick" skinny jean that hit right at the ankle. I got the grey pair back in November from Nordstrom and then the blue jeans were in my first Stitch Fix in January. I also added (via Stitch Fix) a pair of black joggers by Laila Jayde (yay pockets!), and Liverpool legging jeans with a tweed look. I really love love love that I have so many options now. I can't tell you how exciting it is that I have jeans that don't fall down when I sit.
I've always described my sense of style as casual, but perhaps I'll adopt cozy instead. I know I've said it many times before, but I want the fabrics I wear to be easy. I layer up and down throughout the day. I like the versatility of this capsule, but I also like that every piece I'm buying is a bit more polished looking than before. In my February fix from Stitch Fix I asked for items with texture, and I'm so glad I did. I'm not always confident in prints, and I gravitate toward safe, classic colors, but I knew I could be more daring with texture.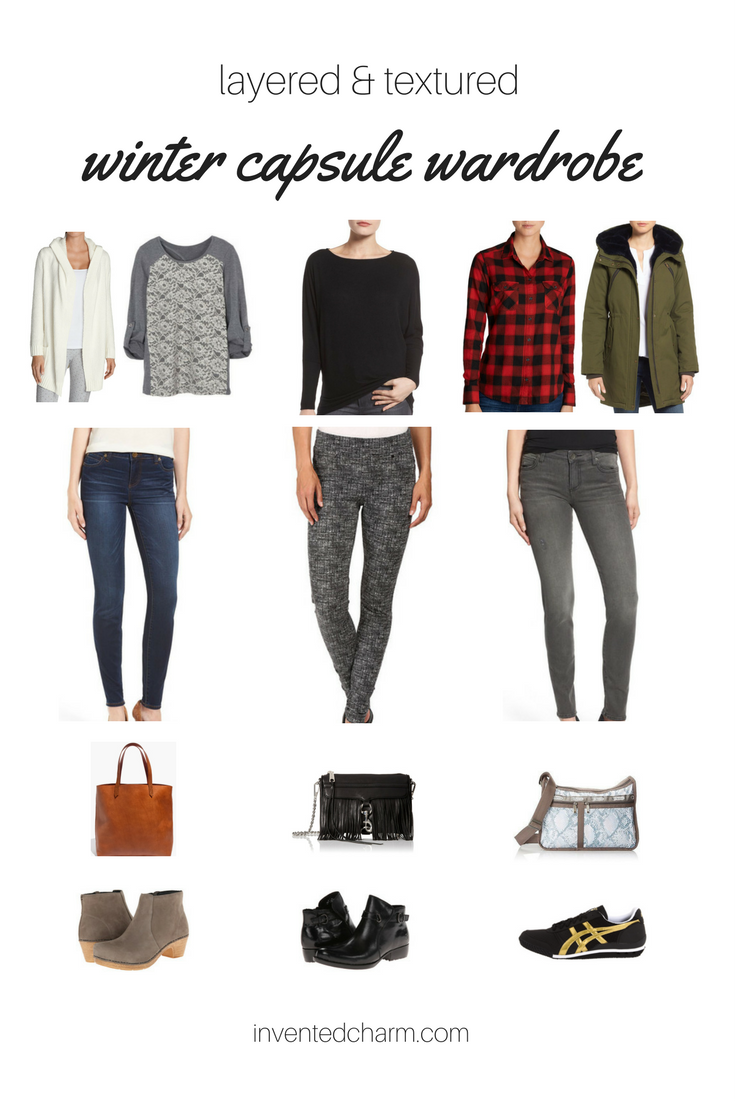 Outfit combos //  Open cardigan in snow over a grey and cream lace dolman sleeve top, paired with blue skinny jeans, English saddle leather tote, and taupe suede booties / Batwing top in black, paired with 'tweed' jean leggings, black fringed crossbody purse, and black leather booties / Olive green anorak jacket over a scarlet plaid flannel, worn with grey skinny jeans, aqua snake crossbody, with black and gold sneakers
I change my shoes multiple times a day—from sneakers to boots to wool house slippers back to boots again. I want my clothes to serve the function of keeping me warm in my new colder climate, but also help me feel confident as I get reacquainted with my hometown. When I was a full-time worker I didn't need my clothes to perform so many functions. I mostly sat at a desk and the extent of my physical activity was taking walks during lunch. Now I'm trying to create easy looks that can be worn during playtime, running errands, and out for lunch. I need to swap jackets when it starts pouring rain, change shoes when we're walking to the park, and somehow manage to look put together and stylish.
A capsule wardrobe has helped me feel more in control of my life—my closet is no longer a place of chaos and disgust. I can more easily identify my style now that I've gone through the capsule wardrobe process a few times. I have a tendency to rely too heavily on basics because I can throw anything on quickly and know that I'm matching, for the most part. But basics all the time are boring, and boredom can lead to really poor decisions—like shopping without purpose, with no regard to what's in your bank account, and buying stuff for an emotional high that doesn't last. Right now I'm finally getting to a place where I am happy to get dressed in the morning because the majority of my capsule wardrobe truly does bring me joy.