We welcomed my daughter, Iris Paloma, in June and she rocked our world this summer in the best way. She's amazing! Nick and I are so happy. Her brother is in love and shows her a lot of affection.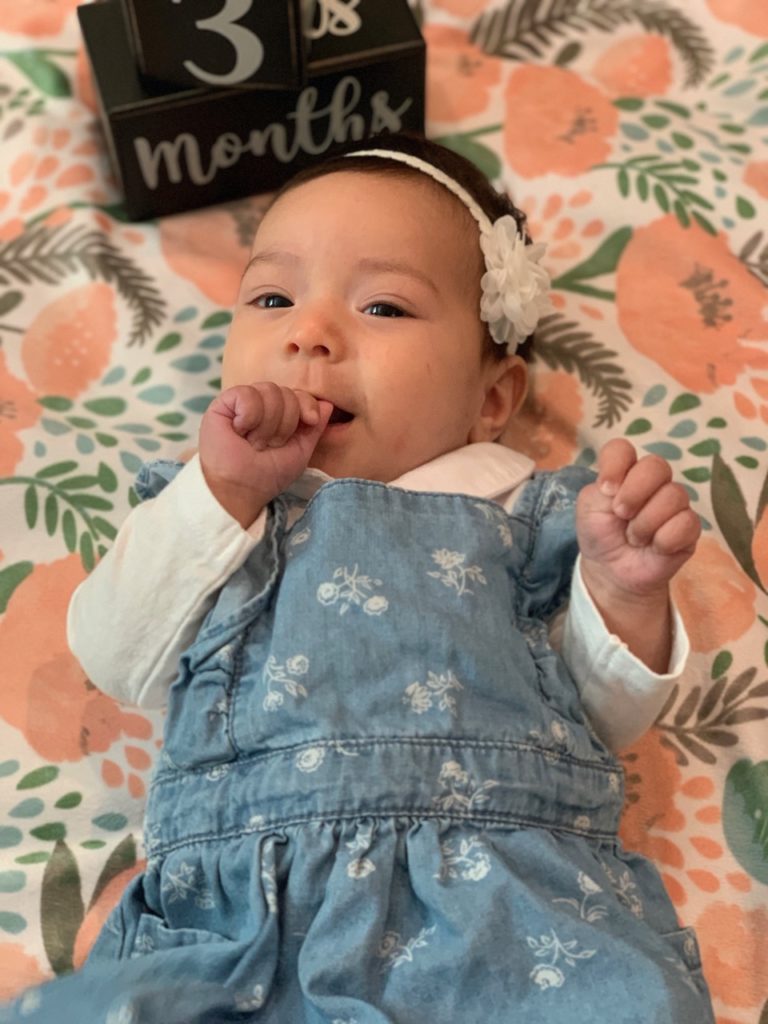 I knew there would be big changes going from one to two kids, but I never had a concrete sense of how I'd see those changes. There are literally more people I have to keep track of, that's for sure. We all got a virus in mid-August, and it's been a lingering thing that's turned into secondary infections. Nick got it first, then my son, then me, and just when I thought I was getting over it, Iris got it. I cannot tell you the number of trips to the doctor we've taken. I literally can't because I've lost track. It's an infinite number of tissue boxes and cough drops and antibiotics…
I'm a highly sensitive person and having alone time cut down further by a precious little baby is really hard. I've had to loosen some of my standards and let go of some of my ideals in this transitional season. Here are some of the changes I've made:
I don't prepare multiple meals anymore.
But hold on, let me clarify. I'm still preparing dinner, but now I'm really committed to making one or at the max two dinners a week that we LIVE ON. I have stopped catering to my son, and have made huge strides getting him to eat what we eat even if that means some nights he eats four carrots and nothing else. Before you get worried: I am not starving him. I try to serve only one "new" food per meal, but sometimes the mere presence of chicken on his plate means he won't eat the other three things I made that I know he likes! *eyeroll*
I'm don't eat out at restaurants often.
Oh how I miss this. It used to be for budget reasons that we cut way back on eating out, but now it's just down to timing. I don't have the patience to trek to a restaurant with two kids in tow, so we just opt to eat at home 95% of the time. By the end of the week when I have no energy to cook I plan a pantry meal and one "fun" meal. Pantry meals are cheap and easy to fix–rice and chili beans, microwaveable tika masala, salads with canned chickpeas, pasta with jarred sauce and frozen veggies. Our fun meals are things that don't usually require a whole lot of cooking or planning–charcuterie boards, bruschetta or caprese using our homegrown tomatoes, breakfast for dinner, or frozen dinner finds from Trader Joe's. Meals aren't always that exciting, but these easy options mean I don't have to put that much energy into cooking on nights when I'd rather go out (you know, if I didn't have two kids!).
I don't have a spotless house.
My mom gifted me a housecleaning once before Iris was born, and that was the last time our floors got mopped, and I'm okay with it. I try to vacuum at least twice a week in the highly trafficked areas, and I spot clean the floors when there's a spill. I clean the bathroom before company comes over. I dust when I can't ignore it anymore. I do dishes and laundry daily, but it takes a while for everything to get put away. We are getting by and so far I'm okay with it. The level of mess or gross is not too bad, and when I have a bit more energy or time I'll get this house up to snuff. It really helps that we keep clutter to a minimum and I am able to tidy up in about fifteen minutes. I've written previously about my experience with KonMari and you can read about it here.
I don't send handwritten thank you notes.
We had a party to celebrate the arrival of Iris, and I knew getting handwritten thank you cards out would be really hard, so instead I sent an Evite. From the app I was able to send personalized thank yous online. I really do like the idea of handwritten notes, but I'm just not able to prioritize them right now. I try to show how grateful I am about gifts, and I have to believe that's enough and that no one is sitting around feeling unappreciated. Another thing I do is send pictures of Iris wearing her new onesies to the friends that gifted them. I love the spontaneity of it, but also the connection feels really nice when it's not so prescripted.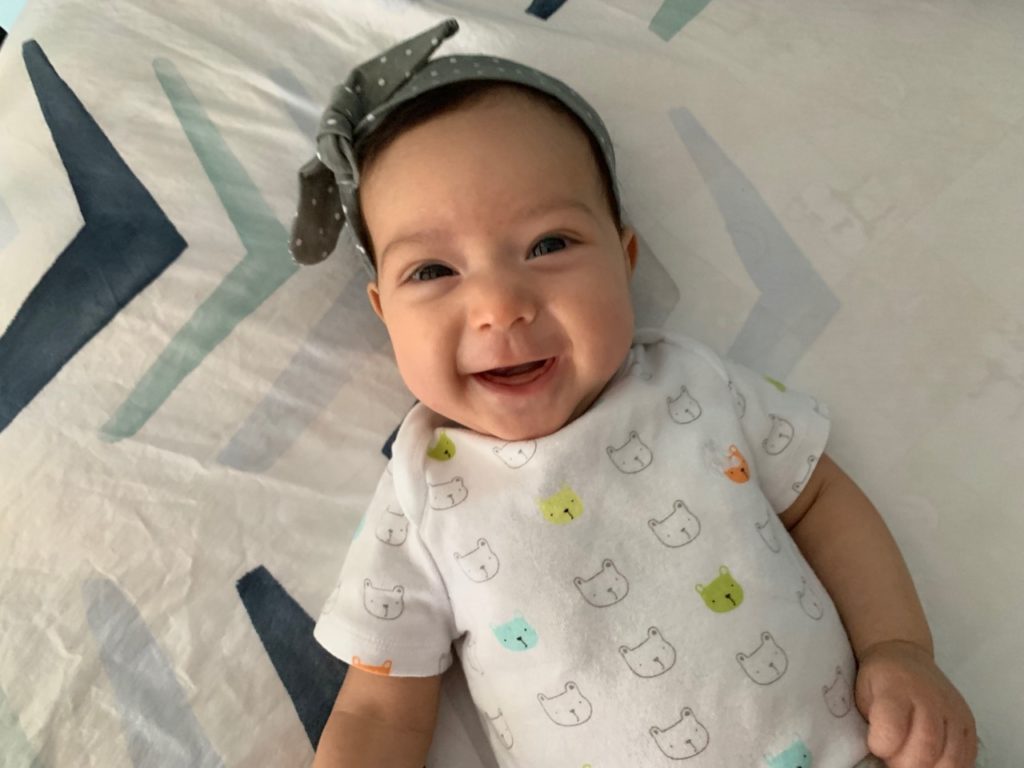 I don't have any private or dedicated space at home.
I gave up my yoga and office space in our master bedroom to make room for Iris' nursery. I love how it turned out, but I did have to come up with creative ways to make room for my activities and not let my lack of dedicated space be a stumbling block. When I do yoga I've been able to just unroll my mat in patch of open space in my living room between the baby swing and the ottoman. It's not an overly large area–it's just a little bit wider and longer than the size of my yoga mat. I haven't let perfect be the enemy of good. It's not a perfect place to do yoga, but it's good enough.
I moved my computer to a desk into the living room, as well. I mainly work at coffee shops where I meet a writing friend, but I still think it's important to have a writing space at home even if I use it infrequently. I make an effort to keep the desk organized so that if I have even ten minutes to write, I can easily sit down and open my laptop without having to worry about a mess. I keep a shallow basket on my desk for important papers, my journal, planners, and pens, and I make sure sure I don't use my desk chair as a hanger for jackets and purses.
I've gone back to the basics.
In addition to Iris being born, Rory started pre-K in August. It's nice to have him out of the house a few hours a day, but it's a considerable time and financial commitment on our end, too.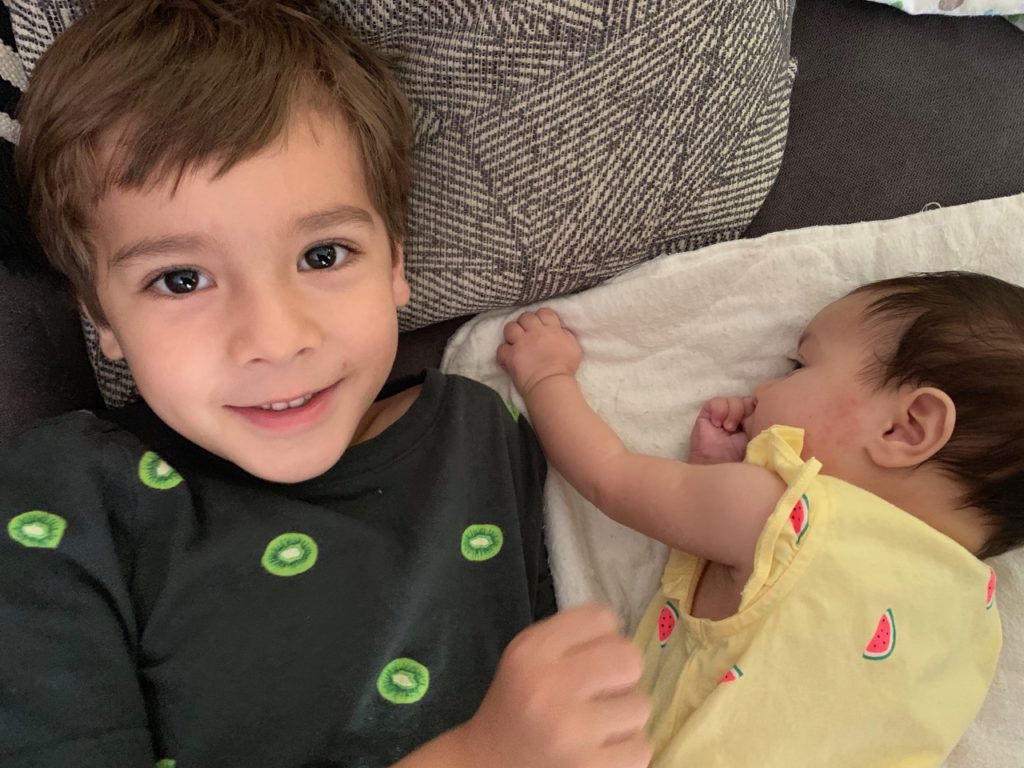 I think overall I've been able to adapt to these big changes fairly well. It helps that I still make time to go to therapy and my writing dates regularly. These two recurring events anchor my week, and I feel a sense of accomplishment if I do nothing else in terms of self-care. It's a lot of work taking care of two kids, especially as a stay at home mom, because the work never ends! I'm grateful to my past self that has worked hard to live with intention. Being intentional means I can be very clear about what my needs are, I can distinguish between what is essential and what would just be nice to have, and I can let go of things that aren't serving me right now. We are very much back to basics.