I shared in my last post that our family goes to Santa Barbara for my husband's work trips about once a year. We use the time to visit family and friends, but the main purpose is work, which means a lot of things are out of our control. We've had to troubleshoot quite a lot over the years, so let me share some of the unique challenges we've had and how I've reframe how I think about work travel generally.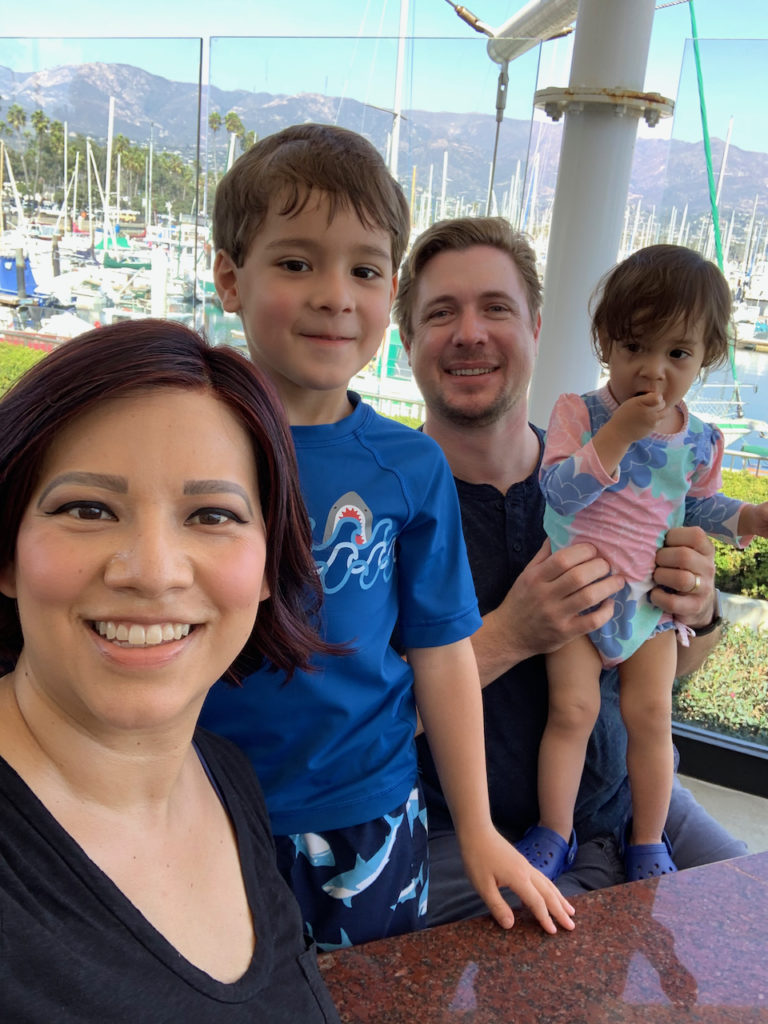 Extending the extended stay
Lots of people ask why we don't use a vacation rental and instead stay in a hotel. This is partially a financial decision–Santa Barbara is very touristy and housing is at a premium for locals, so you do the math on vacation rentals–but it's mostly for logistical reasons. These trips can be quite long. Our June 2021 trip was supposed to be 7 days, but was extended to 11 days, one excruciating day at a time. It's difficult, or maybe even impossible, to book an AirBNB and tack on one day at a time. A hotel is able to accommodate us in this way, particularly one that has a relationship with Nick's office. We have been able to get better rates, too, by picking hotels that have pre-negotiated rates.
We have been graciously hosted by friends and family on some previous trips (pre-pandemic), but as our family has grown and so have our kids, we find we need more space and privacy. It's also very tough to stay with friends or family knowing you're wearing out your welcome because the trips are long.
Life goes on
We approach these trips as work with a little bit of fun mixed in. Life goes on even when we're not in our home environment. Our October 2020 trip was 8 days and we had to do kindergarten online for 5 of those days (we were still fully remote in our district). We ended up missing one day of school because my daughter wasn't feeling well and I just couldn't manage a sick toddler and online school from a hotel room. During our June 2021 trip I kept my weekly therapy appointment via phone. I don't love the disruptive nature of these trips, but I can boost my mental health by keeping elements of my normal schedule. We also observe holidays on these trips–we arrived on Halloween in 2019 and went straight from the car to trick-or-treating, and we celebrated Iris's second birthday and Father's Day in 2021 in Santa Barbara. I wouldn't say that any of this is ideal, but we make it work and have fun.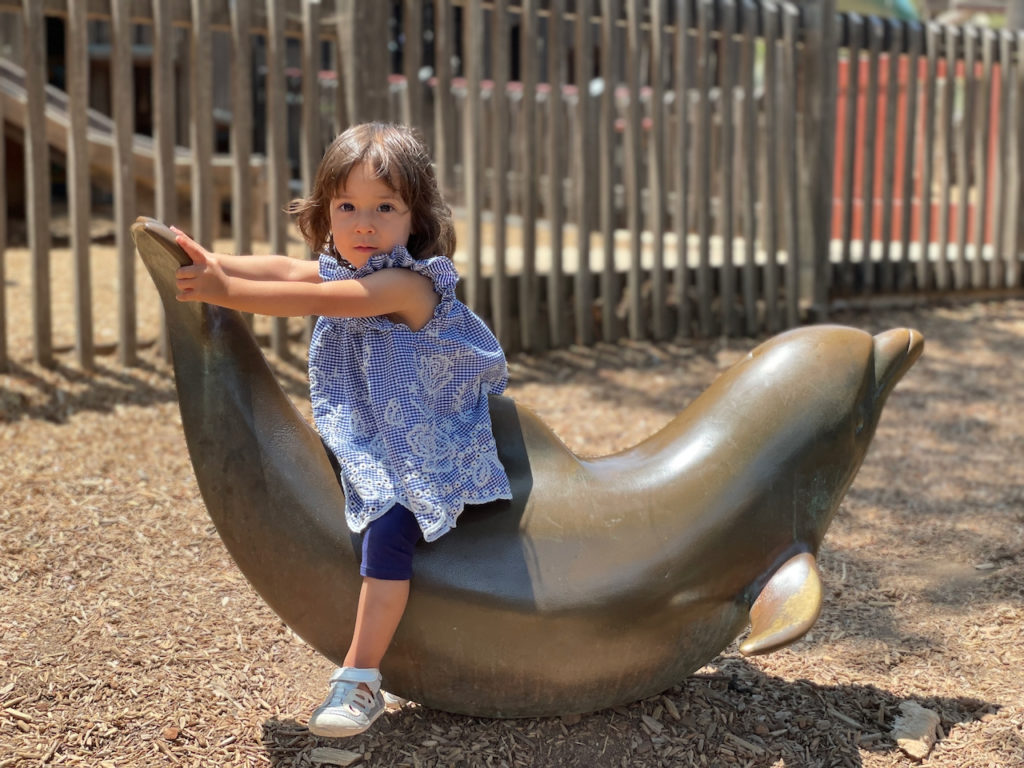 COVID-19
Looking back, I can't ignore the presence of COVID on these trips. In 2020 we weren't vaccinated and there was genuine fear of catching COVID and being sick in a hotel room with two young kids. In 2021 we were vaccinated and I felt some relief for myself and Nick, but none for our kids. We followed all the local protocols and managed to keep safe. The hardest part was not being able to access services, but it's a tradeoff I accepted for our health and safety and that of others.
Masks were a huge part of these last two visits. I made sure my son and my husband and I had plenty of masks. They get dirty, get dropped and lost, so it was important to have extras. Campus had extremely strict protocols during fall 2020, so even though I love taking my kids to my old haunts, we never even got out of the car when we dropped Nick off at work. We mostly ate outdoors, with a few rare exceptions, and somehow we were lucky that our trips were between surges.
Three out of the four of us are vaccinated now, so the next time we go I will feel a little better. I feel lucky that at their ages, my kids are totally happy going to every playground in the city.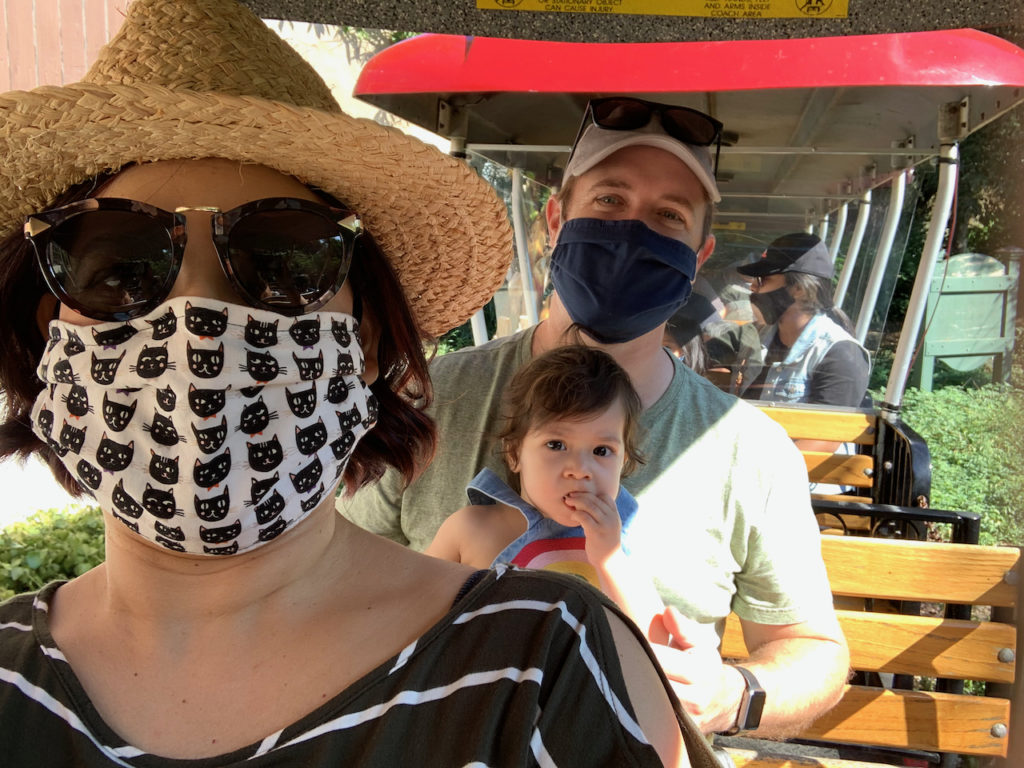 Food Allergies
Dining with kids is always kind of tricky because they don't have a ton of patience nor are they interested in a wide range of foods. And my kids have serious food allergies. Buying our food from the grocery store for the majority of our meals on trips gives me a lot more control and it's less emotionally fraught.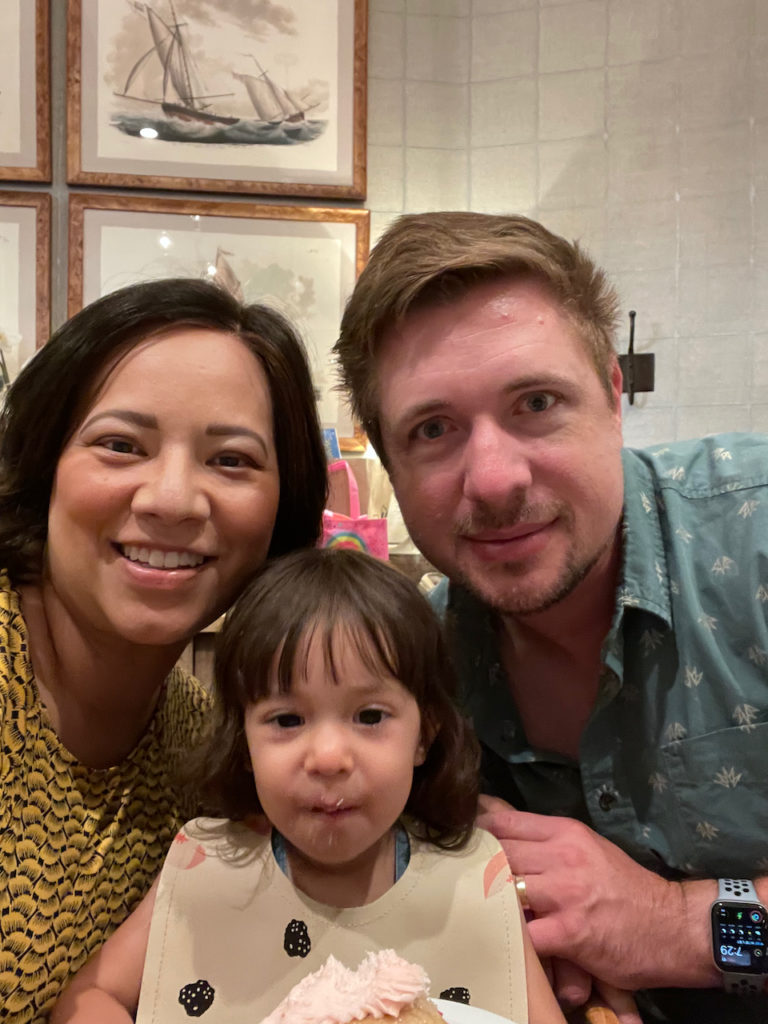 You would be shocked how easy it is at restaurants for mistakes to be made. I have to ask what bread and pizza crust are made of. I have to request no mayo or cheese. I have to request no additional items be subbed. I asked for no mayo on a BLT once and instead they gave me butter when I didn't want it and Iris had nothing except water and chips until we got back to the hotel. Even friendly little interactions with families at neighboring tables can be scary. One little kid kept trying to share toys with Iris and he was eating a very greasy grilled cheese and I had to intercept the little toys and explain why she couldn't touch them. 
Be flexible, adapt, and manage expectations
Most of the time when people travel they have a set number of days they are going to be gone and can pack accordingly. On these work trips Nick is often at the mercy of various service providers and dealing with delays and problems, so that means these trips are long and time gets extended to accommodate the needs of his office. This is not a complaint, but rather a way to explain why we have to be really flexible. 
We've taken trips before where people have run out of clean clothes and we've had to buy things. I also hate how we accumulate wet and sandy bathing suits and beach towels in small hotel bathrooms, so now we wash and dry them after each use. Adapting my expectations to include doing laundry a few nights a week is much more preferable than running out of clean underwear and having mildewy bathing suits "air drying" in the shower.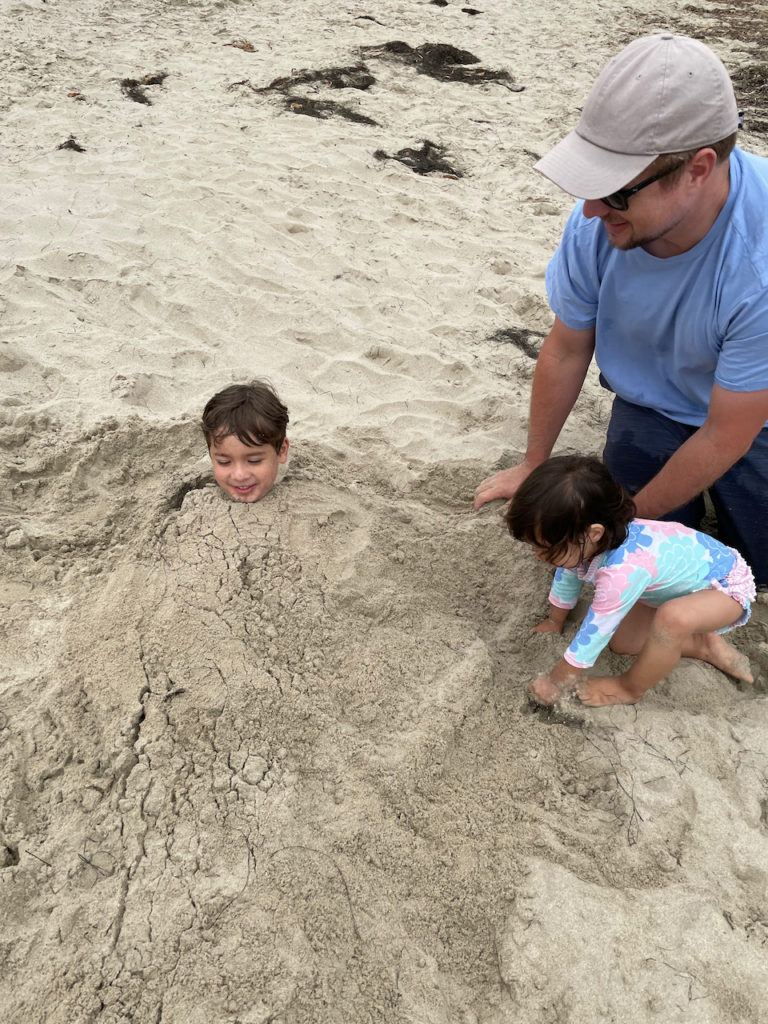 On one trip we had no trunk space (due to work gear), so we could only take what fit inside the car. I almost suggested driving down in my own car, but Nick's car is a spacious sedan, so we piled up duffle bags on Iris's side since she's still in a rear-facing car seat. It meant not taking every single toy the kids packed or my second bag of books, and we were fine without them.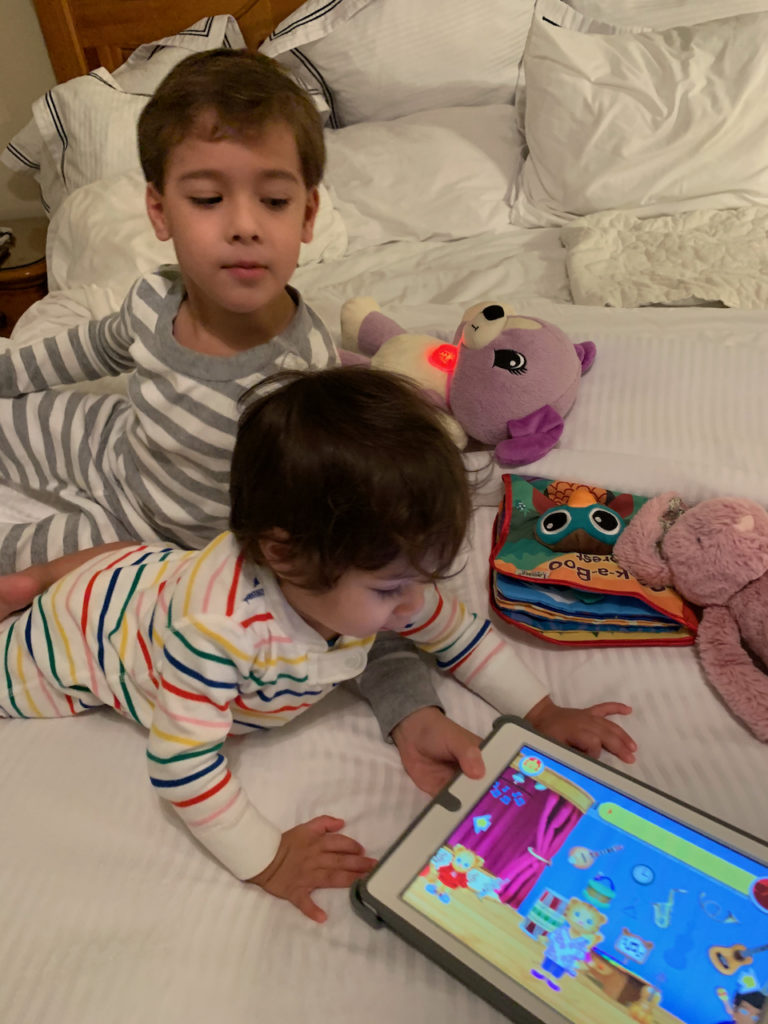 It's hard but worth it
Extended-stay travel with a family requires a lot of patience and a knack for problem-solving. I would argue that it's always important to remember that there is a difference between traveling and vacationing. Traveling with kids isn't neat or relaxing, but I do think it's worth it even with all the headaches. The kids get to see their dad when he's not working. We get to reconnect with family and friends. We've learned to be resilient when things don't go our way, and that's what will help us on our next adventure.