I know you've seen the posts and bloggers out there championing the merits of a capsule wardrobe. Maybe you've pinned a few looks on Pinterest and thought ooh, that sounds nice. But just as quickly you've also thought nah, I could never live with such a small wardrobe. I had a million reasons why I didn't think a capsule wardrobe was for me. Here are just a few:
My closet is a mess.
I love to browse and splurge occasionally—I can't commit to a capsule.
I don't really have a personal style.
No one cares how I dress.
I just really like wearing yoga pants, okay?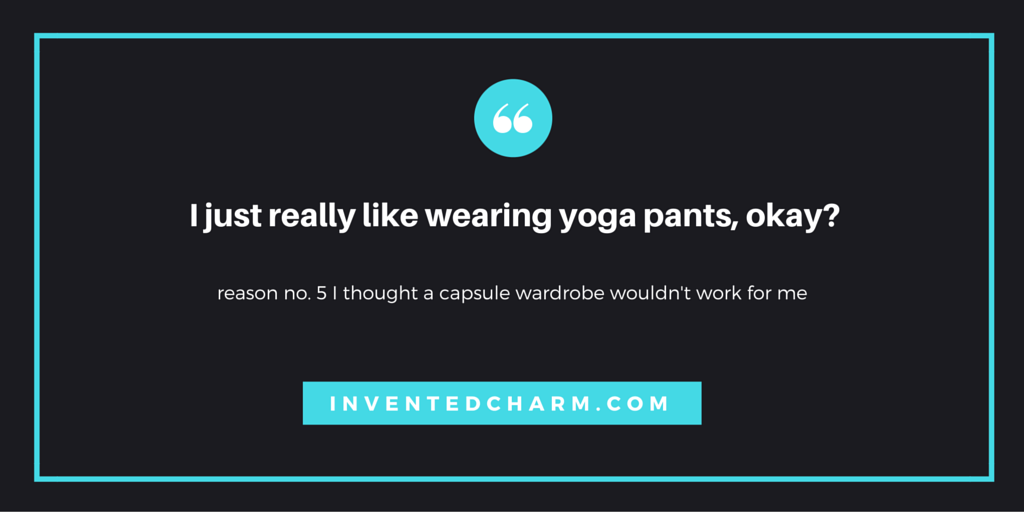 Some of the following include Amazon affiliate links, which means that if you click on one of the product links and make a purchase, I'll receive a percentage of that sale at no cost to you. All thoughts and opinions are my own. For a full disclosure statement see my About page.
After some research, the first post that really piqued my interest was by Pinch of Yum. She's a food blogger, and that's probably why it's so intriguing to me. I'll be honest, style bloggers intimidate me. I feel like a schlub six out of seven days a week, and I have body confidence issues galore, so I tend not to believe I have any right to hang out with read about ladies who have their fashion shit together. I mentioned all this to my friend Jamie, and she told me about Shutterbean's spring capsule wardrobe, but it was the winter capsule wardrobe that really spoke to me.
My friend planted the idea in my head that maybe I should reconsider a capsule wardrobe and write about it for my blog. If nothing else, it would be entertaining to share my experience as a stay at home mom trying to write about fashion (though my only sense about it is from afar, very, very far). The project felt too ambitious, and like a lot of ideas, this one got filed away for the magical future in which I have more time for writing.
Most of June passed by, and I had a lot of days where I felt super frumpy and frustrated with my closet. I had already done a huge purge in January when I read Marie Kondo's The Life Changing Magic of Tidying Up, and yet my closet still felt absolutely stuffed. I couldn't figure out what was going on! So in a fit of agitation, I went through my clothes again and realized that more than half of my closet was full of winter clothes, jackets and coats, and formal wear. I struggled each day to find something to wear because I had to look past the clutter. I took out all the cold weather shirts and other items I hadn't touched in months. I stuffed a bunch of items in plastic bags to get rid of, and then tossed the rest on a chair to be folded and stored out of sight.
Finally, my closet only has clothes that I can wear this season. Unintentionally, my capsule is about 35 items, right in between the guidelines proposed by Project 333 and Un-Fancy, two prominent capsule wardrobe/minimalist fashion bloggers.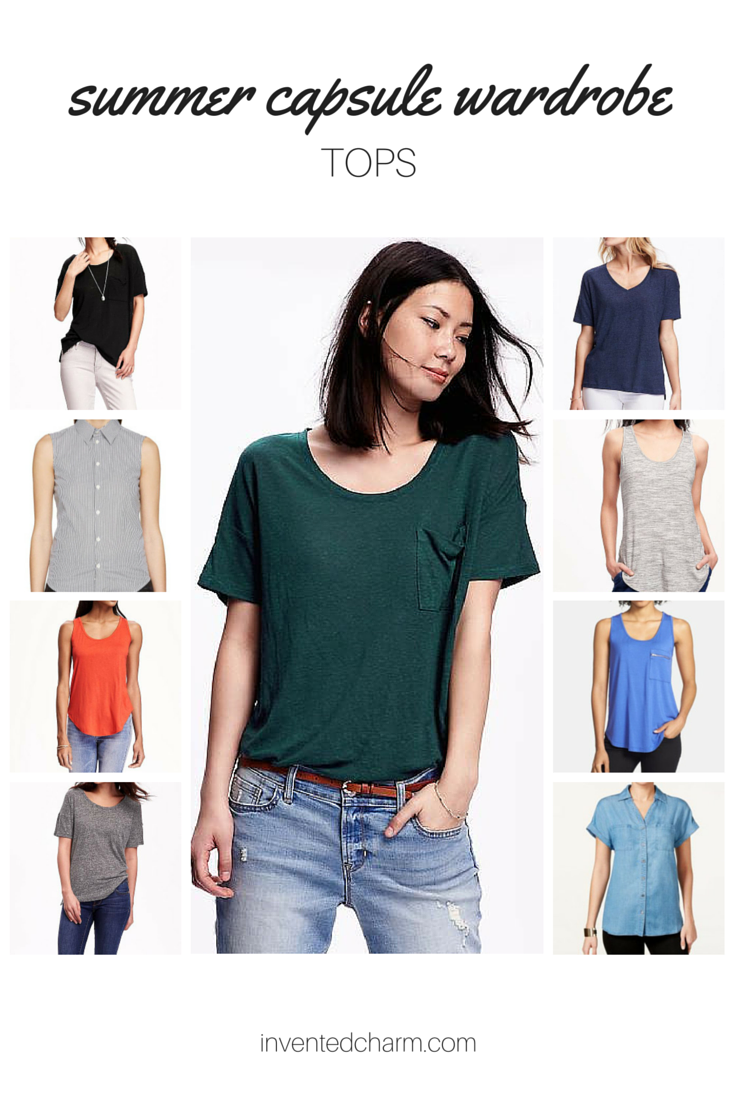 Notes & Image Credits // Boyfriend Style Ts: Old Navy / Sleeveless Striped Button Down: Van Heusen outlet or similar from Diesel Black Gold via iWomensShoes  / Relaxed Curve Hem Tanks: Old Navy / Mixed Media Zip Pocket Tank: Nordstrom (old) or similar via Amazon / Short Sleeve Chambray Button Down: Macy's
After living with my capsule wardrobe for two weeks, I learned that I have plenty of tops, though not in a huge variety of proportions. My tops from fast fashion stores don't last at all; they are already showing signs of wear and tear after just two months. Even though I don't have intentions of shopping more this season, I've learned an important lesson for my next capsule. Seeing everything I own visually lined up proves that I need to mix it up with prints and maybe even add some bold graphics. I do love basics, but I need to be careful not to get into a style rut.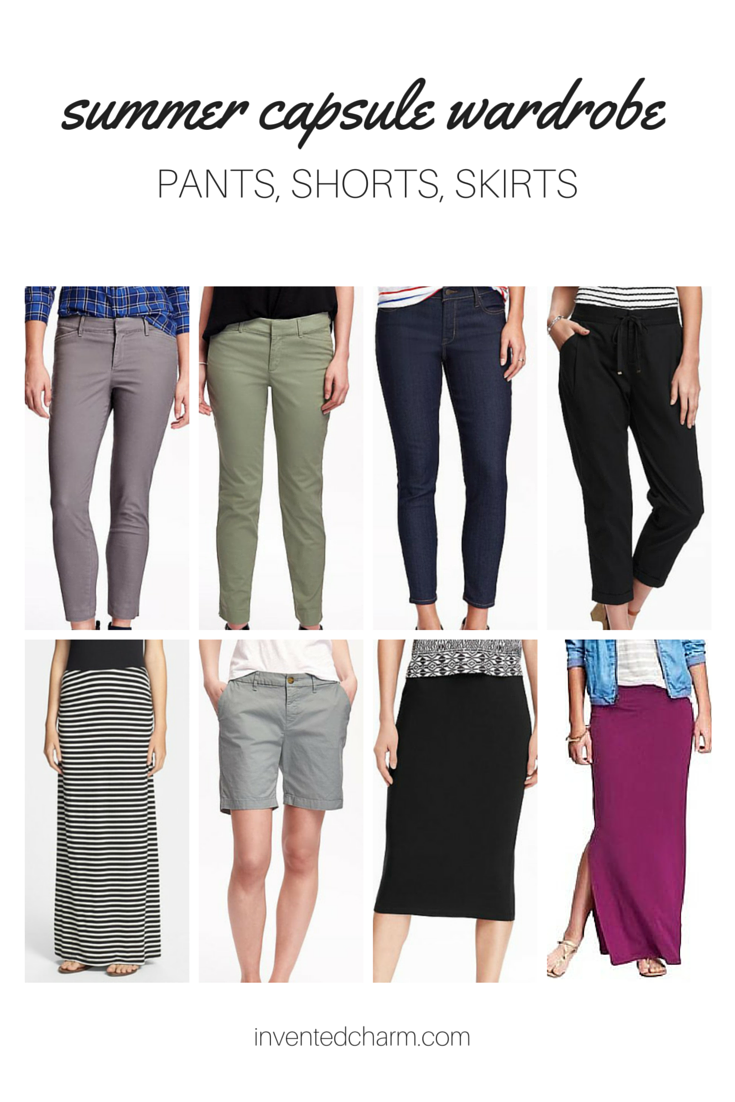 Notes & Image Credits // Pixie Chino Mid-Rise Pants : Old Navy / Mid-Rise Super Skinny Ankle Jeans: Old Navy / Relaxed Crepe Pants: similar by Old Navy / Convertible Striped Maxi Skirt: Nordstrom (old) or similar via Amazon / Bermuda Shorts: Old Navy / Jersey Pencil Midi Skirt: Old Navy / Maxi Skirt with Side Slit: Old Navy (old) or similar via Amazon
I am always on the look out for new pants. A favorite past-time is ordering a bunch online and then returning them because they don't fit (sigh). I never feel like I have enough bottoms, but what I learned is that I really do have quite a selection already. I will actually wear skirts if I can see them. I will wear shorts in public if it's hot enough and I can see the shorts in my closet mocking me. Most of my bottoms are from Old Navy, several from previous seasons (yay for not discontinuing staples), and they are still in great shape. I will continue to shop there and enjoy their reasonable prices, but I do look forward to investing in some higher quality denim for the fall.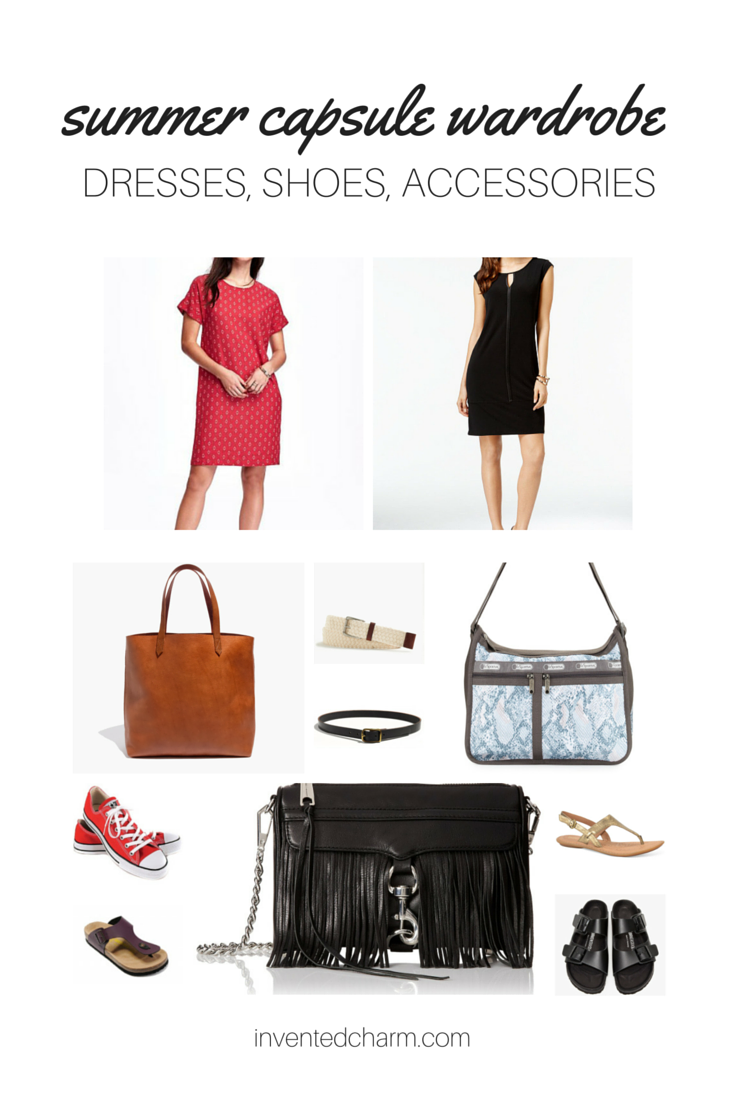 Notes & Image Credits // Red Printed Linen Blend Cocoon Dress: Old Navy / Black Satin Trim Cap Sleeve Dress: Macy's / English Saddle Leather Transport Tote: Madewell / Aqua Snake Lesportsac Deluxe: Amazon / Natural Braided Belt: Old Navy (old) or similar by J.Crew via Lyst / Black Leather Skinny Belt: Old Navy (old) or similar by Billykirk / Red Converse: Amazon / Wine Gizeh Birkenstocks (old) or similar purple Gizeh Birkenstocks / Gold Crinkle Leather Sandals by Born (old) or similar by Sam Edelman via Amazon / Black Leather Wrapped Birkenstocks (old) or similar Monterey Birkenstocks via Need Supply
I love dresses, but I currently have NO shoes that offer any height to go with them unless you count booties. And I don't count booties in the middle of summer in California. I've been considering making the leap and buying this pair of Swedish Hasbeens. I think clogs are a good alternative to heels for me. I have one pair of heels that I keep for formal occasions (not pictured). I haven't worn them since I was in my friend Megan's wedding a few years ago. (HAPPY BELATED ANNIVERSARY, MEGAN!) While I love dresses, I hardly ever wear them because they're impractical for since I'm still nursing. I might wear one when I'm without my kiddo, but that doesn't happen very often. (MY LAST DATE NIGHT WAS IN APRIL.)
Even though I don't love everything in my capsule wardrobe, I don't feel the need to buy anymore clothes right now. I felt totally supported in that decision after reading the Top 10 Capsule Wardrobe Struggles (and solutions) from Be More With Less. Quality has always been important to me. Shoes and purses tend to be the areas where I spend the most money. I have had my Birkenstocks for YEARS (easily approaching a decade or more). Quantity is a big distraction because shopping is something to do. I no longer want to spend money frivolously, and I can't now that we're living on a single income.
My closet is no longer a mess because creating a capsule forced me to deal with the clutter. Browsing and splurging doesn't fit my lifestyle anymore, so I can totally commit to a capsule. I'm still working on my personal style, but I'm not ashamed to say that I love basics. It's actually pretty fun to come up with so many combinations with "so few" options. I had a blast filling out this free printable from Unfancy, and I highly recommend doing that or something similar if you decide to start your own capsule wardrobe.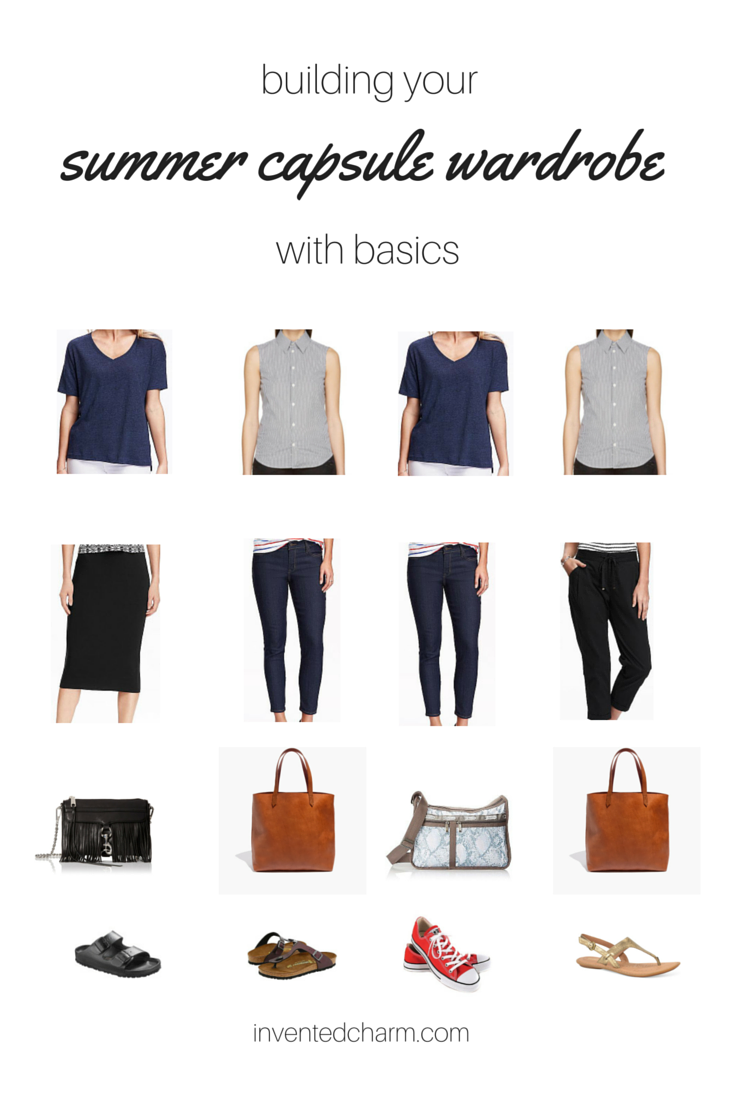 I am a stay at home mom, and the only person who cares about how I dress is ME. I have never spent a day in pajamas, so why have yoga pants have become an all-too-easy option!? I don't even do yoga. The outfit combinations I came up with above are all things that work for my every day life—errands with or without my kid, playdates, writing at a coffee shop, even date night. The fabrics are easy to wear, the fit is comfortable, and I can be ready to go without laboring in front of my closet for an hour. For all these myriad reasons, a capsule wardrobe is perfect for me, and maybe it's perfect for you, too.
What are your thoughts on capsule wardrobes and minimalist fashion?