A couple weeks ago I hinted that I'd be posting a home tour, so here we are, part one: the kitchen!
Our home is a 1958 Spanish revival/Mid-Century modern condo. The roofs are all red Spanish tile and the stucco is white, plus there are cool Mid-Century details like the metal awnings, and huge windows that flood the space with natural light.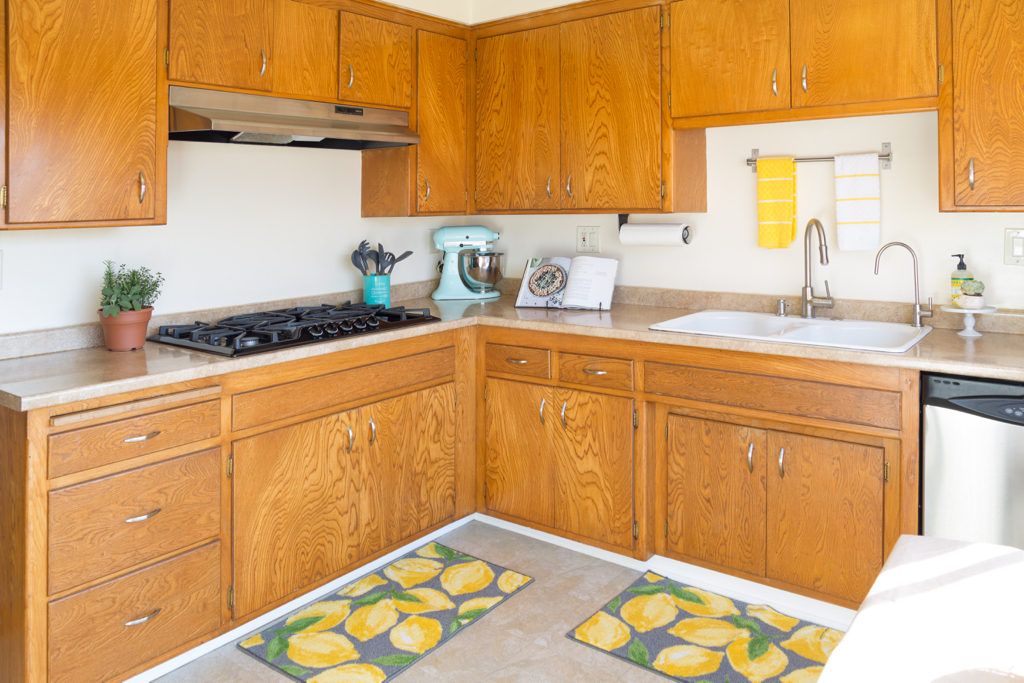 Some of the following include Amazon affiliate links, which means that if you click on one of the product links and make a purchase, I'll receive a percentage of that sale at no cost to you. All thoughts and opinions are my own. For a full disclosure statement see my About page.
The kitchen has undergone a lot of change since we bought the place ten years ago. The cabinets are original, and overall are in good shape. I refreshed the wood with Howard's Feed N Wax and I shared more about that in this post. The original boomerang laminate counters were in bad shape, so we replaced them with a faux tan granite with some flecks of green. I knew nothing about "retro renovating" back in 2007/8 when we began our updates, so I'm a little bummed I didn't look for something like these retro boomerangs (Creme Caramel would be my pick if I could do it all over again). I've actually grown to like this faux granite more after I restyled it recently.
Through the years we've added a dishwasher, and replaced the sink, stove (and installed the gas line!), oven, and hood range. We also updated the lighting (not pictured, oops). It's a basic pendant/semi-flush mount fixture from a box store with a rubbed bronze finish that ties in with other fixtures in the house.
The kitchen is separate from the main living space. You can catch a glimpse of the main living space, and there's even a pocket door if you want even more separation.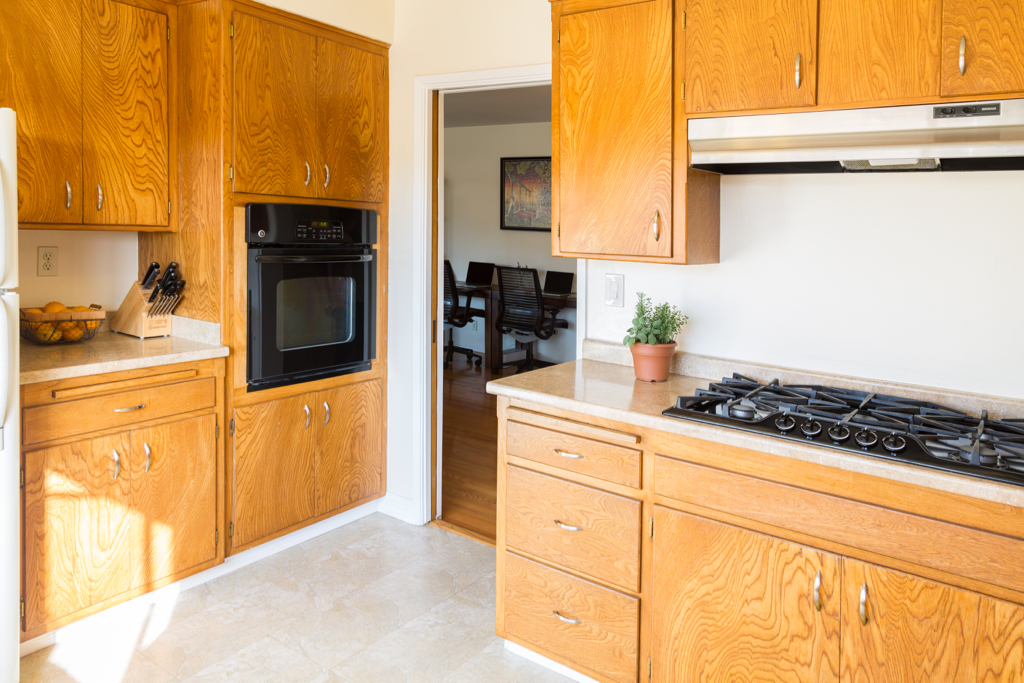 The kitchen still had an original Westinghouse oven when we moved in, but it didn't function properly. I have nightmares sometimes about losing that oven, and I wish I had just put it in storage or something. We tried to get it fixed, but we were told it wasn't possible and we were pressured to use our home warranty to get a new oven. *sad face*
There were already several layers of laminate tile flooring so we added one more, and upgraded to real baseboards and got rid of the weird hospital-looking rubber baseboard.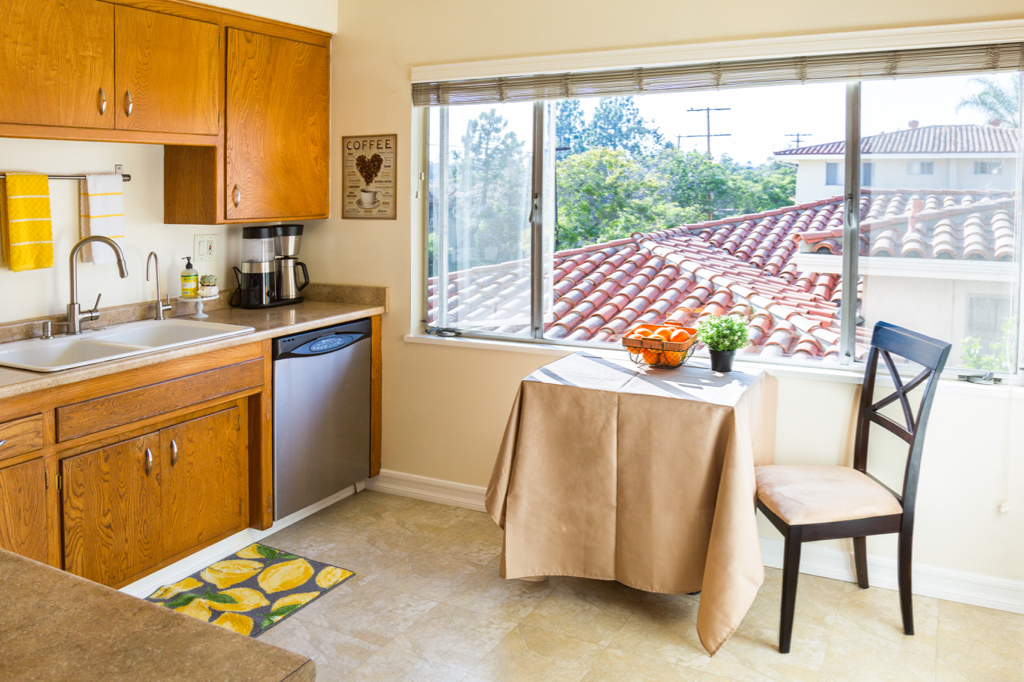 Over the years we changed out the faucet, installed the reverse osmosis water filter, and added a soap pump to increase functionality. There's not much wall space to decorate, but I did add this coffee sign a few years ago. It was a gift, and I love looking at it while I fix my morning joe.
The window pretty much dominates the space, and for the photoshoot my photographer thought it would be nice to stage a little breakfast table. We created this look using our trashcan, a flattened cardboard box, and a plain khaki table cloth. We pulled this chair in from our dining area. I do think a little breakfast nook right here would be great so you can take advantage of the mountain views. We use this space normally for our Simple Human trash can and our cat's litter box, but neither are something we wanted to feature in a house tour.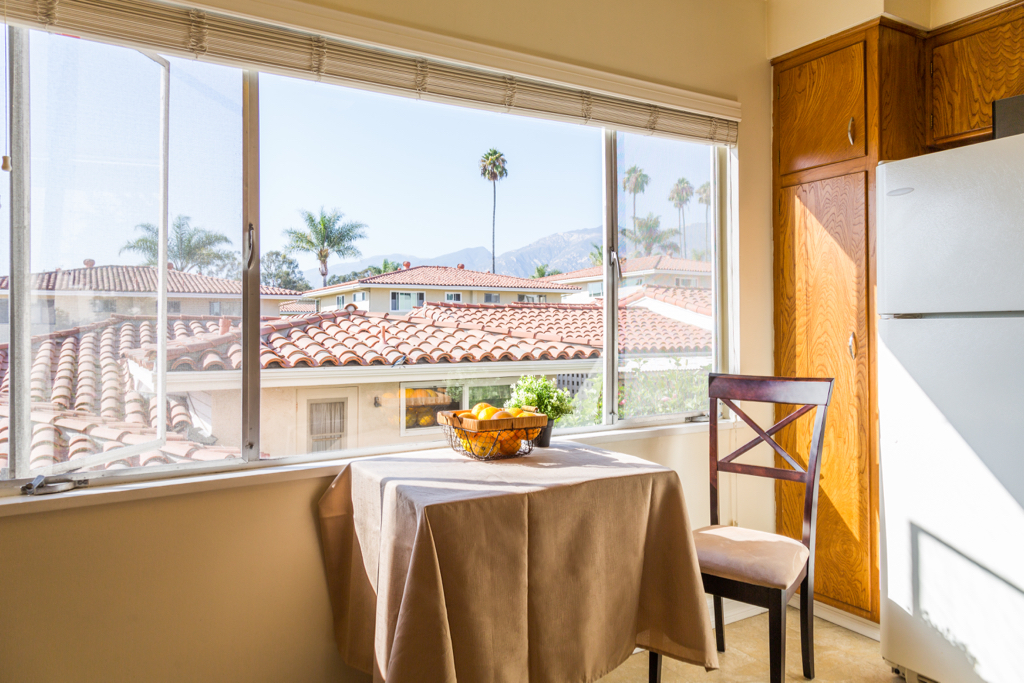 Yes, I have stellar views from my kitchen window.
These first three photos are from our listing. We were lucky enough to work with our dear friend, Laurent Leger Adame, to photograph our house. We are so happy with how everything turned out and I highly recommend him.
Below are some of my own photos I snapped after we had a showing to reflect how I've changed my styling. (Yes, I'm super aware that I am not a professional photographer.)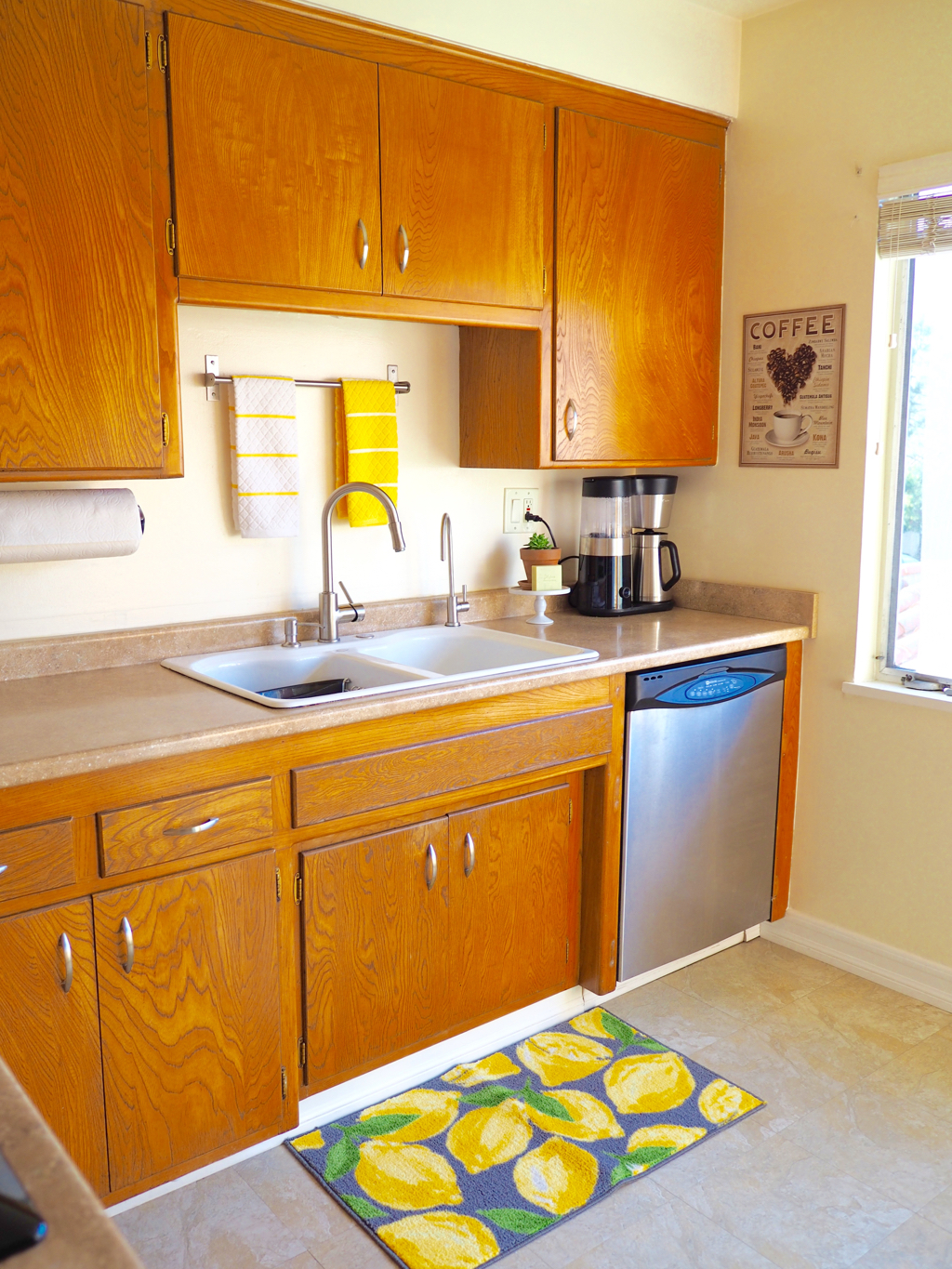 I brought in a different succulent for the area by the sink and set out a pretty Green Tea soap my friend Jill sent me.
I change out the recipe in the book I have on display from time to time.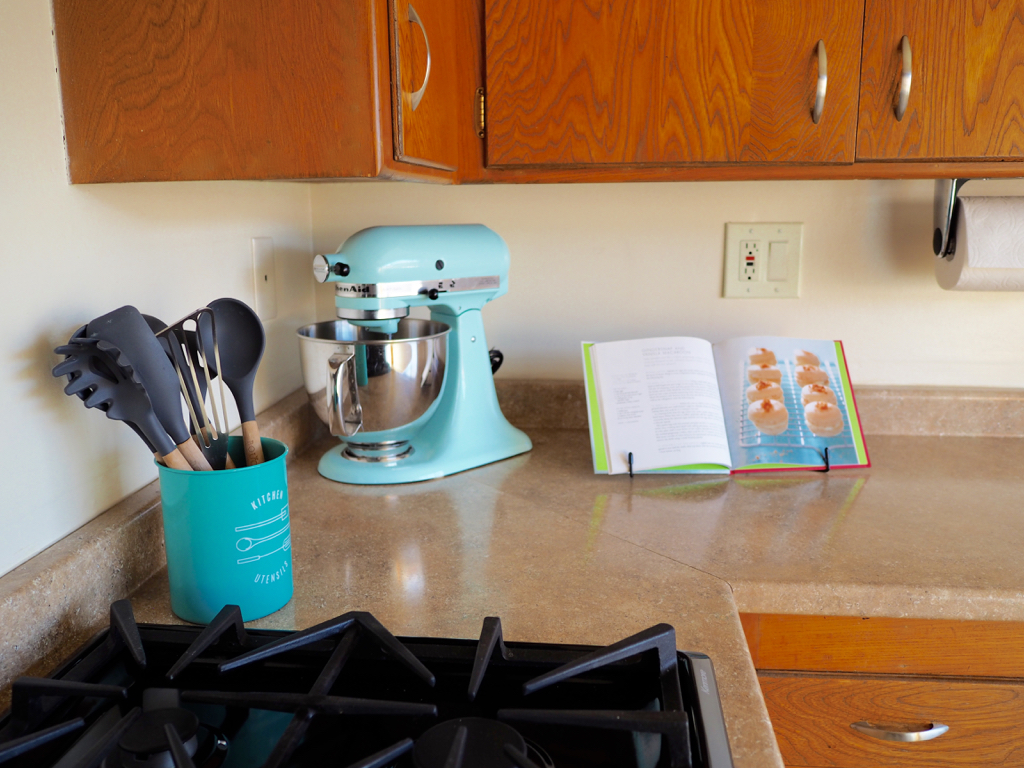 Currently I have the Gingersnap and Vanilla Macaron recipe featured from the Macaron cookbook by Bérengère Abraham. The book stand is a very simple, inexpensive one I salvaged from a trash pile at my old office. It's also functional—I use it to prop up my iPad when I cook.
In my Easy & Affordable Kitchen Refresh post, I shared my best tips for keeping counters and the sink area clear of clutter. I'm a huge fan of the Simple Human wall mount paper towel holder, our dish soap pump, and also the wire wracks and 3M hooks we have installed on the inside of many of our cabinets. I was also able to tuck away our microwave and our toaster too, which gives me this additional area by the fridge for food prep. (Apparently my fridge was open when I took this!?)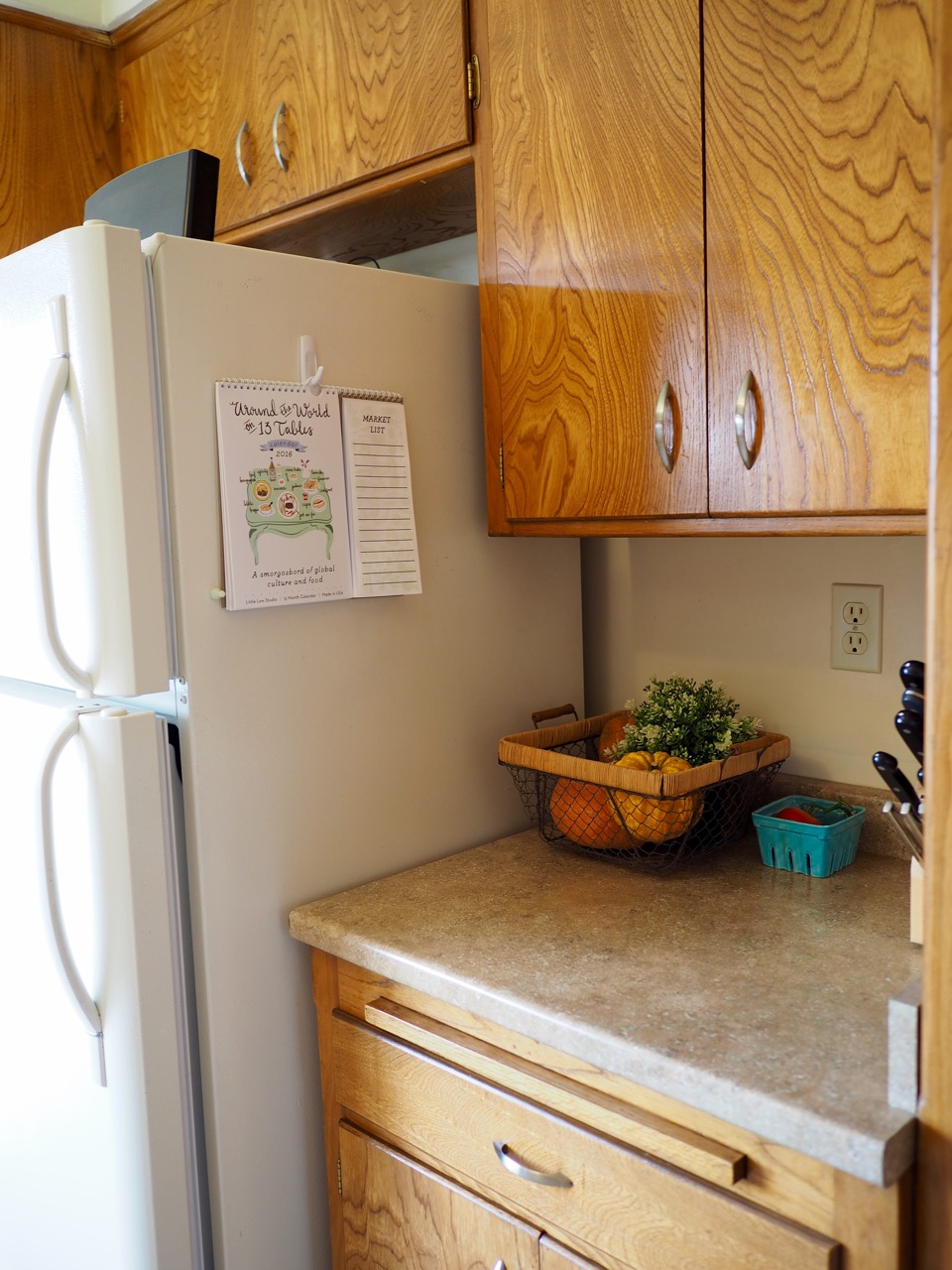 This particular week I displayed some tomatoes in a little ceramic farmers market basket. Even though it's super hot still, I give a nod to fall using an assortment of edible gourds in a farmhouse style basket, along with a fake plant from Ikea.
So there you have it, a tour of my modest kitchen with simple styling. I did this mainly to sell my house, but I am going to take these concepts with me to my next home. Having our house this clean and organized makes me appreciate the space so much more. I know potential buyers might be hoping for a high-end kitchen, but ours is spotless, bright and airy, everything is functioning, and move-in ready.
Related post: