I've really missed cooking these last several weeks while our house has been on the market. I still keep up my weekly meal planning, but the cooking we do is very simple, requires no recipes, and is often done in batches to reduce the amount of cleaning we have to do. The kind of cooking I miss is cooking from recipes with specific ingredients and measurements, but also the kind of cooking that is completely improvisational. I miss cooking on the fly—looking in my refrigerator and coming up with something that may or may not work out. I did both kinds of cooking a lot before my son was born.
Meal time back then could be a risk, an adventure of sorts, because the stakes were low. If something didn't work out or I didn't love a new recipe, oh well. Sometimes we didn't even finish our leftovers. (Shh, don't tell!) But now meal time is serious business. I want to get in and out of the kitchen quickly, I want a high yield, but I also want to not get so sick of leftovers that I feel the need to order a pizza. That's asking a lot of myself as a cook, if I'm being really honest.
But I've been in a rut lately. We've subsisted on leftovers plus a rotisserie chicken all week. Yesterday I just felt tired and unmotivated. I had a pack of ground turkey and no ideas about how I could cook it that would make me excited to eat it. The menu plan called for turkey chili, but I also leaned towards turkey burgers since I had a handful of frozen buns. My mind kept wandering to a craving for meatballs, porcupine meatballs made with Rice-a-Roni, to be exact. I told myself all the reasons this was a bad idea: it's not a quick meal to cook, I didn't even have Rice-a-Roni, and the recipe makes a mess (or rather I do when I cook it).
I decided to go for it anyway and just make it up as I went along.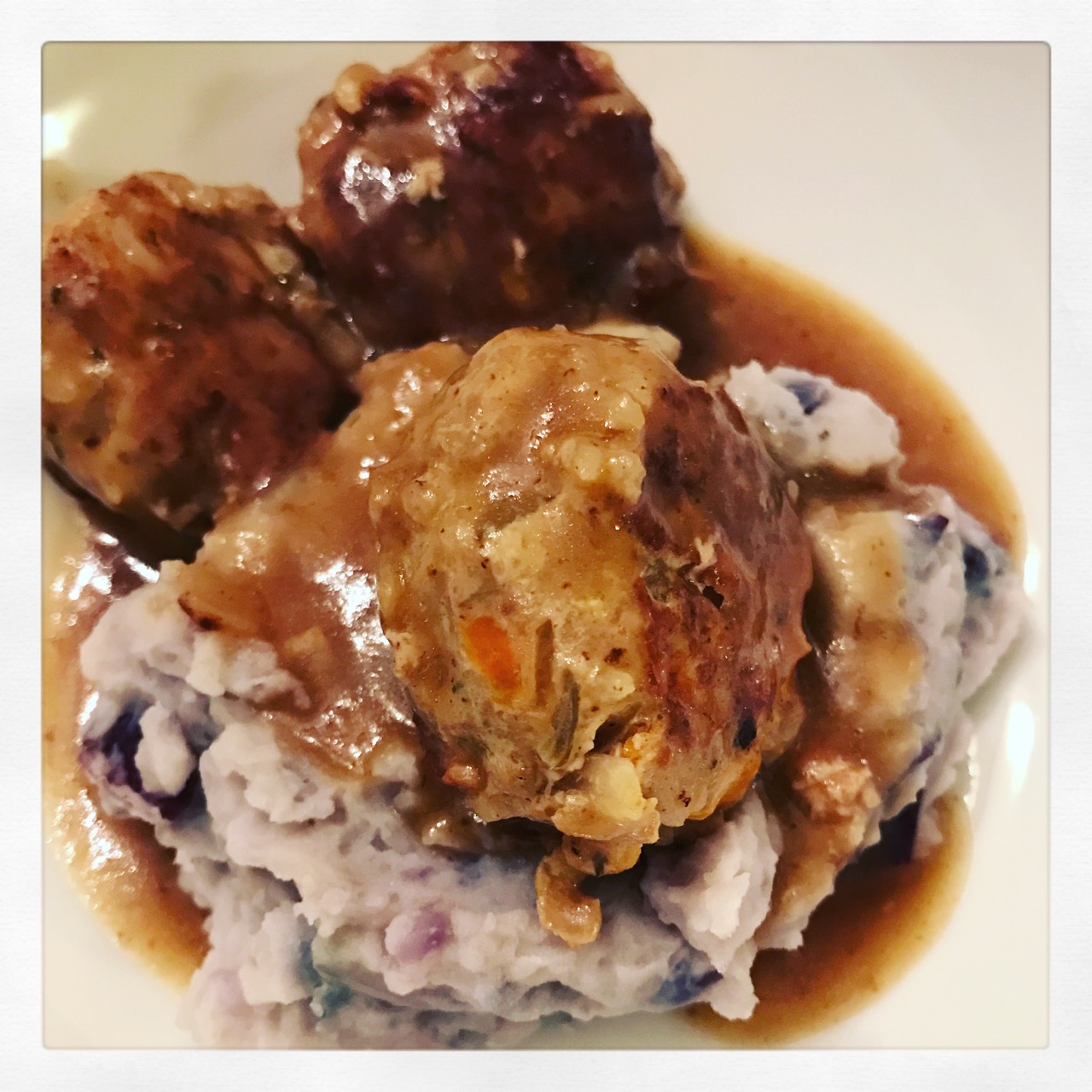 So here's my on the fly recipe for turkey meatballs with carrot and smashed purple potatoes.

Turkey Meatballs with Smashed Purple Potatoes
ground turkey porcupine meatballs with carrot and onion in a brown gravy served over smashed skin-on purple potatoes
Author:
Christina at Invented Charm
Serves:
4 servings, plus extra for the freezer
Ingredients
1 lb+ ground turkey
3 medium carrots, grated
1 medium or half of a large white onion, diced
¼ cup uncooked rice
1 egg
1 tablespoon dried parsley
1 teaspoon dried oregano
1 teaspoon salt
½ teaspoon black pepper
½ teaspoon smoked paprika
½ teaspoon onion powder
olive oil
2 cups beef bullion prepared (or 2 cups beef stock)
2 tablespoons flour
purple potatoes
half and half
salted butter
salt and pepper
Instructions
In a large bowl, roughly combine by hand the ground turkey, grated carrots, diced onion, rice, and egg. Add in parsley, oregano, salt, pepper, paprika, and onion powder and mix into meat. Form meatballs by hand (about 1.5 inches dm or use cookie scoop), and line them up on a cookie sheet with wax or parchment paper.
Freeze half of the meatballs on the cookie sheet and then transfer to a container or freezer bag.
In a large skillet with a lid, heat about 2 tablespoons of olive oil over medium-high heat. Transfer half the meatballs to the skillet to cook; be careful not to crowd the pan. Add enough oil to the pan so that the meatballs don't stick. Leave the meatballs to brown, and turn using tongs after achieving desired sear. If the meatballs stick or fall apart, add more olive oil and leave them cooking longer before turning. Brown meatballs on the opposite side.
In a 2 cup Pyrex cup or medium bowl, whisk water, beef bullion, and flour (or beef stock and flour). Lower heat of the meatballs and slowly pour in mixture. Let simmer with the lid on for about 20 minutes or until meatballs are cooked through and rice is soft.
Start your potatoes when you start cooking your meatballs. Boil purple potatoes in salted water until cooked. Drain water when done. Smash with a potato masher. The skin on will add texture. Smash until the potatoes are lumpy. If you attempt to smash until smooth, the potatoes may get gluey. Add in half and half and butter until you reach the desired consistency and taste. Salt and pepper to taste.
Serve meatballs over potatoes and top with gravy.
This is a perfect fall dinner. I'm definitely going to make it again and again. I can finally ditch buying Rice-a-Roni.