I have been struggling with the worry about my clothes again. I have lots to choose from, and yet I feel like I just can't re-wear certain things. I suspect this is just a problematic mind frame in need of shift and not an actual problem with my closet. It's the battle between the I Have Nothing to Wear Syndrome versus Maintaining My Capsule Wardrobe.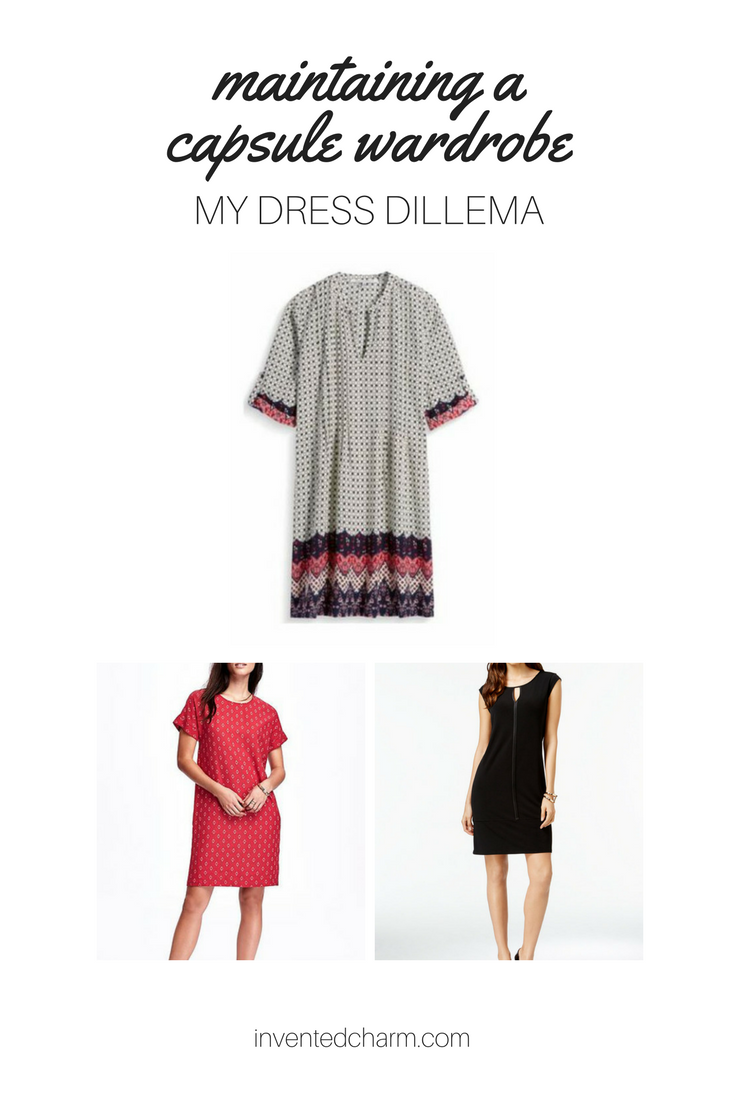 I'll break it all down for you.
The Problem
I associate parties and events with wearing dresses because they are special, and I feel like special clothes can only be worn once.
I don't own a lot of dresses because I am not a dress person. I have a difficult time finding dresses that fit my body type and that I feel confident wearing. But I do tend to buy dresses for special occasions like weddings, parties, and last year I even bought one to wear as a date night/going out look.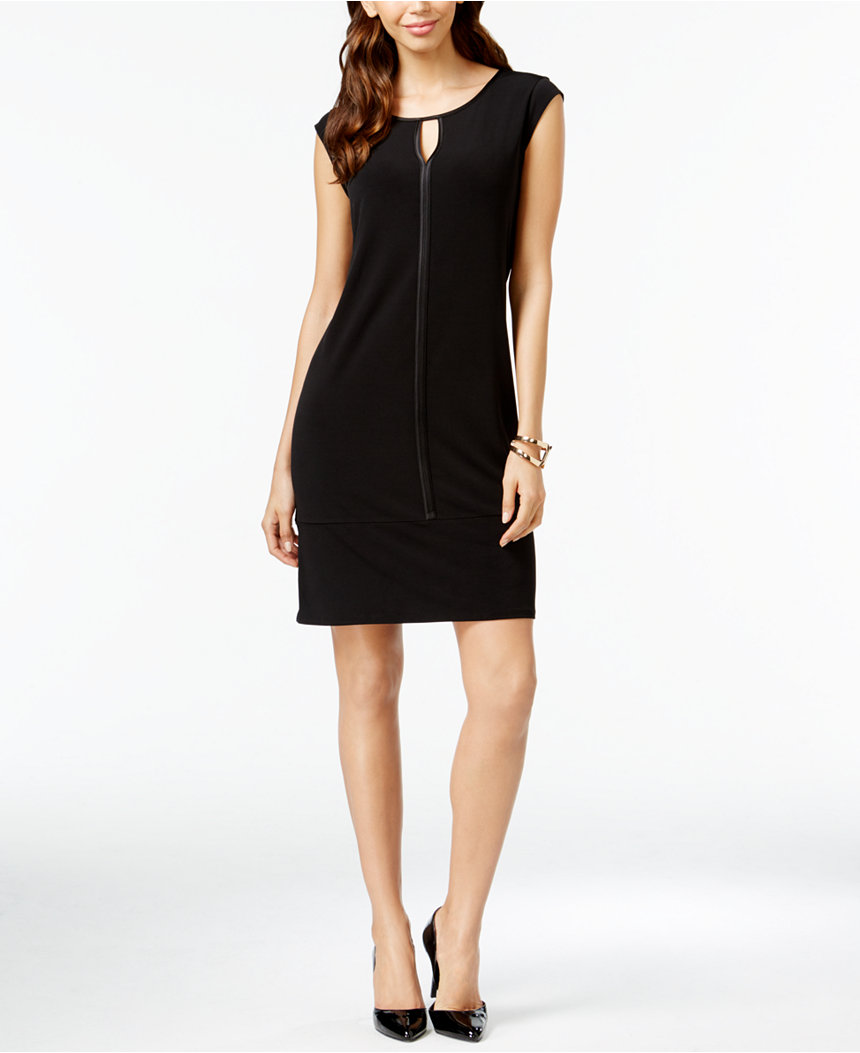 I dress this simple sheath dress up and down for many occasions. I wore this with an an olive military style jacket and black booties to dinner and a concert in the fall. I also wore this with a colorful wrap, silver heels, and a silver clutch for a wedding in March. I like all the different styling options it gives me.
I bought a red shirt dress for Rory's first birthday last year.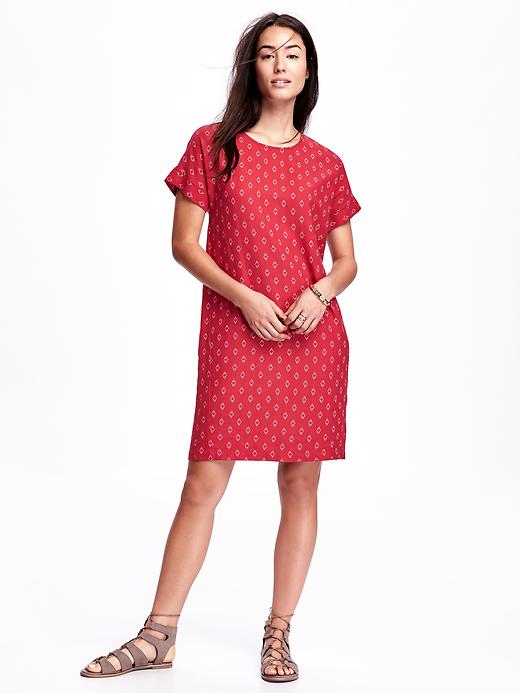 I wore it for that event, and then a few times over the summer and I suspect I'll do that again this summer. I have a belt if I want to give it more definition in the waist, but I also really like its easy, boxy shape. Since the dress is a bold color, I style it really simply with plain sandals. While it looks cute with those gladiator sandals above, the dress is enough of a statement for me.
I got a new dress from Stitch Fix in March. The one pictured below is cream with navy and pink accents. Mine is a peachy coral with navy and mint accents. (This blogger featured it here.)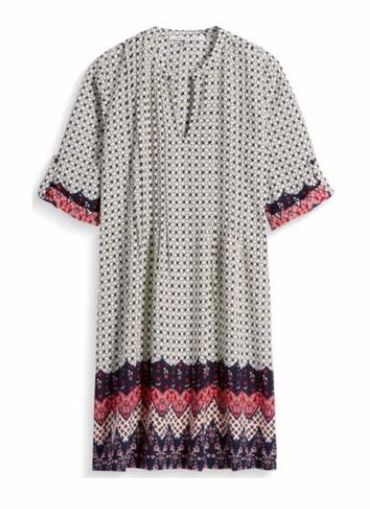 It feels very springy and fresh. I wore it on a date night in March over dark denim cropped jeans (it was rainy and freezing), and I wore it on a girls-only wine tasting trip with sandals. Ideally I'll wear this for Rory's second birthday, but that's where I'm struggling. I've already worn this dress twice! Both my husband and my friend are going to see me on Saturday at Rory's party. This should not be a big deal, but somehow in my mind I made it into one.
I started to feel insecure about wearing my new dress a third time, so I looked up old faithful aka Old Navy. I perused dresses and tried to figure out a day I could run down and try on a bunch or if I should just buy online and return (one of my former favorite past times). But my friend Maggie jolted me from this way of thinking. She reminded me of my effort to make a curated closet, to live a more minimalist life, to consume less, and to buy higher quality items when possible. It's the wakeup call I needed.
My Resolution
Special things make me happy and should be worn on happy and special occasions, no exceptions.
I quit those browser tabs and decided that my insecurity was something I'd just have to face. Literally no one will care that I'm wearing the same dress again. My kid won't judge me for wearing a not!new dress for his party. My principles for leading a less consumer driven life are more important than the fleeting high of buying something new and shiny. This dress is still new, and I should wear it often this season and make it a staple of my wardrobe because I like it.
I've discovered a lot of posts about this very same topic—people are asking if it's okay to re-wear party dresses. Some people say no, others say yes if the styling is different or if the company changes, and others flounce in the face of this stupidity like Kiera Knightly who is a total badass and wears her wedding dress out and about often.
I would love to work on being more bold and breaking fashion and style rules, because rules that don't serve you can make life feel rigid and confined. Ultimately, fashion and style should work to empower us and help us live a more beautiful and meaningful life.
Notes & Image Credits // Red Printed Linen Blend Cocoon Dress: Old Navy (old) / Tunic Mini Dress: Amazon (similar) / Black Satin Trim Cap Sleeve Dress: Macy's (old) / V-neck Cap Sleeve Sheath Dress: (Amazon) similar / Boho Shirtdress: Collective Concepts via Stitch Fix (exclusive) / Floral Print Shift Dress: Amazon (similar)