Recently I wrote about my dress dilemma, and it really helped me clarify some of my insecurities about myself and my wardrobe. I can happily report that I did wear my boho shirt dress to Rory's party, and for the most part I did feel confident about the look. The weather was all over the place that day—it started out hot and humid and then later was very overcast and cool—it was the perfect outfit. I did get compliments, and it made me acknowledge that it's okay to have insecurities about my legs and still wear things that show them off anyway.
I've been living with my spring capsule since the beginning of the month, and it hasn't really changed too much in structure, but it has grown a bit. I started off with less and realized that I was pulling quite a few items from storage because of weather issues, activities, and for practicality. I think we are experiencing a true spring in northern California, and to be honest, I find it a little jarring after so many years of drought.
I really like using the Unfancy capsule wardrobe planning worksheet because it reminds me to plan my wardrobe with specific events in mind. So far I've celebrated Rory's birthday, Easter, had a girls only wine tasting trip to Healdsburg, and gone on a day trip to Yosemite. In May we have Mother's Day, my husband's birthday, and mine. I really need my wardrobe to do a lot.
I finally feel like my wardrobe is a reflection of who I am. I have a lot of basics in neutrals, but I am also slowly collecting pieces that are a little more special and unique. I'm still very careful about the types of fabrics and the cut of clothes because I am active with my kid on a daily basis. I just don't have the patience to be fussy or particular with my clothes. I don't want anything too delicate or high maintenance. I usually try to build my wardrobe from the top first.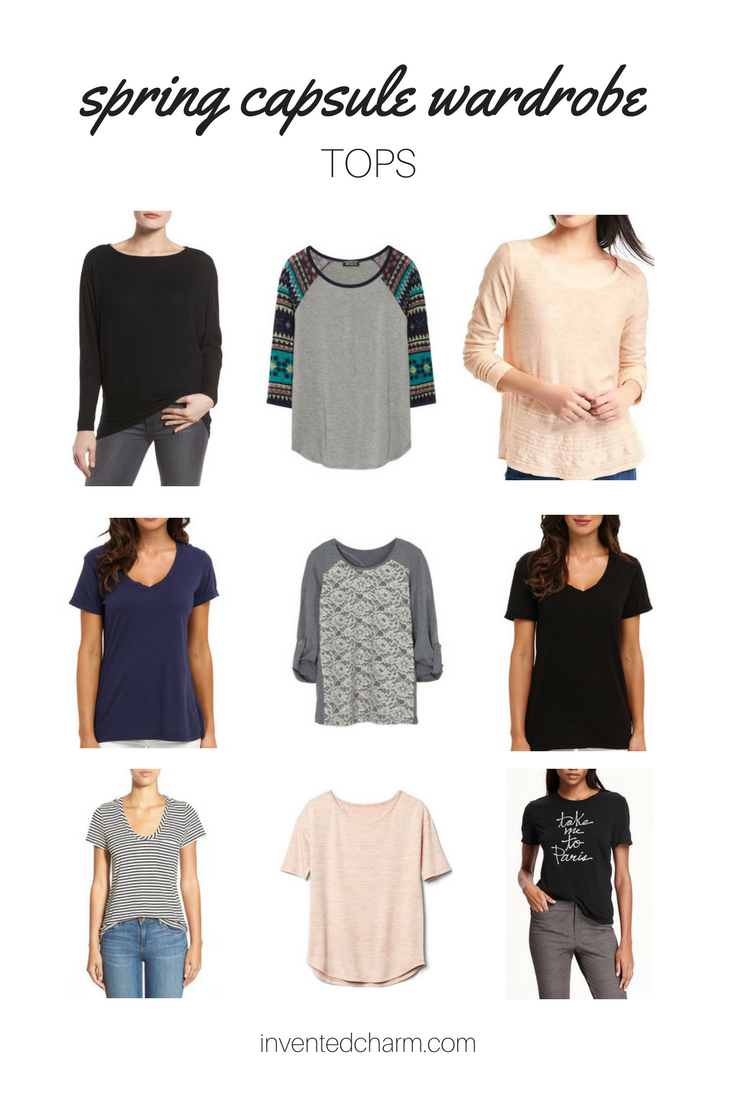 Notes & Image Credits // Batwing Top: Nordstrom / Raglan Printed Sleeve: Stitch Fix (exclusive); Contrast Color Geometry Raglan: Amazon (similar) / Embroidered Swing Top: Gap / LAmade Staple V (navy): Zappos  / Lace Dolman: Stitch Fix (exclusive); Sweater Front Pullover: Lucky Brand via Amazon (similar) / LAmade Staple V (black): Zappos / Striped U-Neck: Nordstrom (old); Wide Stripe U-Neck: Nordstrom (similar) /Softspun Knit Top (pink):  Gap / Paris Graphic Tee: Old Navy (old); Old Navy (similar)
I have included many shirts from previous capsules here, and I'm happy to see that they are still holding up well and that I still love wearing them. I consciously added the blush color to my wardrobe this season by writing it down in the capsule planner. I felt like the darker colors were a little drab and I wanted something soft but not too bold. I found both of these on the clearance rack at Gap and I was ecstatic to actually check them off my list. I love the printed sleeve raglan I got from my April Stitch Fix. It's the perfect amount of boho for me. I sometimes find all-over patterns very difficult to wear, and this is not too busy to mix and match with many of my pants.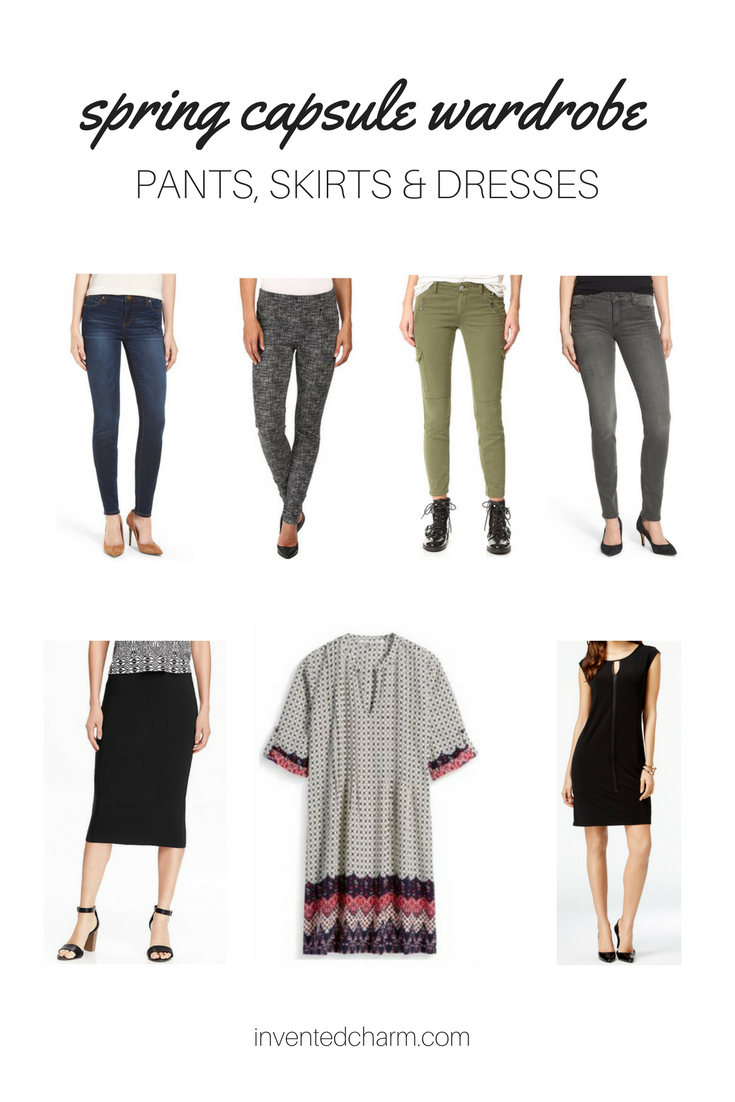 Notes & Image Credits // Mia Stretch Skinny Jeans by Kut from the Kloth: Amazon / Liverpool Leggings in Hatched Tweed: Zappos / BlankNYC Olive Cargo Pant: Amazon / Diana Stretch Skinny Jeans by Kut from the Kloth: Nordstrom / Jersey Pencil Midi Skirt: Old Navy / Boho Shirtdress: Collective Concepts via Stitch Fix (exclusive); Floral Print Shift Dress: Amazon (similar) / Black Satin Trim Cap Sleeve Dress: Macy's (old); V-neck Cap Sleeve Sheath Dress: Amazon (similar)
I'm really digging where I'm at with my pants these days. Gone are the days of wearing leggings for lack of anything better. I love having pockets! Speaking of, I got a great pair of olive cargo skinnies from my April Stitch Fix. They were by Tinsel and I did track a similar pair down at Nordstrom Rack but they were sold out, but these ones by BlankNYC are very similar. I love that I can dress them up for a night out, but I can also wear them with sneakers and chase my kid at the park. I wasn't sure about my midi-length black skirt, but I wore it all day last week and it worked so well that I just had to include it. I needed something I could wear to the salon to get a pedicure, then I had lunch out with the family, ran a bunch of errands, and then made five dozen cupcakes. I never once wished I was wearing something else. I already wrote about that boho shirtdress here, but I've never mentioned that it has pretty bell sleeves AND tabs if you want to fold them up. I did just that for the party since I didn't want my sleeves dangling in the frosting.
It's been a particularly wet spring, and while not warm, it's not exactly cold either. I've needed a lot of jacket options. I've been wearing my black windbreaker a lot. It's not exactly chic, but it goes with just about everything and is the right weight for this crazy weather. I wore my purple puffer jacket and a scarf to Yosemite this week. I love purple, I'm not ashamed to say.  I had gotten away from wearing scarves because toddlers like to pull things, but I think I'll start wearing them anyway since it's nearly May and there's still no sign of the sun. Scarves are an obvious way to layer an outfit and inject some color into your look.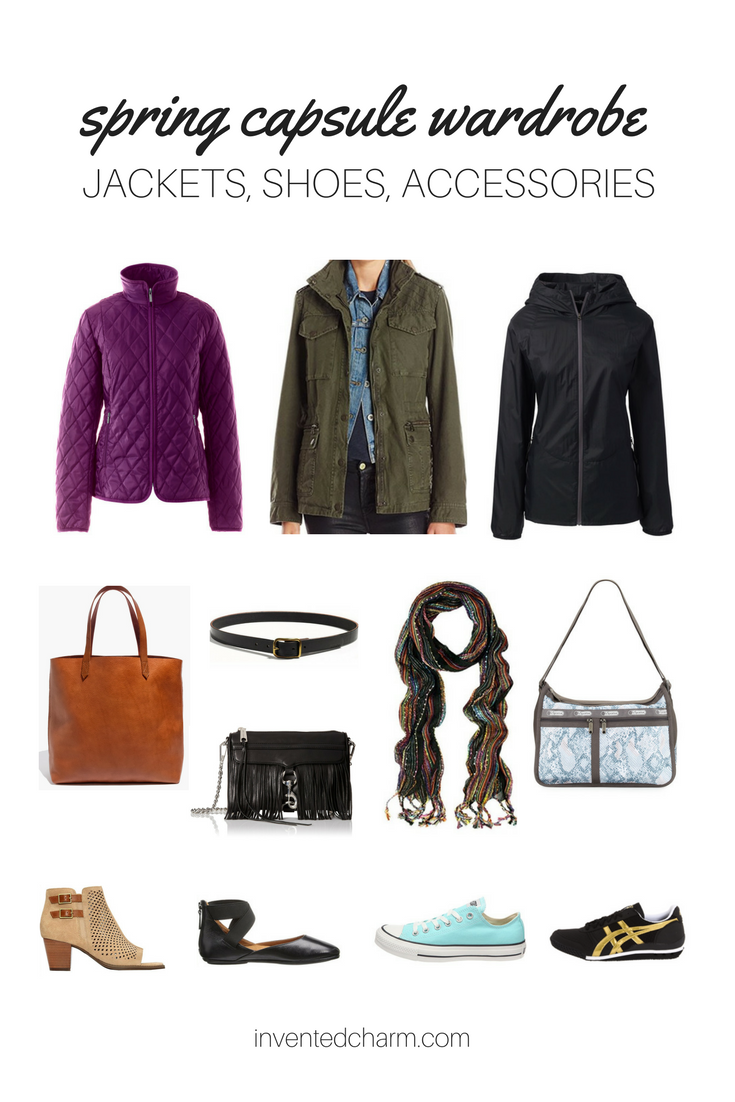 Notes & Image Credits // Travel Primaloft Jacket: Land's End / Levi's Cotton Military Jacket: Amazon / Packable Nylon Jacket: Land's End / English Saddle Leather Transport Tote: Madewell / Black Leather Skinny Belt: Old Navy (old); Billykirk (similar) /Rebecca Minkoff Mini Crossbody: Amazon (similar) / Multi-Color Scarf: Amazon / Lesportsac Deluxe: Amazon (old); Amazon (similar) / Perforated Suede Ankle Boot by Vionic: Amazon / Wrap-Around Ballet Flats by Gentle Souls: Amazon / Converse: Amazon / Onitsuka Tiger by Asics: Zappos (old); Zappos (similar)
Many of my ankle booties just feel too heavy for spring, so I've been wearing these new peep toe booties by Vionic for a while. I love the heel, and believe it or not they have arch support! I actually wore these a lot while we were house hunting. I was in and out of the car mostly and child-free, so it made sense to dress up a little. The ballet flats with the ankle strap were leftover from my working days, but they've been perfect for this chillier weather since I can't bring myself to wear full on sandals. I traded my red Chuck Taylors for these pale blue ones I've had for years since they match my capsule better. Actually, all of my sneakers are pretty worn out and I'll need to make a plan to start replacing them.
Like I mentioned before, this capsule feels really me, or the me I've wanted to be since I started this endeavor. There are touches of boho and edgy, but overall it's feminine and neutral.
I still really appreciate how easy it is to get dressed. When I glance at my closet I know exactly how to narrow my focus and create a look I'm going to like. I'm not fashion forward, but I'm definitely not a lost cause anymore. I know how to push myself out of boring basics without wasting money on too-trendy stuff that will just sit in my closet and go unworn, and that's exactly what I hoped to learn from building a capsule wardrobe.
Tell me if you've added anything exciting to your spring wardrobe or something you have your eye on.