For the last five months we've been living with my parents and my mom and I have been splitting up cooking duties. I haven't had the time to experiment too much, but here is a round up of my favorite fast causal style meals that I've been making lately.
Mac and Cheese with Ham via Mouth Half Full
This is a family favorite dish, and definitely toddler approved. It's from my friend Cassie and I've linked it on my blog before (it's just that good!). I think my favorite part is the dijon mustard and the fresh thyme. Sometimes I make this as a side to grilled meats, but it's certainly hardy enough as a main if you eat giant bowlfuls like we do.
Korean Beef Bowl via Damn Delicious
I usually steam broccoli and carrots to go with this dish, and I use ground beef and ground turkey interchangeably. I omit the red pepper flakes during cooking for my toddler's sake. He loves this dish! I always serve the dish with suggested garnishes like toasted sesame seeds, green onion, and the red pepper flakes for the grown ups. Everyone in the family loves this dish, and my dad actually requests it fairly often.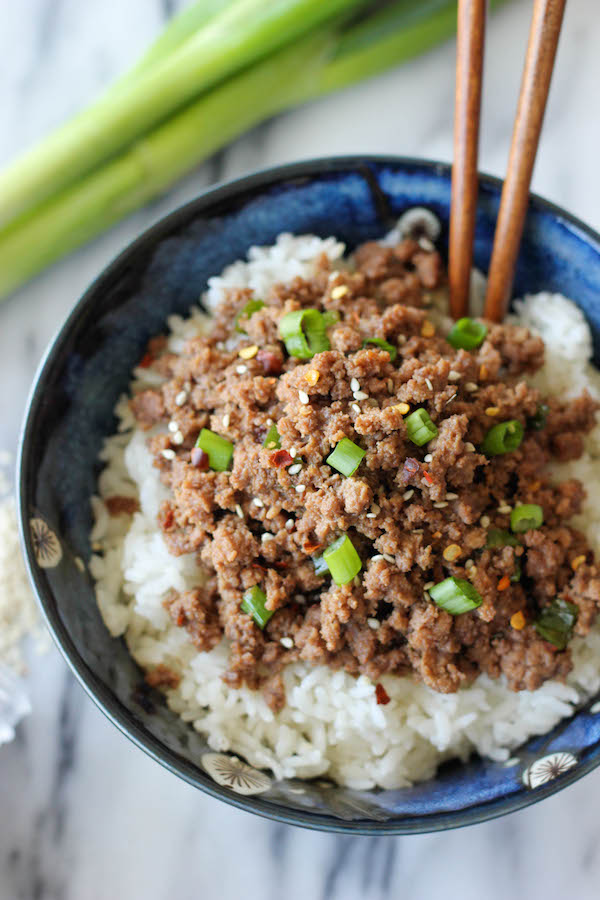 Bacon Burger and Fries Bake via Paleo Running Momma 
One night I got assigned cooking duty and all we had was ground beef and potatoes. To me that would generally spell meatballs and mashed potatoes, but I wanted something way less labor intensive. This is a tasty hash, and while I don't look for such dishes generally, it's also paleo and Whole 30 compliant. It's definitely a versatile dish and can be served for breakfast or dinner. Props to you if you can keep the yolks runny. Baking eggs is not yet my forte.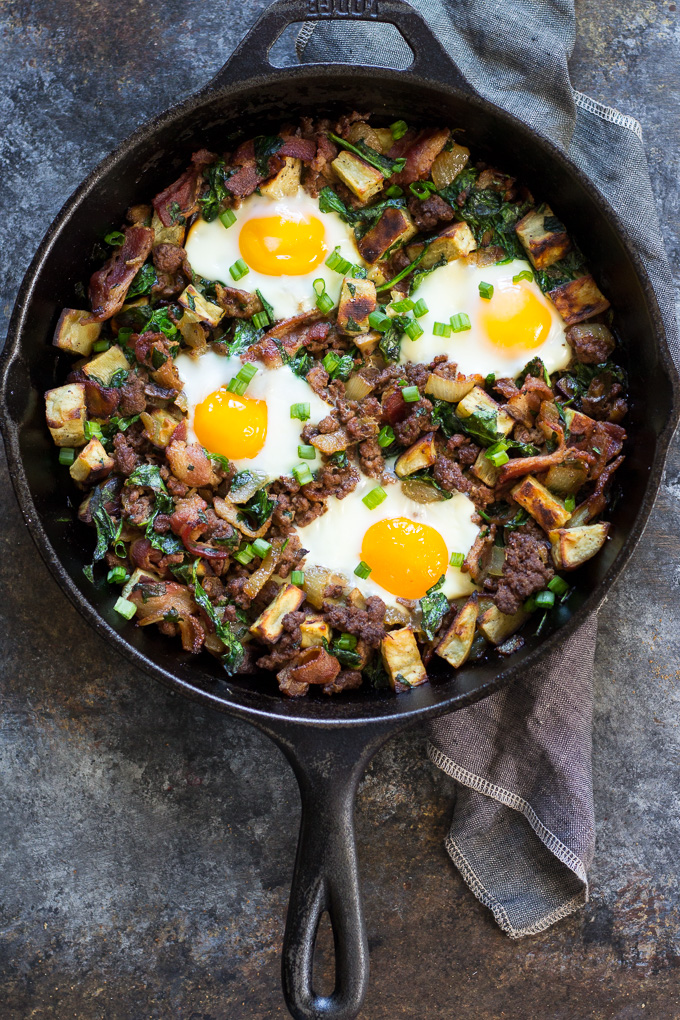 Korean Style BBQ Pork Chops with Red Onion and Baby Bok Choy via Food Network
I never know what to do with pork chops because they turn out so dry. So imagine my dismay when I got assigned pork chops one night. I swear to god it felt like I was living an episode of Chopped whenever it was my turn to cook. This dish was really easy and made me not hate pork chops. Believe it or not, the star of the dish is the red onion. If you don't want to make a special trip to the store for bok choy, sub broccoli.
Creative Ways to Use Leftovers
I'm the reigning queen of leftovers because they're the quickest way to pull together a fast casual style meal. Even between my mom and I, neither of us wanted to spend a lot of time cooking dinner. So if we each cooked one meal that produced leftovers, I could always doctor them up on the other nights.
Crunchy Creamy Cucumber Salad via Food52
Yet another dinner assignment where all we had was leftover poached salmon that no one wanted to eat. On a lark, I decided to serve it chilled and thought it would pair well with this cucumber salad. Literally no one at the table looked pleased by it on the plate, but after trying my concoction everyone went back for seconds. To recreate it, just flake your chilled leftover salmon and toss with the salad.
Lemon Butter Chicken Pasta via Delish
A beyond easy dish that sneaks a greens into your pasta. I've subbed arugula for the spinach, but spinach does wilt better. I like to use leftover grilled, baked or even store bought rotisserie chicken for this dish.
Components for a Burrito Bowl/Taco Salad, a not!recipe by me
I've collected a few recipes for this type of dish (via Damn Delicious, What's Gaby Cooking, Together as Family) but I like to make burrito bowls and taco salads using leftovers. My base layer is rice and beans (frozen leftovers from when my mom boils an enormous batch or canned beans), chopped romaine lettuce, corn salsa, chopped tomato and green onion,  topped with a leftover protein (chicken or beef) and avocado, garnished with hot sauce, sour cream, and tortilla chips or Fritos. The two elements that really add pizzaz to a leftovers are the rice and corn salsa. Here are my two favorite recipes:
Lime Cilantro Rice a la Chipotle via Cook Smarts
I am also Chinese like this recipe's author, and I grew up eating a lot of steamed rice, and as an adult nothing beats the ease of a rice cooker! I love how quick this recipe is because you're using leftovers! I recommend the addition of lime zest and salt to taste.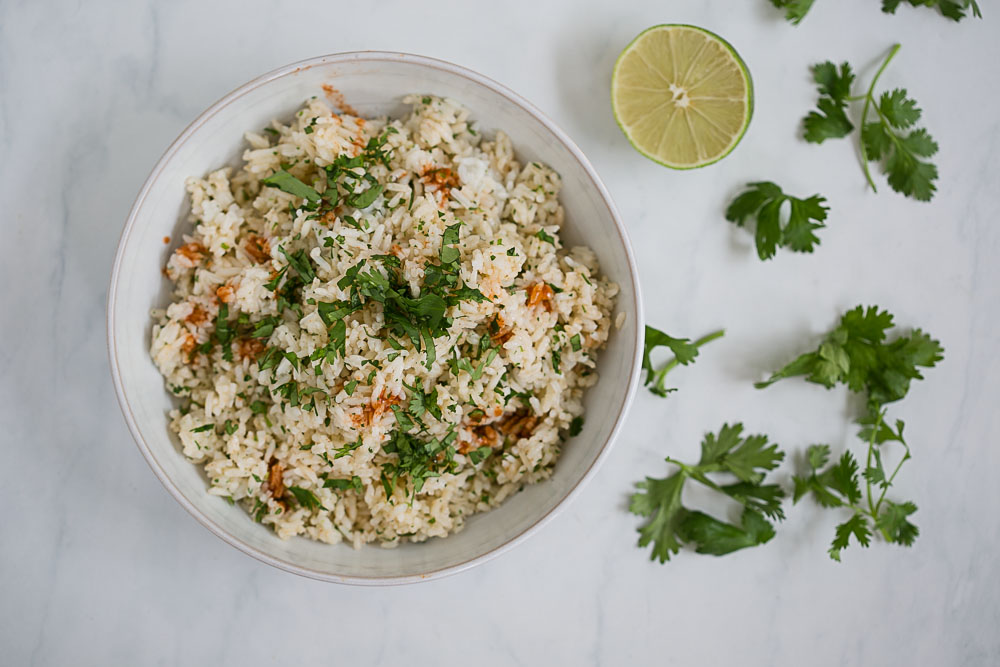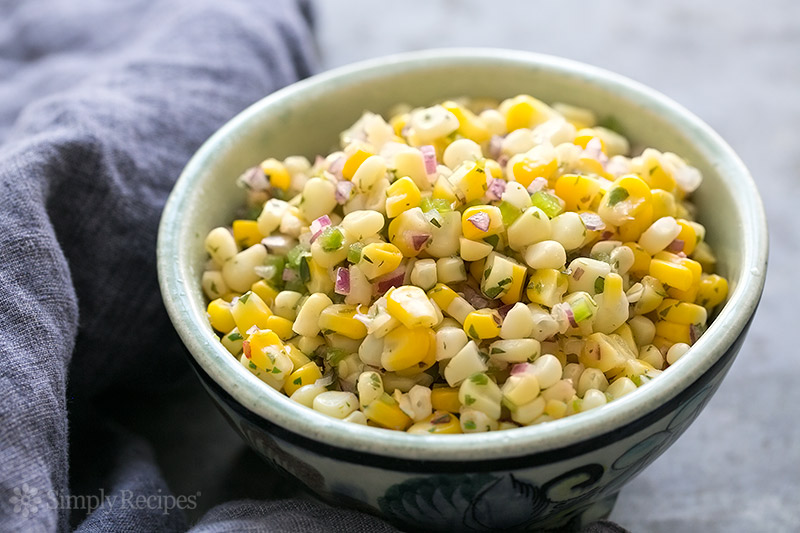 I love everything from Elise Bauer at Simply Recipes. I prefer to make this with leftover grilled corn, but in a pinch I use canned or frozen corn. It's not as flavorful, but it's still tasty.