I often feel my focus is very split between my day to day activities and those lurking to-dos that require way more attention than my toddler will let me give to them. I have more to do in a day than I feel like there's time to do it. I write reminders upon reminders. I block off time just to think. I've got lists about lists… It doesn't always come together perfectly, but I've come up with my best ideas to be more efficient with the time you have, whether you're scatter brained like me or if you're just in a frazzled season of life.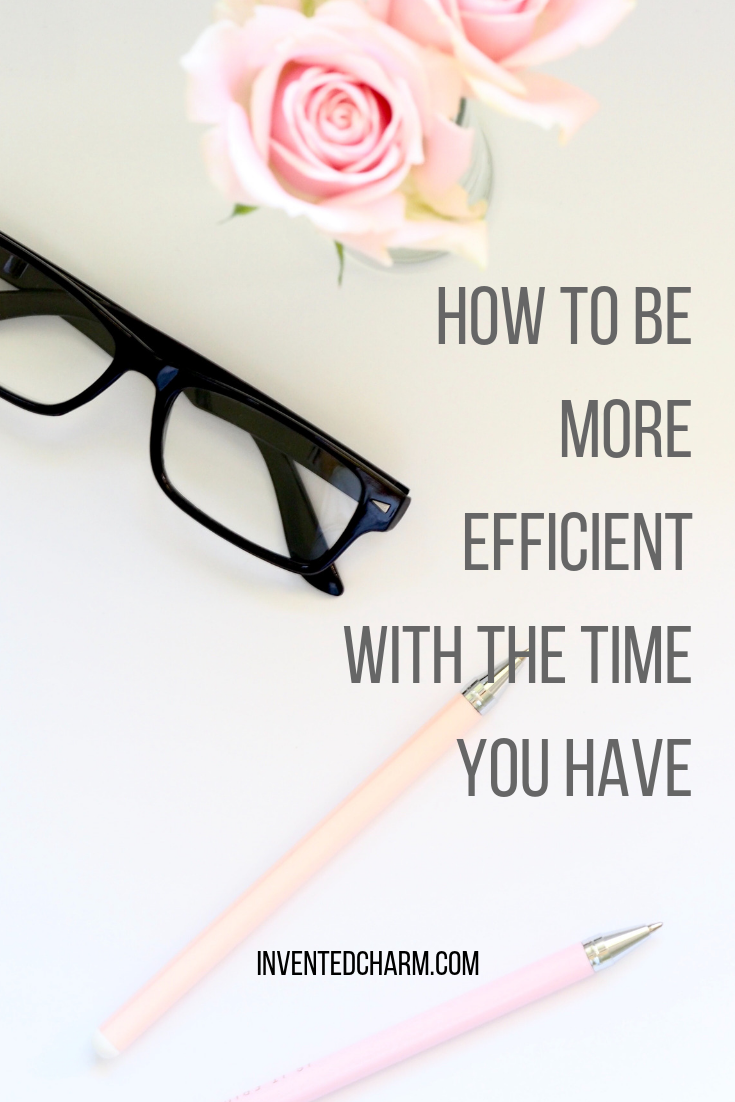 ---
Don't put things off.
I received two invitations for upcoming parties, and instead of losing them like I usually do, I actually RSVPd immediately. I called and emailed the party organizers within minutes of getting the invites, wrote the dates down in my calendar, and just felt very on top of things for once. Consider if the thing you need to do is quick and if it is, just do it. Don't put off making a decision if it's something that can be done without much hemming and hawing.
Seize every opportunity.
During our summer getaway, we were strolling during our last morning in Carmel by the Sea. There are tons of cute shops there and suddenly it struck me that I could get a jump start on buying gifts for several holidays, birthdays, and anniversaries upcoming. We bought really fun food gifts at a cute boutique and it was an enriching experience because we were smelling and tasting things and looking at all the beautiful packaging. I crossed off every person on my list who had an upcoming celebration—in total SIX people who I would have had to shop for individually at a later point. Take the opportunity that presents itself, whether it's an unexpected chunk of time in a waiting room that you can use to review your budget or a cool boutique that can serve as a one-stop shop. It really helps if you review your calendar frequently and look ahead at upcoming events and significant dates. Speaking of dates…
Set a date.
Ever since I started doing You Need A Budget, I always consult my budget before I make purchases. I had a bridal shower to attend this summer, but I knew I didn't have enough in my July gifts budget to buy anything. On the first of August I made my new budget, put in the money I needed for a gift off of my friend's registry, and then took action. I still purchased the gift well in advance of the shower, but I did so only after consulting my budget and my calendar. It took some impulse control not to just buy the gift immediately, and I still do advocate doing things immediately when possible, but it's just as efficient to complete tasks on a set date.
Group tasks together.
This isn't a new concept. I've written about it before when I wrote about a Power Hour, which I learned about from the Happier Podcast. It's one of my all-time favorite tips! I love to employ this tactic by grouping together tasks I dislike. I recently took a free afternoon to round up a bunch of gifts that needed to be mailed. I wrapped the items, wrote cards, packed the boxes, printed shipping labels, and dropped them off at the post office. I find it's more efficient to do a bunch of things at once, especially if I don't love the task.
Calendar several months in advance.
I recently committed to something that I had to back out of, and I feel terrible, but it was my mistake for not flipping through the pages of my calendar. I was so focused on stuff in October, that I forgot about a trip in November. To maximize efficiency, always look forward in your calendar. I find that during busy seasons, it's most helpful to plan two to three months ahead. Update your online and paper calendars at the same time, and start to-do lists. Take a long view of things so you're not caught off guard.
Image credit // Jess Watters via StockSnap.io