This is part two in my series about maternity leave, returning to work, and my decision to be a stay at home mom. You can read part one here.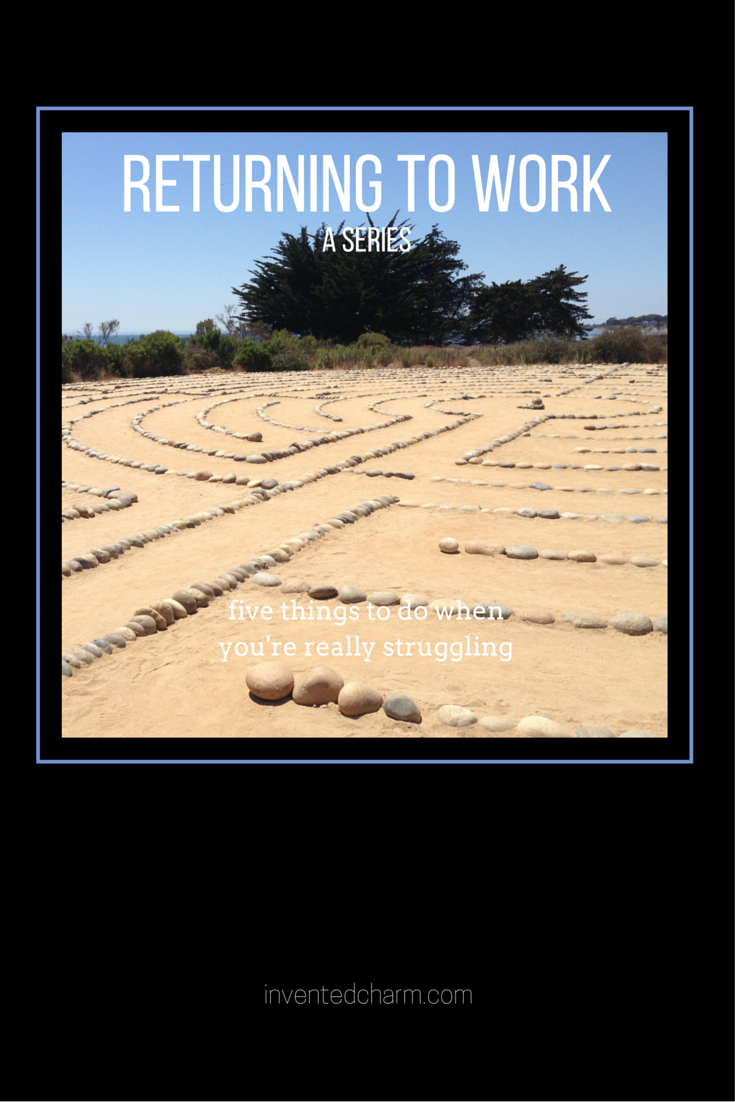 When I was really struggling with finding a work-life balance, I looked at a million blog entries and posts across the web—some helped and some made me feel even worse for not having my shit together. I found a lot of great suggestions about how to manage stressful mornings, how to handle the financial pressure of having a newborn (read: child care expenses), how to do meal prep on the weekends to make dinnertime less frantic—but what I needed was a more manageable path toward self-care. I was stretched too thin, and ultimately I found the pace I had set for myself to be unsustainable. Whether or not you're a new parent, we've all experienced tough times and stressful transitions. These tips are universal, but I am approaching them through the lens of a former full-time mom and worker and currently as a stay at home mom.
Here are five tips to remember when you're really struggling:
Take a break
If you can take a sick day from work, do it. Take care of yourself before you're knocked on your butt with a cold, before you throw at your back from stress, before you end up bed-ridden with a virus that you can't shake. Think of this as preventative care, because working with rising stress levels can really take a toll on your physical health. Recharge by getting as much sleep as you can, drink lots of water, don't forget your fruits and veggies, and take a walk.
If you're at home full-time with kids, you have to plan a sick day. If possible, get a partner, family member, or friend to pitch in for a few hours. Sleep in instead of trying to be the first one up, or take a nap when the kids do. Reduce commitments if you can, and give yourself some grace. If you're really struggling, take it day by day or even hour by hour. It's so much easier said than done, but you cannot run on empty.
Not everyone can afford a sick day or has help that can be easily lined up, so in those cases look at your work or personal calendar and carve out even thirty minutes for some peace and quiet. Take your lunch break if you normally skip it. Offer to do a task that is different from your daily routine at work or home. Take some calming breaths, walk around the block, or fit whatever you can manage in the time you have.
Acknowledge your feelings
It's okay to have a bad day or even a string of seven. You can't make yourself feel better if you can't admit you're going through a hard time. If a friend or loved one asks how you're doing, be honest. It's perfectly alright to say, "I'm not doing okay," or "I'm really struggling." I have said the latter so many times and burst into tears, and I'm not ashamed to admit it.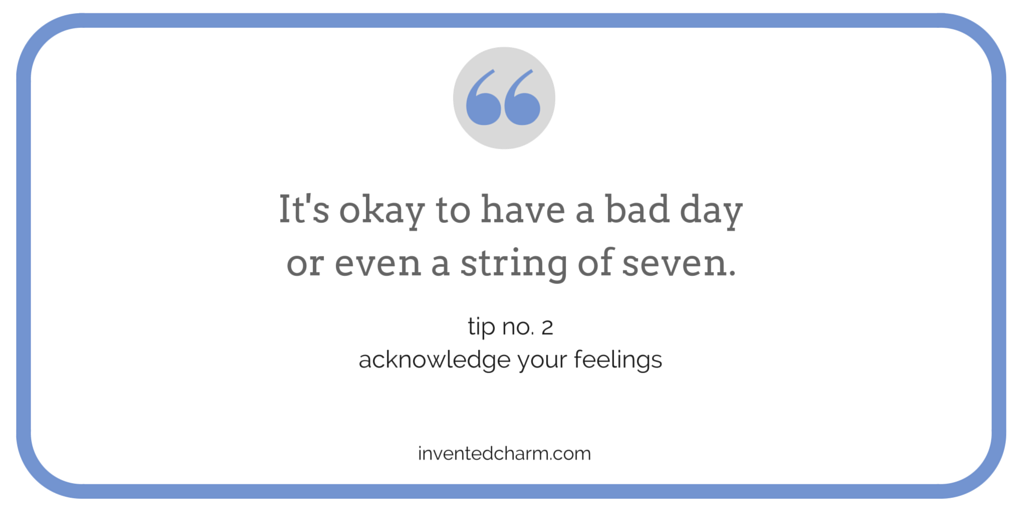 If you don't have a local support system and you're not a fan of the phone, try reaching out via text or social media apps. You don't have to post anything widely on Facebook, but maybe you have a chat group app like Slack or What's App on your phone, or even just a small circle of friends on Twitter. There's a misconception that no one wants to hear about your drama. I have made the mistake of apologizing every time I needed to vent, but not a single one of my friends has ever said, "Ugh, I'm tired of this." I have only ever been met with compassion and support. That being said, if you don't feel like you're getting the support you need, let your friends know how you want to be supported. Do you need someone to just listen, or do you need help with overwhelming tasks like a Costco run, or do you want silly cat gifs to distract you? Acknowledge your feelings and let your friends and family know what they can do to support you.
Find encouragement
Little illustrated affirmations like Positive Doodles are awesome for a little pick me up. I'm starting to fill up my queue on Tumblr with them. When I need a huge boost, I like to peruse a variety of self-help topics. Check out one of my favorite spots, Tiny Buddah. This post on self-care is particularly relevant. I'm also really into podcasts. Podcasts are prefect for the car, on a walk, while doing dishes, while putting on makeup, etc. They're like a little mental vacation. Here are a couple that I've listened to recently that brought me some comfort:
Stay away from stuff that doesn't promote your best self
I can't go on Facebook when I'm sensitive. I don't want to read or watch the news when I've had insomnia for two days straight already. Know what things trigger your emotions and find other things to occupy your time and energy instead. Unfollow, hide, and mute buttons on social media exist for a reason, so use them. If you have FOMO (fear of missing out), delete your social media apps from your phone if you find yourself constantly checking for updates. Triggers are different for everyone, so be mindful of whatever sets you off and take extra care of youself.
Take small steps toward self-care
As I have written before, self-care can look daunting. I don't have time or money for a spa day, no matter how much I may wish for it. But I can take a shower at night before going to bed when I'm struggling with insomnia. Some people swear by essential oils, particularly lavender before bed.
Here are some other easy and inexpensive ideas for self-care:
Color in your adult coloring book.
Turn off the TV and play a board game.
Eat outside.
Buy a $4 bouquet of flowers at the grocery store or farmers market.
Water and tend to your garden.
Drink water with lemon or flavored seltzer water instead of having an afternoon coffee or soda.
Put on lipstick (or blush, or mascara, or brush your hair, etc.).
Rock out in your car or dance in your living room.
Wear comfortable clothes and shoes.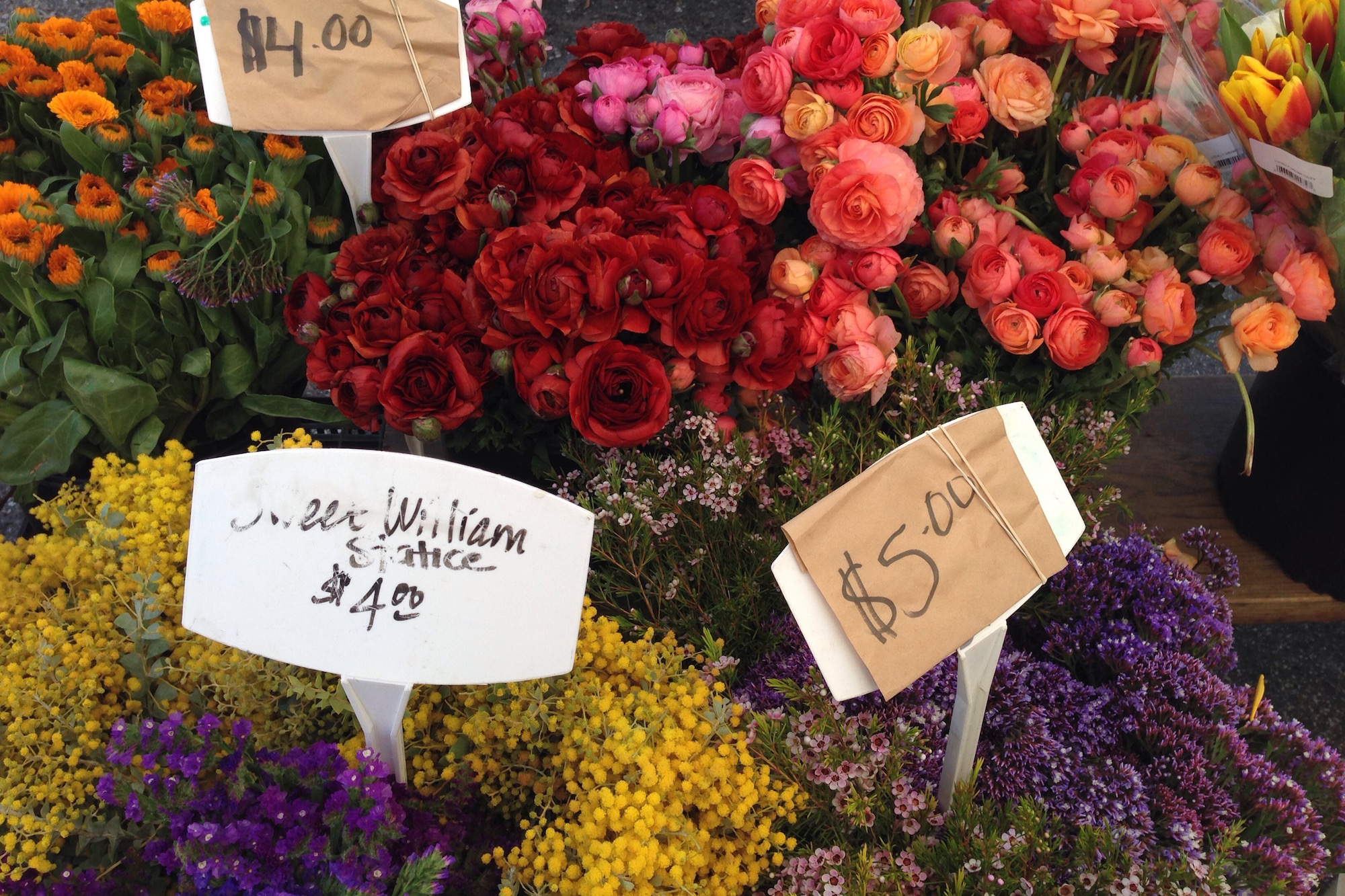 It's been a year of transitions for me, and while I'm starting to see things clearer and get out of funks faster, there will probably always be bumps in the road. When I returned to work full-time, I had a very difficult time determining if I was having a rough patch or if I was depressed. There is a big difference—a rough patch can be navigated, but depression and other mental health concerns need treatment. This list is not comprehensive, and skips over an incredibly useful tool like therapy. If you are feeling something that is beyond a rough patch, reach out to a medical provider or seek professional treatment from a licensed therapist.
Until I was ready to make a big change in my life by quitting my job, I struggled to take even basic steps towards self-care. I was lost in the overwhelm, and though I know that's fairly common, I hope you find these ideas helpful.
Photo Credits // Labyrinth (featured in graphic) and Flowers: by Christina at Invented Charm
Related posts: