I shared some of my favorite summer products earlier in the season, so I thought I'd do a little follow up post about essential beauty staples I finished up recently. I've been saving my empty bottles and I'm going to provide a short review. I like to purchase from a variety of price points, some higher end and other more affordable options. I also don't tend to be brand obsessed or loyal and am willing to try new things. I plan to make this a series so I can share what else is in my arsenal of beauty supplies.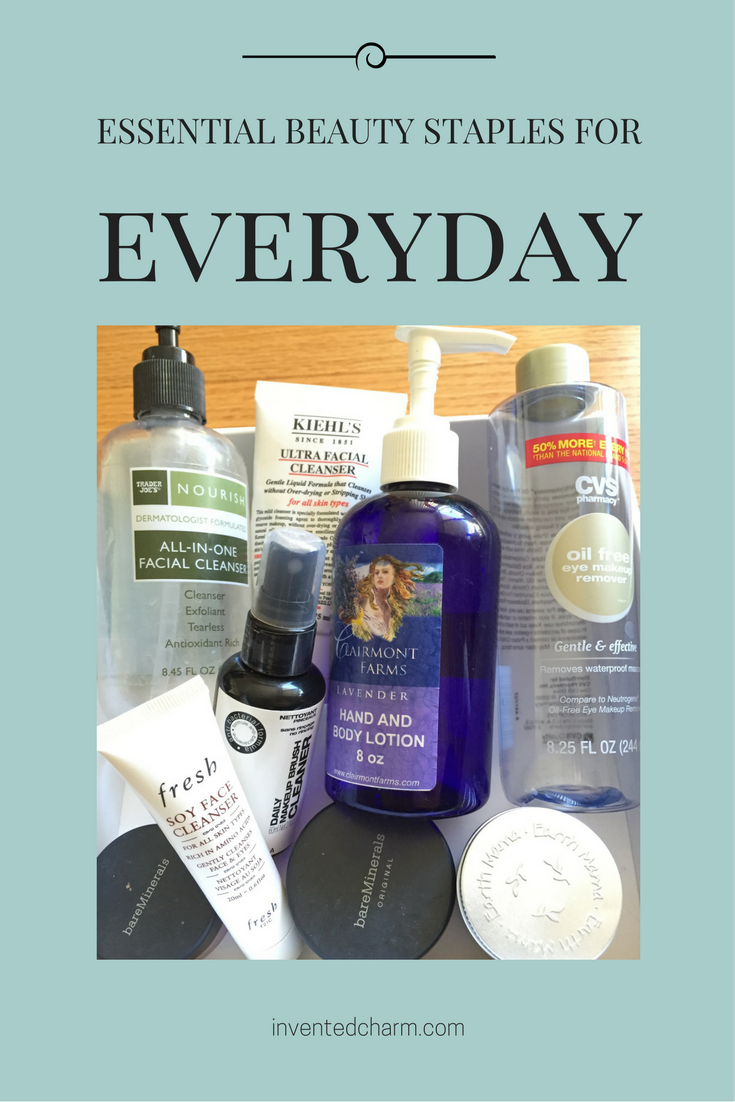 Some of the following include Amazon affiliate links, which means that if you click on one of the product links and make a purchase, I'll receive a percentage of that sale at no cost to you. All thoughts and opinions are my own. For a full disclosure statement see my About page.
Cleansers
I finished up a bunch of cleansers this summer, and I guess it's not too surprising. In the warmer months I feel really grimy from makeup, sunblock, and sweat, and I switched through several facial cleansers in an effort to find the one that made me feel clean and refreshed at the end of the day.
Trader Joe's All in One Facial Cleanser: I bought this on a whim because it's a generous size, inexpensive, and it offers a lot according to the label. It took me a while to finish it, and you can't beat the price at $5.99 for 8.45 oz. (If you don't have access to Trader Joe's, you can use the affiliate link above to purchase via Amazon.) I found that I needed to wash and rinse twice with this product to get my face clean. If you wear minimal makeup, this could be a good one for you. It's very gentle, has a good value, and I love the pump bottle. I might pick this up again for fall/winter when I don't have the added layers of sunblock and sweat to deal with.
Fresh Soy Face Cleanser: This is the sample from Sephora that I got for my birthday in May. I really like this product, but I feel like I have to use quite a bit of product during each wash. I have used this product in sample form many times, but I've never loved it enough to stock up. You can purchase this from Sephora for $38 for 5.1 oz. Again, this feels like a good product for someone who wears minimal makeup or uses a good makeup remover before cleansing. I prefer an all-in-one type product. The scent reminds me of cucumber and witch hazel, which does feel refreshing for summer.
Kiehl's Ultra Facial Cleanser: I started buying this last year, and this is actually a smaller bottle I tried to refill (I don't recommend it) from my bigger bottle. This product works well, the best out of anything I've tried recently. I do find it slightly drying. Out of all the cleansers I've been using, this gets my face the cleanest. The compromise is that I do consistently moisturize at night after using it. While this is a higher end product, I think it's a good value at $19.50 for 5 oz at Nordstrom.
Oil Free Eye Makeup Remover: This is the generic CVS brand of the Neutrogena product, and I usually buy which ever one is on sale. I wear lot of eyeliner so a good eye makeup remover is a must. It's inexpensive and gets the job done. Prices vary by size.
Daily Makeup Brush Cleaner: My makeup brushes were really dirty and needed a thorough cleaning, but I put it off by using this little spray bottle that I had sitting around. This is from the Sephora Collection and is available for $8.50 for 2 oz. I like the Mac brush cleanser better, but you can't beat this handy spray bottle. This is an excellent tool to maintain your makeup brushes
Makeup
Bare Minerals foundation: I like the powder foundation on top of anything I use that is liquid or cream base. I apply liquid foundation or tinted moisturizers pretty thinly because I don't need a lot of coverage all over. I go back over the areas that need a bit more coverage with a powder foundation and then all over to even things out. This has been a go-to product for me for several years. I used liquid and compact foundation for years until I realized I can get away with a lot less coverage most of the time. This product does not require you to be an expert with makeup. It's extremely forgiving, and doesn't make me feel "made up." I really do feel natural when I'm wearing this and I'd recommend it to anyone who wants just a little boost of confidence when it comes to their skin. Prices range on Amazon depending on color and size.
Bare Minerals blush in Beauty: This is a sweet pink shade. I like some variety in blush and last year I really wanted something matte pink. I like this product because it's sheer yet buildable. I was dubious about the loose powder aspect, but I actually really liked it. I feel like I was able to truly use up the product without breaking my blush into a million little chunks on accident or wearing down the product in an uneven shape that makes getting it onto the brush evenly really tricky. You can get this for ~$19 on Amazon. I'll definitely be buying this again soon.
Moisturizer
Lavender Hand and Body Lotion from Clairmont Farms: This is a local product and I'm a little obsessed with it. I used to think I didn't like the smell of lavender, until I got stuff from this shop. I love the consistency of this lotion, it's at least my second or third bottle. It's not too thick, but not too watered down either. You can get it online or buy it if you're up in Los Olivos, CA wine tasting. It's available as an 8 0z pump bottle for $25. I love these products so much I actually did about half of my gift giving from Clairmont Farms two Christmases ago.
Earth Mama Baby Angel Nipple Butter: I swear by this product. I prefer the soft consistency over traditional lanolin based products. It's not too thin either, unlike competing brands like Honest Co., which I found to be almost runny. This is $8.95 for 2 oz via Amazon. I heard about this brand via many lists for new moms. I think anything from this line would be amazing to give or receive at a baby shower.
Aveeno Lotion: (not pictured) I go through this stuff a lot. It's unscented, and available in bulk at Costco or you can subscribe and save via Amazon for $6.55 for 18 oz. I use this nearly daily on myself and on my baby. I've been a consistent fan of it for ages, and I'm not sure why the empty bottle didn't make it into the picture. Probably because it's about twice the size of all the other ones featured here!
There you have it, a little glimpse into what beauty essentials I keep stocked. What are your favorite products that you return to again and again?
Related Post: