We don't really have a true fall here in California, particularly here in southern California by the beach. We totally need Pumpkin Spice to mark the transition from summer to autumn. So this capsule really reflects my actual fall weather, and not the idealized fall capsule I started out with (which included a lot of flannel).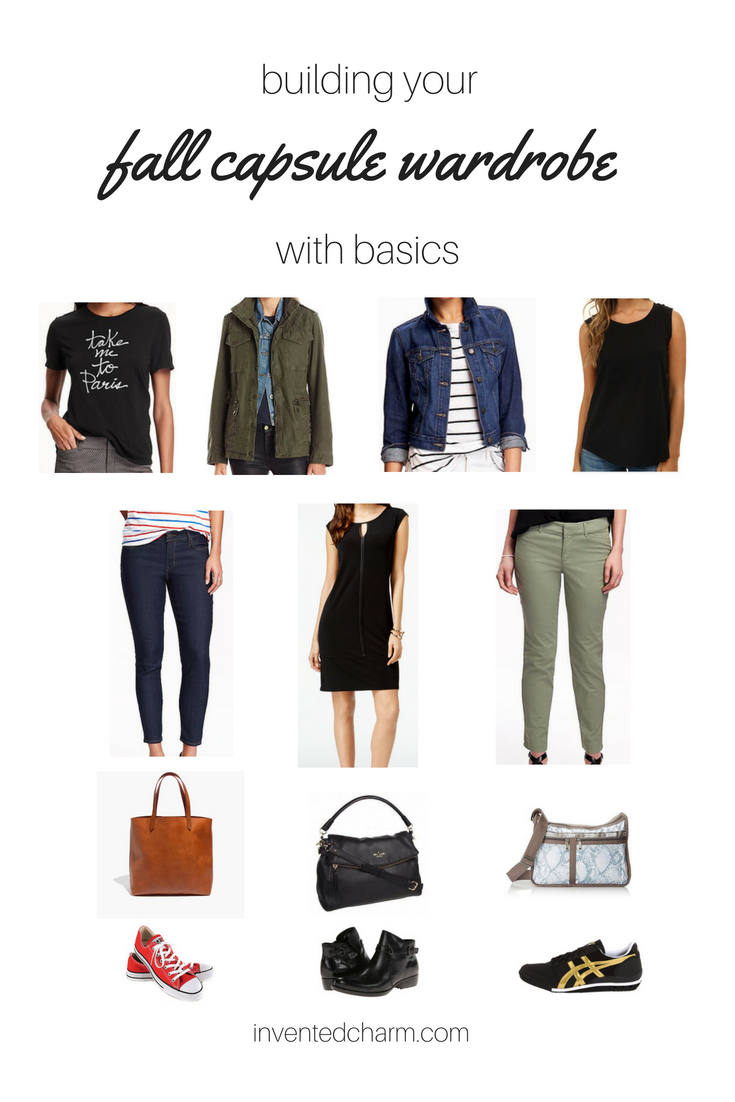 Some of the following include Amazon affiliate links, which means that if you click on one of the product links and make a purchase, I'll receive a percentage of that sale at no cost to you. All thoughts and opinions are my own. For a full disclosure statement see my About page.
I wrote up my assessment of my summer capsule experience so that I could figure out how best to approach my next one. I filled out the worksheets again from Unfancy, and figured out what I would like to add to my fall capsule. Even though I have had a shopping list started for a few weeks, I have only managed to cross tops off the list.
I bought two new tanks, one greige and one black, and I love them. They have a bit of stretch, so while they aren't tight they do have a bit of swing on the bottom and cling on the top (just how I like them). I also really like the classic neckline. I got mine at Marshall's for a steal but I've linked to similar ones I found on Zappos. I got a couple of black and one navy blue LAmade V-neck tees at Costco (same available at Zappos), and a black graphic tee from Old Navy that says take me to Paris. For me, fall is all about layering. We've been having really hot streaks of weather, so I am really grateful to have some new tanks and tees in easy care fabric.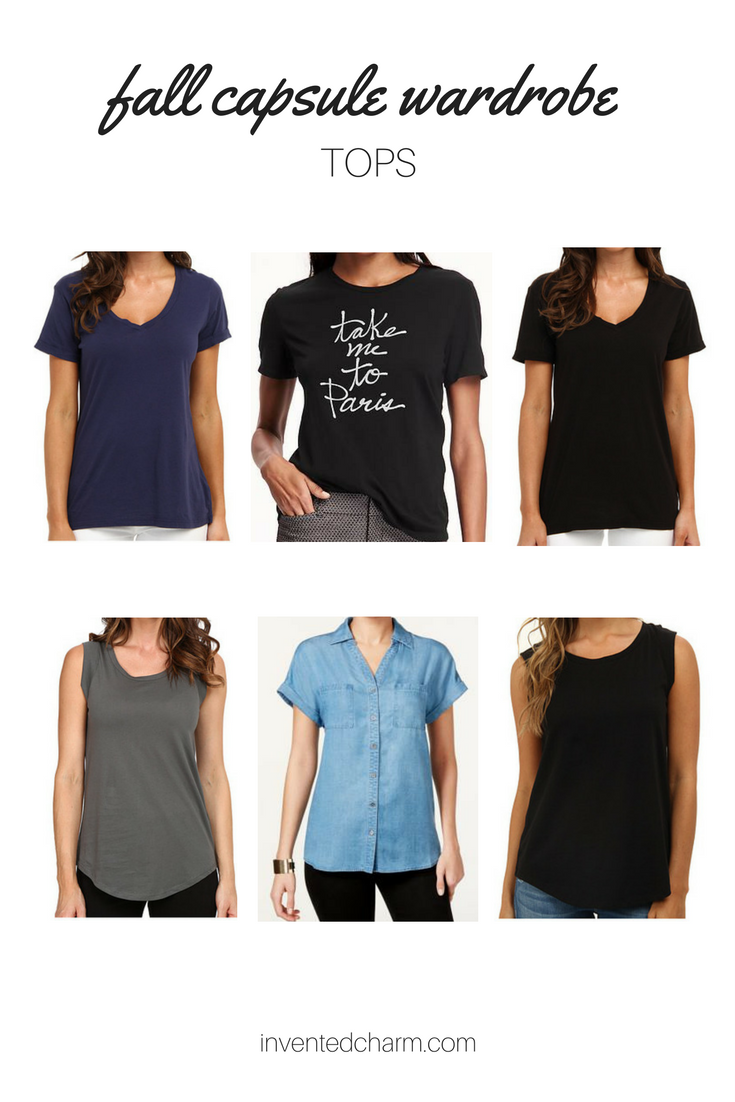 Notes & Image Credits // LAmade Staple V (navy): Zappos / Paris Graphic Tee: Old Navy  /LAmade Staple V (black): Zappos / Alternative Cap Sleeve Crew (asphalt): Zappos / Short Sleeve Chambray Button Down: Macy's / Alternative Cap Sleeve Crew (black): Zappos
On cooler days or when I've had evening plans I always bring either my jean jacket or army jacket. My jean jacket is several seasons old, a cropped collarless style, which I think is ideal for our fall weather (I've linked to a similar collared style at Old Navy). My army jacket was a clearance rack find at Banana Republic last year (I found a lot of similar ones on Amazon and linked to my favorite one by Levi's). I love that my jacket is not very structured because I can roll up the sleeves and give it a grunge vibe.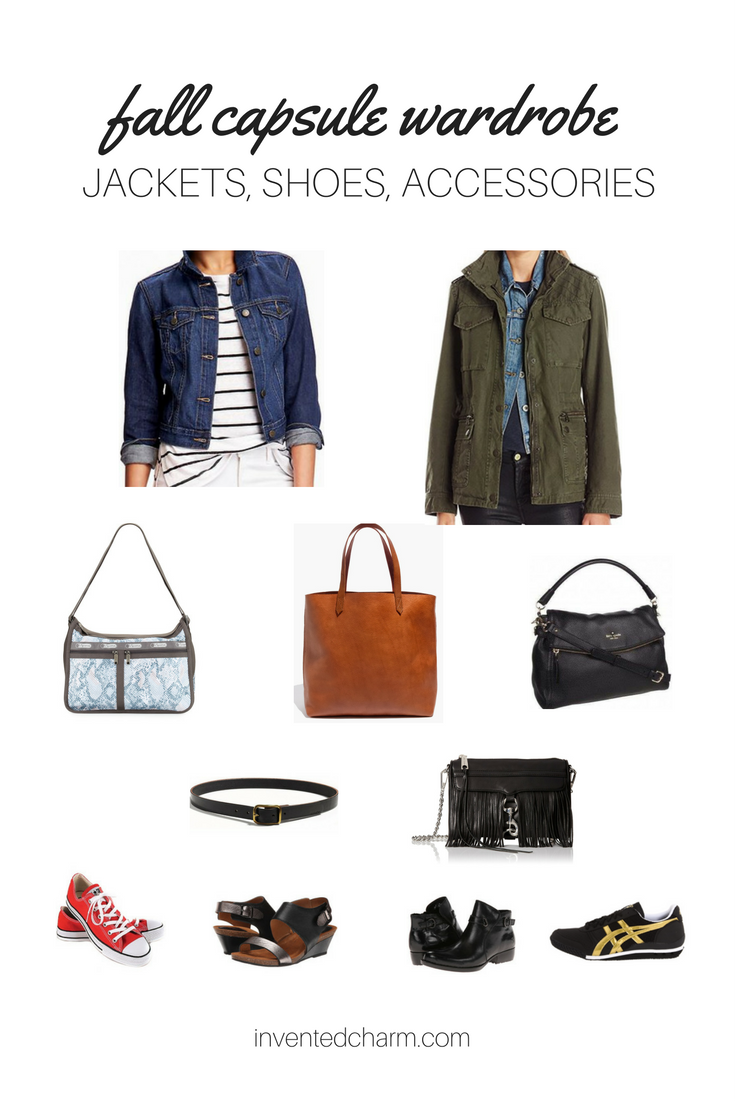 Notes & Image Credits // Cropped Denim Jacket: Old Navy / Levi's Cotton Military Jacket: Amazon / Aqua Snake Lesportsac Deluxe: Amazon / English Saddle Leather Transport Tote: Madewell / Black Leather Cobble Hill Little Minka Crossbody: Kate Spade (old) / Black Leather Skinny Belt: Old Navy (old) or similar by Billykirk / Rebecca Minkoff Mini Crossbody: Amazon (similar) / Red Converse: Amazon / Vanita wedge sandals by Sofft: Amazon / Jem black leather booties by Born: Amazon  /Onitsuka Tiger by Asics: Zappos (similar)
I decided I'm sick of my grey pants, so I'm glad to retire them for the season, but for now I'm keeping the green ones. I may retire those too soon if I find some cute jeans in a color I like. As promised, I added some leggings to this capsule. I just find them so versatile and at this stage of my life I kind of depend on them. There's nothing really new in this area, but it's pared down to reflect what I'm actually pulling out again and again.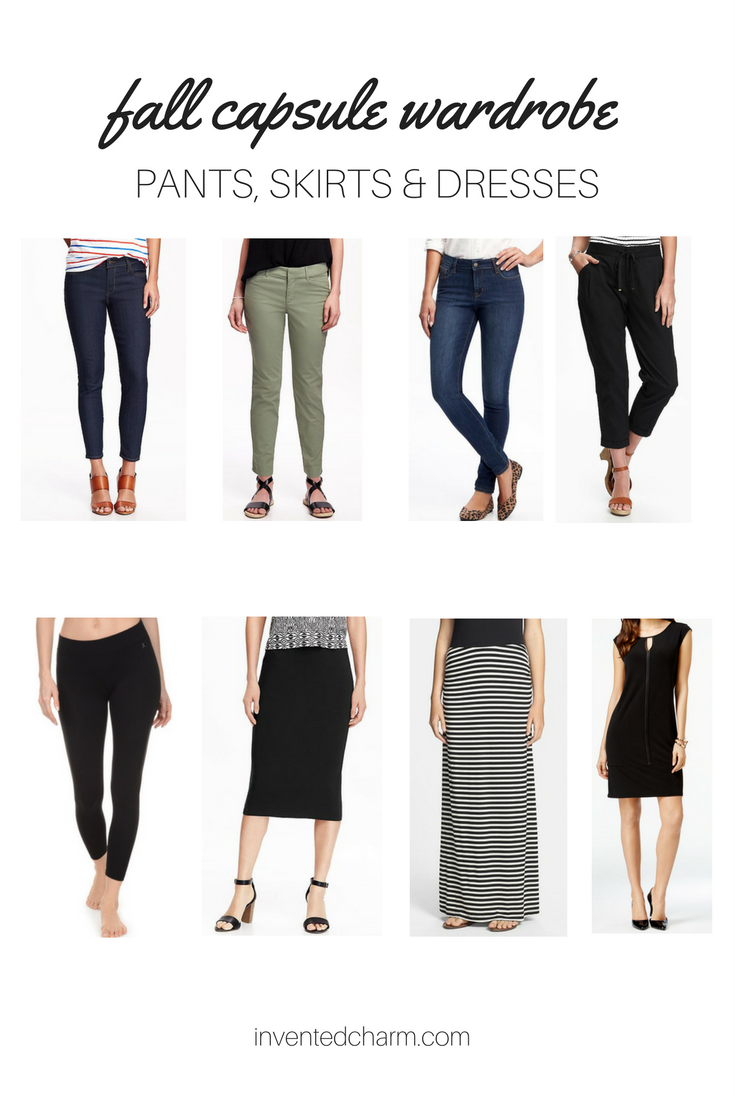 Notes & Image Credits //Mid-Rise Super Skinny Ankle Jeans: Old Navy / Pixie Chino Mid-Rise Pants : Old Navy / Mid-Rise Rockstar Skinny Jeans: Old Navy / Relaxed Crepe Pants: Old Navy / Danskin Leggings: Amazon / Jersey Pencil Midi Skirt: Old Navy / Convertible Striped Maxi Skirt: Nordstrom (old) or similar via Amazon / Black Satin Trim Cap Sleeve Dress: Macy's
I threw together a few looks for this transitional fall capsule to give you an idea of how I create a layered look that's realistic for a warmer climate. And to be totally honest, I do steal stuff from my summer capsule wardrobe that hasn't made it yet into deep storage. It's really warm out today so I'm wearing my gold sandals (from summer) with my midi skirt, the new greige tank, and I have popped the denim jacket off and on throughout the day. So far one of my favorite unexpected looks has been the black sheath dress and black leather booties on date night a few weeks ago. We were watching Amy Schumer live and it can get chilly at the Bowl so I wore my army jacket on top, which is something I had never considered before with a little black dress.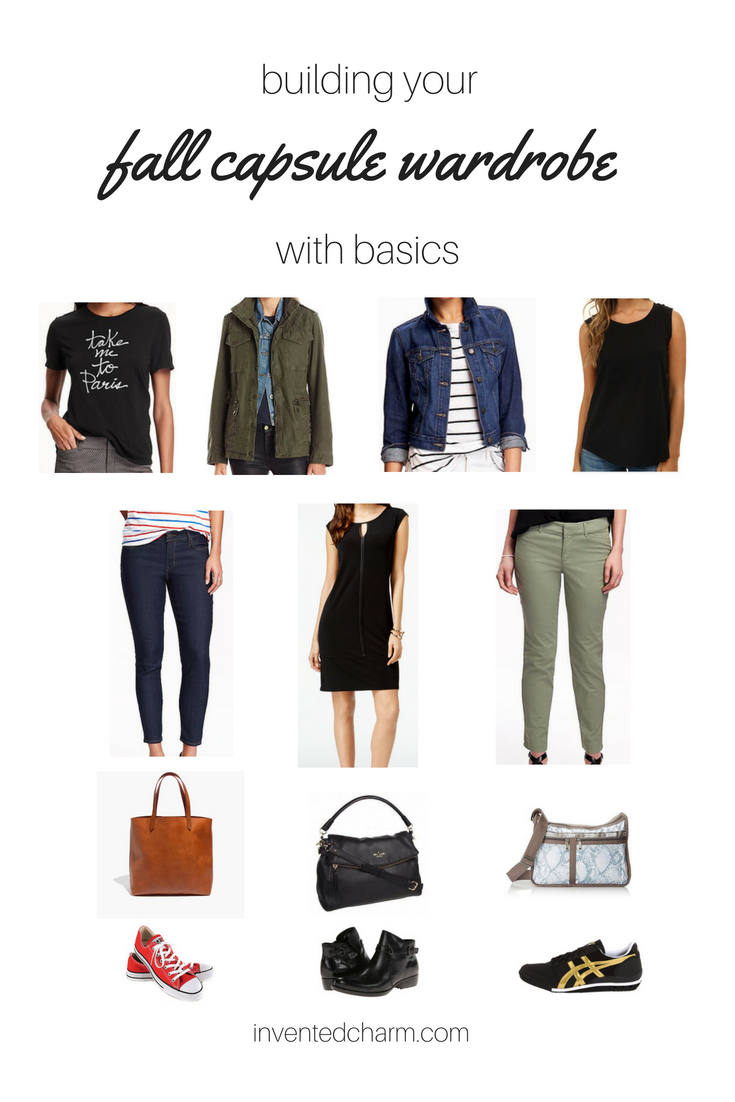 I'd love to add some more fall accessories like a cute belt or scarf, but I wasn't wild about anything of in my collection. They either read too winter or too spring/summer—chunky knitted scarves, sheer pastel floral scarves, my woven nautical belt—so I opted to keep this capsule really simple and I figure it can grow as the weather gets cooler and I find great pieces to add. I am eyeing this scarf and belt. I do have to admit that I am very cautious when it comes to spending money on clothes because I have made a commitment to wearing outfits that are part of a capsule. I can't justify spending money on a shirt that I know I'll wear once, so that really gives me pause. I think really thoughtful spending has been the single greatest thing I've learned in this process.
I am still really enjoying the challenge of coming up with creative looks using my well-loved basics. I find getting dressed each day a small, quick treat, and I know that sounds silly. But it is me time. I feel happy when I look in my closet instead of frustration and irritation. If you're looking to get started making your own capsule wardrobe, you can check out my original post for more resources. Better yet, leave me a comment with any questions or link me to something you are loving to wear this season.
Related Posts: