I am not Oprah, but here are a few of my favorite things. I have purchased many of these things for myself, received them as gifts, or plan to gift them this year. Everything on here is under $40, and I think I did a pretty good job of curating a guide to fit just about anyone on your list!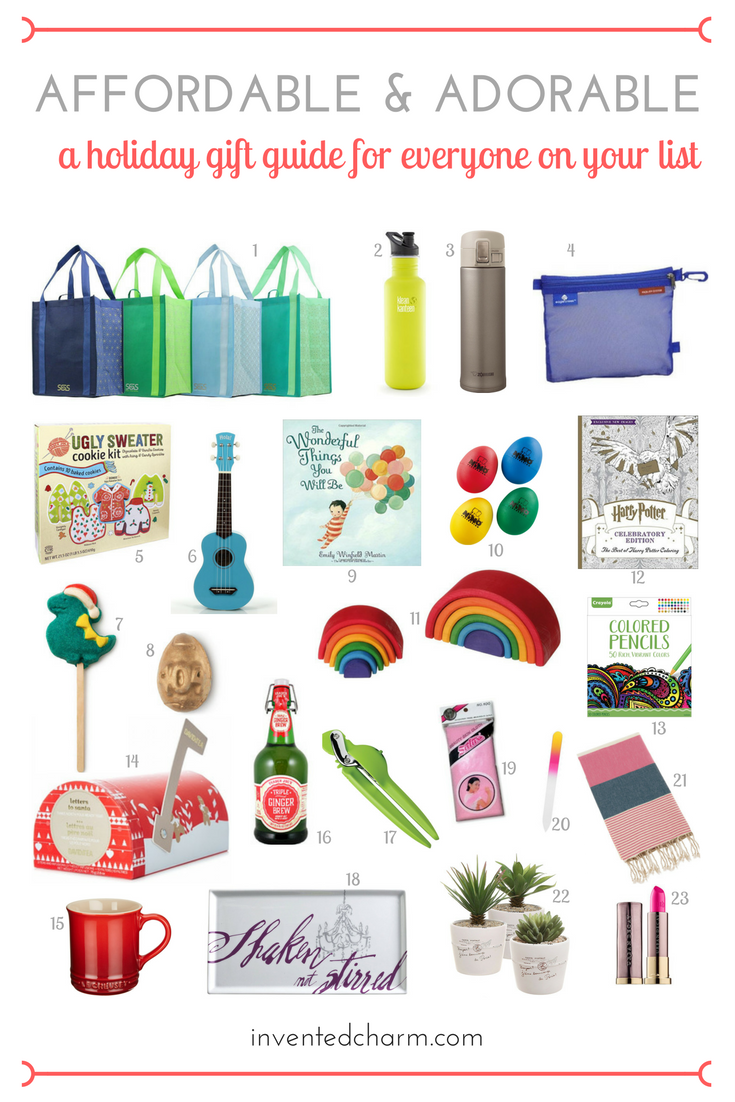 Some of the following include Amazon affiliate links, which means that if you click on one of the product links and make a purchase, I'll receive a percentage of that sale at no cost to you. All thoughts and opinions are my own. For a full disclosure statement see my About page.
Elevated Everyday
1. Cute reusable shopping bags, $16 via Amazon.com: I've had this set of shopping bags in the Istanbul print for a while now and they are so much better than the random promotional ones I carried around from our local trash/recycling center.
2. Klean Kanteen Classice 27 oz Water Bottle, $20.95 via Klean Kanteen: I got this in Lime Pop (super bright and matte finish) for my birthday and I'm still obsessed with it. The streamlined shape is perfect a car cupholder. These are also available via Amazon, but prices and availability seem to vary wildly.
3. Zojirushi Stainless Steel Mug, $23 via Amazon.com: This is handy for coffee or tea drinkers that want to keep their drink piping hot all day. I have this in Champagne Gold and it's so pretty.
4. Eagle Creek Medium Pac-It Sac, $10.95 via Amazon.com: Everyone in my family has one of these for travel, but recently I started buying them in assorted sizes for my makeup collection and to corral my daily toiletries. They are super light weight and spill-resistant. I highly recommend any of the Eagle Creek travel bags.
Just for Fun
5. Ugly Sweater Cookie Kit, $5.99 at Trader Joe's: Sorry if you don't have TJs locally, but the good news is I've seen these floating around Amazon and probably eBay. I bought a bunch of these, and I can't wait to make a night of it and do one of these on my own.
6. Hola! Soprano Ukelele, $30-38 (prices vary by color) via Amazon.com: My son plays this in his kiddie music class, but ukeleles are for every age. Play your ukelele, listen to Amanda Palmer's Ukelele Anthem, or use it for pretty home decor. Your choice!
7. Santasaurus Reusable Bubble Bar, $8.95 via Lush: It's a dinosaur with a Santa hat. What's not to love? I got one for my kid's stocking, but it's perfect for all ages.
8. Error 404 Bath Bomb, $6.95 via Lush: I can't think of a person who wouldn't want this. IT'S SHINY.
For the Kids
9. The Wonderful Things You Will Be by Emily Winfield Martin, $10.88 via Amazon.com: I have been a huge fan of the author/illustrator for years. Many of my friends have received her prints from me, and you can find them on Etsy. I started collecting her children's books when Rory was born, and I love looking at the illustrations during story time. This would be a perfect gift for anyone with babies or small kids. Her books are available in sets and as board books, so check them out at your local bookshop or Amazon.
10. Nino Percussion Egg Shaker Set, $7.99 via Amazon.com: Another find via my kid's music class. I love to gift these because they're so simple, but so much fun. We use them for playing music, and also listening and attention games. You can break up the set for stocking stuffers, too.
11. Grimm's Rainbow Stackers, $21.95 (small) & $42.95 (large) via Amazon.com: These stackers are on my own wishlist! I am very appreciative of attractive looking kids toys because I like to include them as part of my decor.
For the Kid at Heart
12. Harry Potter Coloring Book, $11.99 via Amazon.com: I love adult coloring books, but I think Harry Potter makes everything better. I tire of the typical, intricate adult coloring books, so this is more my speed. I also purchased a Vogue A to Z coloring book, and it would make a great gift for the fashionista in your life.
13. Colored Pencils, $9 for 50 ct via Amazon.com: A great companion purchase for adult coloring books.
Winter Warmer
14. Letters to Santa tea set, $20 via David's Tea: I purchased from this company last season and I'm pretty obsessed with their seasonal loose teas now. This would make a great gift for the tea drinker in your life, but also a fun gift for a White Elephant exchange. If coffee is more your speed, Peet's Coffee is doing 12 Days of Brewing with new deals every day and there are lots of gift options at varying price points.
15. Le Creuset Mug, $13.95 for Cherry Red (prices vary by color) via Amazon.com: You can never have too many mugs. My favorite places to shop for mugs are Society6 and Anthropologie.
Good Libations
16. Triple Ginger Brew, $2.99 for 750ml at Trader Joe's: This is my new favorite ginger beer. We drink a lot of ginger beer around here, mainly in cocktails. Other favorites include Bundaberg, Cock and Bull, and Reed's, and you can find them easily at BevMo and a bunch of other retailers.
17. Citrus Juicer, $16 (prices vary by size/color) via Amazon.com: I highly recommend this juicer for cocktails. This would pair perfectly with real copper mugs for Moscow Mules.
18. Rosanna, Inc. Cocktail Tray, $39 via Amazon.com: I have a growing Rosanna collection from plates to butter dishes to Christmas mugs, and they are all gorgeous and come with a beautiful box for gifting and storing. This cocktail tray would be ideal for anyone's home bar. If you really want to go all out, how about pairing it with this Tonic Water kit from Oaktown Spice Shop?
Little Luxuries
19. Japanese Beauty Wash Cloth, $6.25 via Amazon.com: My husband swears by them for the best lather, and now I'm a convert. It's basically a loofa, but instead of it being a big jumble where icky stuff likes to grow, it's a long wash cloth you can toss in the laundry. I'm gifting them this year along with some other bath goodies.
20. Glass Nail File, $6.99 (prices vary by color) via Amazon.com: Everyone needs a new nail file, so why not get one that doesn't go dull? Plus, they're so pretty!
21. Turkish Towel, $18.95 (prices vary by color) via Amazon.com: This is a multi-use item, but you're going to add an element of style no matter how you use it. This would look fantastic in a spa-themed gift basket.
22. Rustic White Planters, $17.50 for a set of 3 via Amazon.com: A great gift for anyone who loves indoor plants, is a Francophile (the print is from French postcards), is a fan of Fixer Upper or shabby chic or farmhouse decor–or all three like me!
23. Vice Lipstick by Urban Decay in Anarchy, $17 via Sephora: I love the texture of these lipsticks. I've been wearing Ravenswood all fall season long, but I love a bright pop of color in winter.
I hope you have fun while you're doing your holiday shopping, and don't forget to treat your self!