So it's another summer capsule, but this time I'm in a new city! I'm back in my hometown, so that means adjusting my wardrobe for the 90s and 100s. We had a longer spring this year, so I got away with my spring capsule until half way through June and then I started swapping out my jeans for SHORTS and DRESSES. You heard me, I am wearing shorts and dresses and skirts with a whole new zeal. Did I suddenly get over my body image issues? NO, but I did decide that being comfortable and not sweating my face off is important.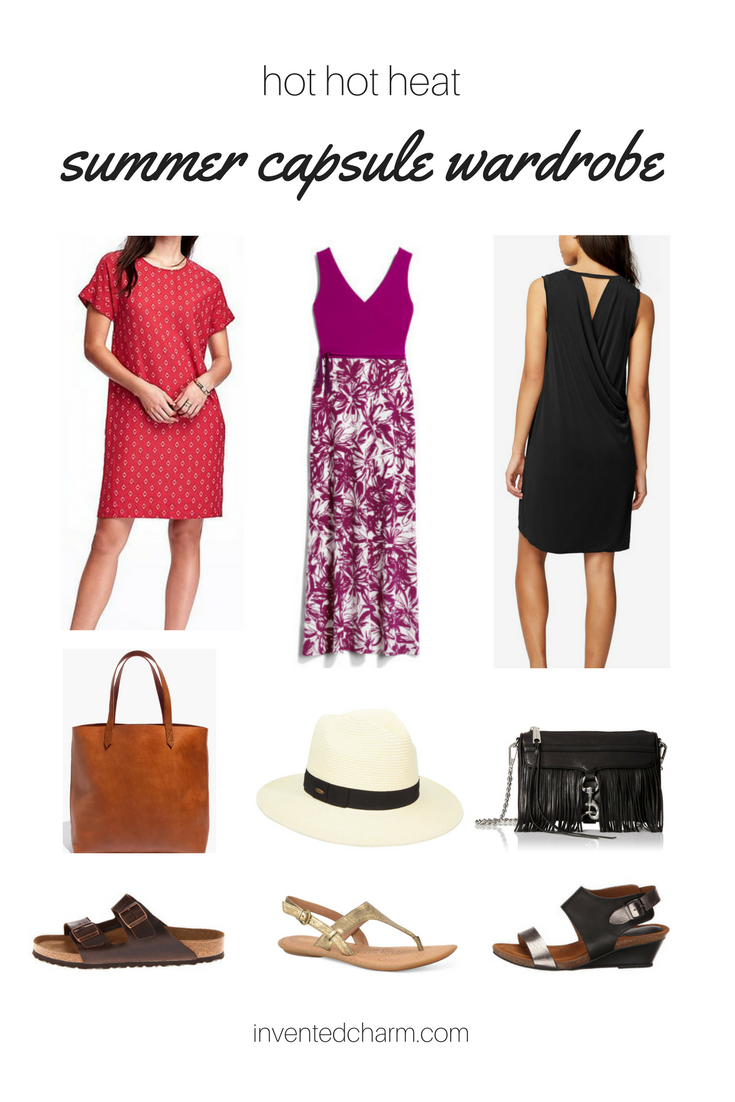 Some of the following include Amazon affiliate links, which means that if you click on one of the product links and make a purchase, I'll receive a percentage of that sale at no cost to you. I have also included my Stitch Fix referral link, and if you sign up I may earn credit there. All thoughts and opinions are my own. For a full disclosure statement see my About page.
I declared recently to my husband that I don't want to be like everyone else in Modesto complaining about the heat. Like, yes, it's hot. Do we need to discuss this every minute of every day? No. So I've accepted it's hot here, like New Yorkers accept tall buildings. These things are just a fact of life. One of the things I'm doing to live well in the heat is plan my day around the rising temps. This week I had a ten o'clock play date at the park with my friend Erin. Rory and I and our pals were slathered in sunblock and we stopped for lots of water breaks, but it was awesome having the park to ourselves before the sun was out full force!
Notes about image credits: Most of these clothing images are from previous capsule wardrobe posts and are no longer available for sale. For brevity's sake, I will provide links just for newer items and link back to previous posts for older items.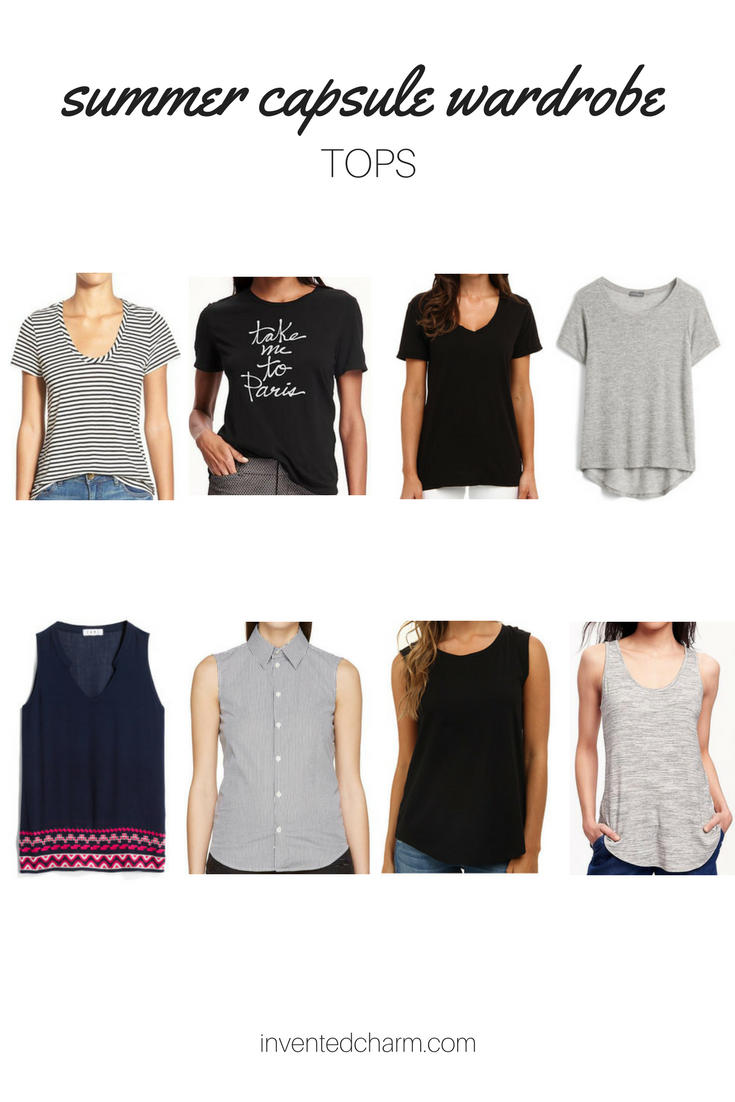 Where to buy: Upper right // Grey Knit High-Low Tee by Market & Spruce: Stitch Fix (exclusive); High-Low Dolman Tee byTrouvé: Nordstrom (similar) / Lower left // Sleeveless Navy Top with Embroidery by THML: Stitch Fix (exclusive); Sleeveless Embroidered Top with Tassels by Ella Moon: Amazon (similar)
My tops are mostly the same ones from my summer and fall capsules (head there for more info on where to buy/image credit). I got two new tops from Stitch Fix at the end of May. I've worn the grey tee a bunch, and I wore the blue embroidered top for the Fourth of July. It feels special, but it's definitely a top I can wear frequently and styled simply.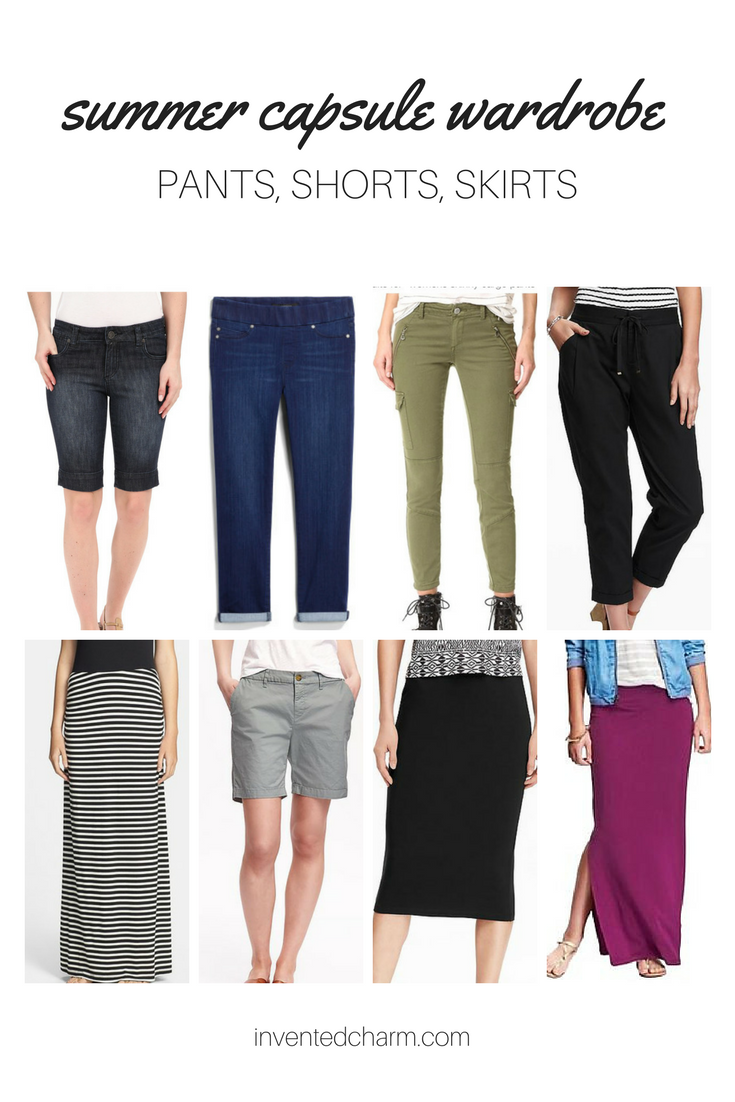 Where to buy: Upper right // Bermuda jean shorts by Kut from the Kloth: Amazon / Capri Skinnies by Liverpool: via Stitch Fix, also available from Amazon
My cropped pants, capris, shorts, and skirts are mostly from last summer and this spring (more info and image credits available there). This capsule has one new pair of capris from Stitch Fix and some Bermuda jean shorts that I picked out from Amazon. I wear those jean shorts a lot. I now have three pairs of jeans/shorts from Kut from the Kloth and I love them. They fit me really well, and they feel expensive without the really high denim price tag. I still love my drapey black crepe pants from Old Navy. They go with everything.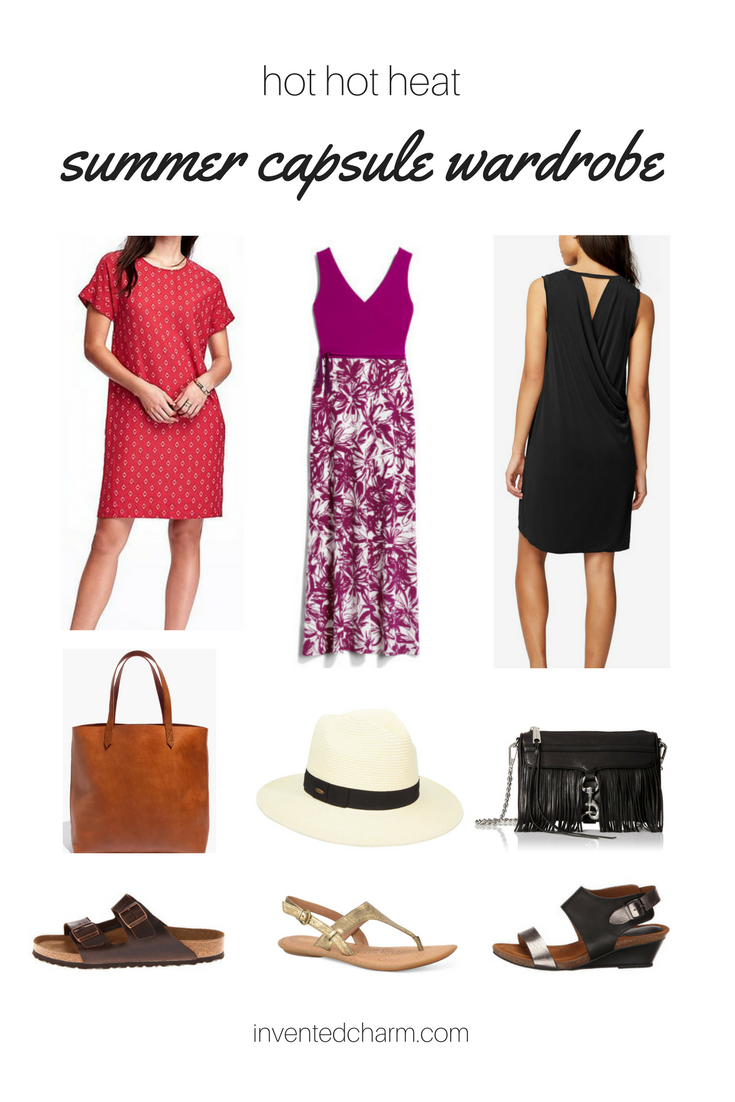 Where to buy: Upper row // Fuschia Floral Faux-Wrap Maxi Dress by Le Lis: Stitch Fix (exclusive); Fuschia Floral Smocked Maxi Dress: Amazon / Black Draped Shift Dress by RACHEL Rachel Roy: Macy's / Middle row // Braided Fedora Hat with Ribbon Band: Target / Lower row // Arizona Sandals in Amalfi Leather by Birkesntock: Zappos
I really upped my game with dresses by adding one from Stitch Fix, and another one I picked out all by myself at Macy's. I have embraced the Old Navy red boxy dress from last year's summer capsule because it's so shapeless and therefore perfect for really hot days (see that post for details). I have come to the conclusion that my styling really dictates my comfort level in showing skin. If I'm going to wear a dress or shorts, I really have to pay attention to my shoes and other accessories. I've pulled most of my shoes and accessories from my summer and fall capsules (see those posts for more info).
I've had a lot of fun mixing and matching my outfits and figuring out new combos. I also have been loving the addition of hats back into my wardrobe! There was a period of time when I wore them ALL the time, and I really like how they can transform a look. I was excited to get a cool summer hat from Target because it's practical for being outside but also makes me feel instantly fashionable.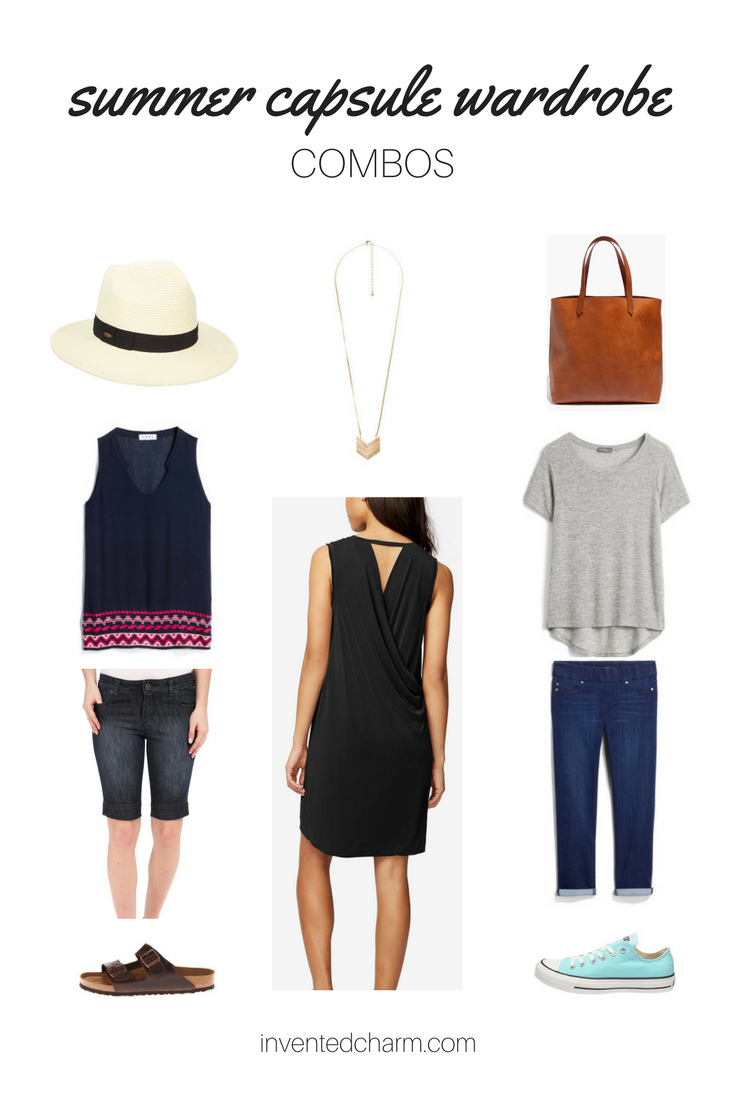 Where to buy: Top row // Gold chevron necklace by Romolo: Stitch Fix (exclusive); Amazon (similar)
I finally pulled the trigger and got some new Birkenstocks. I love my Arizonas with the brown Amalfi leather. They are the soft bed kind, which is the first time I've worn those. I highly recommend them! I still have not found any great casual sneakers that offer the comfort I need, so these aqua Chucks from my spring capsule are sort of a place holder. I've been wearing necklaces after a two year self-imposed ban—because toddlers. I was hesitant to sign up for accessories through Stitch Fix, but both times I've kept the necklaces because I like adding on trend items and without the service I'd honestly wear very little jewelry.
So there you have it, my hot hot heat summer capsule wardrobe! As always, I found the Unfancy planner super helpful. The best feature of her printable is the section where you write down important dates. I realized I had nothing planned this summer, so it got me motivated to actually book some dates with friends and family. It's interesting how my capsule wardrobe is what actually got me to follow through on the things I wrote about in the design your summer post.
Do you have a capsule wardrobe or a core of outfits you live in during the summer?