I've really pared down my daily beauty regimen, but there are a few things I'm really loving and using consistently right now. Here are my essential beauty products for summer.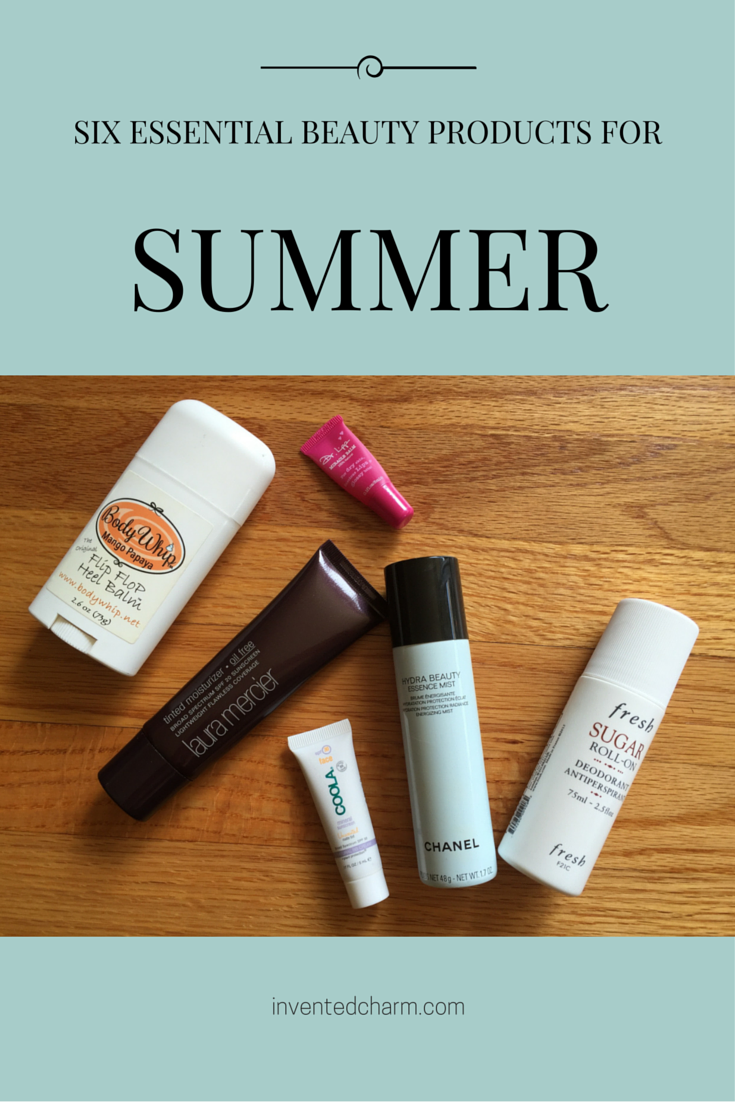 Some of the following include Amazon affiliate links, which means that if you click on one of the product links and make a purchase, I'll receive a percentage of that sale at no cost to you. All thoughts and opinions are my own. For a full disclosure statement see my About page.
Mineral Sunscreen: I'm really digging COOLA mineral sunscreen matte tint SPF 30. I use this on days when I know I'm going to be more active outside and really need sun protection and a good base for my makeup. It's available through Amazon and other retailers in Cucumber scented and unscented for $30-36 for 1.7 fl oz. It's not like other matte products that can leave skin feeling tight and dry, and unlike conventional chemical sunscreens that can leave skin feeling tacky or greasy, COOLA mineral sunscreen goes on very smooth and leaves a silky texture behind (similar to Smashbox Photo Finish Foundation Primer). I have used COOLA mineral sunscreen on bare skin before and also for added protection over my daily moisturizer with SPF. My foundation applies easily over COOLA mineral sunscreen, I haven't had any issues with streaking, and it keeps me shine-free. I can see myself using this on hot summer days when I don't have time for makeup touchups. I'm definitely going to buy this again when it runs out.
What is mineral sunscreen anyway? Mineral sunscreen is a physical blocker that sits on top of the skin and deflects UV rays, whereas traditional chemical based sunscreens sink into the skin so that the chemical can absorb the UV rays. Practically speaking, there is a difference in texture and application for the user. You can read more about it here.
Tinted Moisturizer: I bought Laura Mercier tinted moisture oil free SPF 20 ($44 for 1.7 fl oz at Amazon) last year on a whim. I wanted an easy to wear product with light coverage. I wear this over my daily moisturizer with SPF. It has a creamy texture and applies easily with my fingertips. It does feel a bit tacky on the skin, but you can leave it as is for a dewey effect, or you can just wait a minute to let the product sink in before applying a translucent powder for a matte finish. Tinted moisturizer is perfect when you need minimal coverage for a low maintenance look. Other popular brands like Stila, The Balm, and Physicians Formula offer tinted moisturizers in a range of prices and colors, too.
Hydrating Mist: My friend gifted me Chanel Hydra Beauty Essence Mist ($90 for 1.7 fl oz, available wherever Chanel skincare is sold), and it feels truly decadent. I love to spritz this on after my makeup, especially when I'm already feeling hot and I haven't even left the house yet. It has a cooling effect and smells great. I think this would be a great product to take on vacation and use after a long day in the sun before heading out to dinner. It feels refreshing with zero effort. You don't have to spend a lot either–First Aid Beauty Vitamin Hydrating Mist is available through Amazon for just $16, and if you're at all crafty, Fashionista compiled 5 DIY Face Mists.
Lip Balm: In the summer you need an ultra hydrating lip balm. Right now my favorite is Dr. Lipp Miracle Balm ($16.50 for 0.5 fl oz at Amazon). Its texture is thick and very moisturizing for my lips, which is perfect when I'm not wearing lipstick or a tinted lip product with SPF. Dr. Lipp Miracle Balm is made of lanolin, which is different than another favorite of mine, Kiehl's Lip Balm #1 (price matched at Nordstrom for $6.30 for 0.5 fl oz), made of petroleum. While I find petroleum based products to be a thinner consistency and wear off quicker than lanolin based products, Kiehl's Lip Balm #1 with SPF 4 is better for daytime use because of the sun protection. If you want to learn more about what makes Dr. Lipp Miracle Balm so great and other less pricey alternatives check out this fabulous review on YouTube.
Deodorant Antiperspirant: I've been using Fresh SUGAR roll-on deodorant antiperspirant ($19 for 2.3 oz at Sephora) for a couple of years. I can't believe I spend so much for this, but I have yet to find another product that works so well for me. Traditional solid deodorant antiperspirants always cause discoloration and irritation on me, and that's no fun in the summer months when you want your skin to look great. The Fresh SUGAR roll-on smells sweet, citrusy and refreshing. It just takes a few minutes to absorb, and I find I'm willing to wait since it's the only product that hasn't led my sensitive skin to an allergic reaction. I've also read great things about Kiehl's Superbly Efficient Anti-Perspirant & Deodorant Cream (price matched at Nordstrom for $14.40-17.55 for 1.7-2.5 oz), and plan to check it out next time I'm at the store. It's another product suitable for sensitive skin types.
Heel Balm: My mom and I bought Body Whip Flip Flop Heel Balm ($12 for 2.6 oz at bodywhip.net) at a street fair in Palm Springs back in November. It's the best moisturizing product for my feet that I've ever used, and absolutely essential during sandal season. The packaging is great, a solid made primarily of bee's wax and shea butter in a deodorant-style dispenser, which means there's no mess. Just slough off dead skin using a pumice stone in the shower first, then follow up with Flip Flop Heel Balm after drying off, or apply it just before bed and wear overnight with socks. I love the mango papaya scent. Another alternative I'm interested in is The Naked Bee Restoration Foot Balm (~$10 for 2 oz at Amazon), which has similar ingredients and some great reviews.
Note: I received samples sizes of COOLA mineral sunscreen and Dr. Lipp balm through my Birchbox subscription. If you're interested in joining, here is my referral link! I'll earn $5 in points if anyone signs up.
What is Birchbox? Birchbox is a subscription service for beauty products tailored to your preferences. It is $10 monthly for five samples. Shipping is included in the cost of the subscription and each monthly delivery comes beautifully packaged in a box with a card full of details about the products. I got a three month subscription as a Christmas gift and really enjoyed it. I got to try a lot of stuff I wouldn't have known about otherwise.
I'd love to hear about your go-to beauty essentials for the summer!
2 Comments